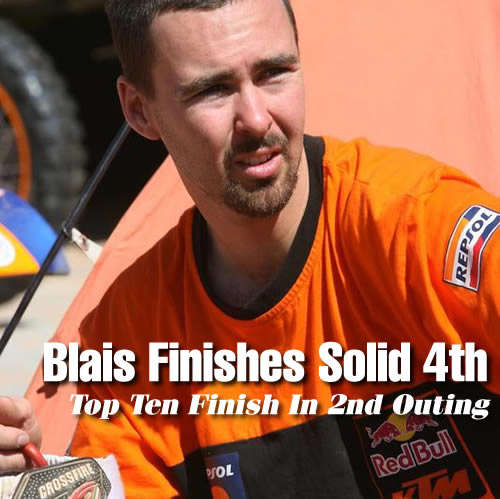 "Sandbox"
Editorial/Art Director
John Siebenthaler
Production Assistance:
Robin Hartfiel
Thanks to the following for their cooperation:
www.ktm.com
www.dakar.com
www.olntv.com
www.dirtbikemagazine.com
www.dualsportnews.com
Rally wrap up
December 31 Racers embark from Lisbon in Stage One
January 1 Still in Spain, Stage Two to Malaga
January 2 Riders cross the Mediteranean to Morocco
January 3 Chris Blais and Andy Girder hang tough for Red Bull KTM
January 4 Bivouac in Tan Tan
January 5 Into the desert – heads up for the mine fields
January 6 Grider out – Team Red Bull KTM looks to Blais
January 7 Sand, sand, sand – lost, found, lost, found
January 8 Rest day – time for a little overdue laundry catchup
January 9 Dakar loses a champion
January 10 Segment cancelled; Dakar looms closer
January 11 The terrain changes
January 12 Five thousand miles behind them, the riders near the finish
January 13 Blais finishes 4th overall
January 14 An abreviated Dakar pauses in a final remembrance
DPPI photo
January 14, 2006
Stage 14 - Tambacounda to Dakar
Total distance - 634km -
Transfer 107km -
Special test 254km -
Liaison 273km
Breaking news 10:32pm
Dakar, Senegal - Press Release - Because of the dramatic events of the last two days, the final stage Dakar - Dakar, will not be timed.
BLAIS FINISHES '06 RALLY 4th OVERALL
"Finally, I made it all the way to Dakar safe and sound. I'm so happy right now!" exclaimed an elated Chris Blais (#9) from the comfort of his Dakar, Senegal hotel. "There's nothing like coming off the trail and seeing this place. It was such a relief. Today my goal was to get to Dakar and maintain my position. There was a lot of confusion on the course and most riders were not navigating very well at all. There was a lot of confusion out there. Despres lost a lot of time because of this and Gio Sala, who started the day ahead of me by over 20 minutes, fell off the pace quite a bit. He ended up in 50th place but he's still just over 6 minutes ahead of me. Looks like he'll be 3rd on the podium tomorrow."
STREET SIGNS
Among the tactics that Blais credits his strong 6th place stage 14 finish with is partnering with fellow American Jonah Street on this last timed portion of the 2006 Dakar.
"Jonah and I saw what was happening early in the special test and realized that our best move was to ride together and try to keep each other on course. We scouted around for a while and carefully retraced the route. Eventually, we got back on course, picked up the waypoint and immediately saw a pair of tracks which turned out to belong to Fretigne and Coma. After that we just gassed it to Dakar."
After 15 days of competition (one day of rest last Sunday) Blais relishes thoughts of hot showers, soft mattresses and the creature comforts we all take for granted. Thoughts of seeing his wife Patty again and boarding a plane for California Monday morning are still a dream. But for now, this California Kid will have to make due with tomorrow's ceremonial parade lap around Lac Rose and a healthy dose of post-Dakar partying.
DOCTOR'S ORDERS
"Doc (Dr. Jonathan Edwards, US team physician) just bought me a hamburger and fries and I can't explain how good it tasted to me. I craved a burger for so many days and he came through for me, again."
"Everything went great for me during this rally," reflected Blais. "My mechanic Matt Spencer kept my KTM (660 Rallye) going perfectly every day and the entire Red Bull KTM US Dakar team really pulled together to make my finish possible. We have a fantastic team and everyone was responsible for me being here now."
With his second Dakar Rally behind him, Blais joins a rare fraternity of off-road racers tough enough and smart enough to stay focused for the entire event. Hundreds, perhaps thousands of motorcyclists are capable of a few days of Dakar intense racing – just a handful possess what it takes to do.
Not only has the 25-year-old completed both attempts at the mother of all endurance events, he's finished both within the top 10. Most Dakar entrants would give an arm and a leg to say they'd ridden, and survived, every stage of the Dakar. This should serve as solid proof that Blais' 9th place finish a year ago was no fluke and a manifestation of things to come.
JOE BARKER
Red Bull KTM US Dakar team manager
"What a relief! We're finally in Dakar! Chris has arrived safely and he's solidly in 4th place overall. (Giovanni) Sala is still about 6 and a 1/2 minutes ahead of Chris but how can begrudge a warrior like Gio from standing on the podium in Dakar? Thanks to our great sponsors Red Bull, KTM, Repsol, Michelin and others, our dream of putting an American on the podium in Dakar is closer than ever before. Can't wait until next year but now it's time to celebrate!"
STAGE FRIGHT
Today started with substantial difficulties for Dakar's long running veterans, not the least of whom was 2005 defending champ, Cyril Despres (#1). Miscues and bad judgment resulted in him struggling to stay on course and losing time to front running heir apparent Marc Coma of the Repsol KTM team.
Yet, navigation difficulties were very real. Especially between CP1 and CP2, where the bike and car classes both had their own difficult moments. The first came 30 kilometers after CP1 when Cyril Despres turned in circles for some 20-minutes. But not Coma nor the others; Blais, Street and Sala for example, who where collectively charged to "make the track.
Cyril Despres (#1, 43rd overall in stage 14)
"I had another difficult day in terms of navigation. But my Mum taught me to say "I don't like spinach" instead of "Spinach is not good". So I will say that I don't like this road book. Everyting went well until CP1 where I took the wrong track at the exit of a village. It took me 10 kilometers to realize I was not on the good way.
I should have made a U-turn, I preferred to look for an off-road short cut, not to lose too much time. I agree navigation has to be difficult, but today, it was a bit too much. There were riders everywhere and I almost crashed into riders hidden in the dust or coming the other way. It is a pity since today's stage was beautiful. At last, I easily forgot it thanks to the tribute to Fabrizio (Meoni). It is wonderful what his association is doing here."
American Chris Blais also did a great job. Due to his sixth place in today's special test, the RedBull KTM exponent is now knocking on the podium, only seven minutes outside. Today the Dakar met the soul of Fabrizio Meoni, and passed on the terrain assigned by the government to host a new centre of arts and crafts entitled to the unforgettable Champion. There the riders also met Fabrizio's friends. The trace of a heart was also included in the race track, as a part of the road.
Stage 14 Rankings / Special test: 254 km
Stage Results:
1. Fretigne (YAMAHA), 03:16:59h
2. Coma (Repsol KTM), + 00:33
3. Farres Guell (YAMAHA), + 16:59
4. Vinters (KTM), + 22:57
5. Verhoeven (YAMAHA), + 23:54
6. Blais (Red Bull USA KTM), + 24:37
7. Knuiman (YAMAHA), + 27:01
8. Varga (KTM), + 27:09
9. Floirac (KTM), + 27:09
10. Lazard (KTM), + 30:08
11. Embro (KTM), + 30:56
12. Rivera (KTM), + 31:08
13. Casteu (Gauloises KTM), + 31:18
14. Czachor (KTM), + 31:19
15. Mora Busquets (YAMAHA), + 31:33
16. Lepan (KTM), + 31:47
17. Bonjean (HONDA); + 31:47
18. Mengus (KTM), + 31:52
19. Ullevalseter (KTM), + 31:57
20. Bethys (HONDA), + 32:42
22. De Gavardo (Repsol KTM), + 33:04
31. Gau (Gauloises KTM), + 36:38
43. Despres (Gauloises KTM), + 42:46
50. Sala (Repsol KTM), + 49:41

Overall Results:
1. Coma (Repsol KTM), 55:27:17 h
2. Despres (Gauloises KTM), 56:40:46 h, + 01:13:29 h
3. Sala (Repsol KTM), 53:50:25 h, + 02:29:48 h
4. Blais (Red Bull USAKTM), 58:03:35 h, + 02:36:18 h
5. De Gavardo (Repsol KTM), 58:50:04 h, + 03:22:47 h, Penalty: 01.00:00 h
6. Ullevalseter (KTM), 59:22:09 h, + 03:54:52 h
7. Duclos (KTM), 60:11:13 h, + 04:43:56 h
8. Casteu (Gauloises KTM), 61:43:38 h, + 06:16:21 h
9. Rodrigues (YAMAHA), 62:21:58 h, + 06:54:41 h, Penalty: 02:00:00 h
10. Vinters (KTM), 63:20:31 h, + 07:53:14 h
11. Gau (Gauloises KTM), 63:21:22 h, + 07:54:05 h
12. Knuiman (YAMAHA), 63:56:44 h, + 08:29:27 h
13. Fretigne (YAMAHA), 64:13:13 h, + 08:45:56 h
14. Czachor (YAMAHA), 64:14:11 h, +08:46:54 h
15. Algay (YAMAHA), 64:15:25 h, + 08:48:08 h
16. Farres Guell (YAMAHA), 64:41:44 h, + 09:14:27 h, Penalty: 30:00
17. Street (KTM), 65:30:08 h, + 10:02:51 h
18. Bethys (HONDA), 65:37:18 h, +10:10:01 h
19. Marchini (YAMAHA), 66:29:17 h, + 11:02:00 h, Penalty: 02:00:00 h

Tomorrow - Sunday, January 15, 2006 – Stage 15 -
Dakar to Dakar
Total distance 110km - 38km transfer - Special test 31km – TIMING CANCELLED - Liaison stage 41km