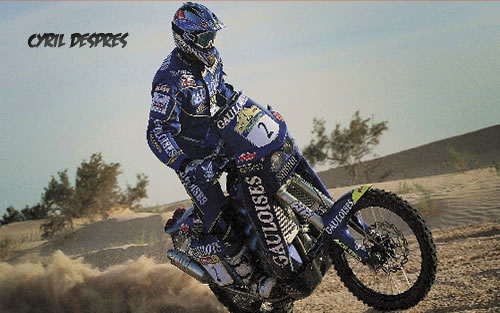 "Sandbox"
Editorial/Art Director
John Siebenthaler
Production Assistance:
Robin Hartfiel
Thanks to the following for their cooperation:
www.ktm.com
www.dakar.com
www.olntv.com
www.dirtbikemagazine.com
www.dualsportnews.com
Rally wrap up
December 31 Racers embark from Lisbon in Stage One
January 1 Still in Spain, Stage Two to Malaga
January 2 Riders cross the Mediteranean to Morocco
January 3 Chris Blais and Andy Girder hang tough for Red Bull KTM
January 4 Bivouac in Tan Tan
January 5 Into the desert – heads up for the mine fields
January 6 Grider out – Team Red Bull KTM looks to Blais
January 7 Sand, sand, sand – lost, found, lost, found
January 8 Rest day – time for a little overdue laundry catchup
January 9 Dakar loses a champion
January 10 Segment cancelled; Dakar looms closer
January 11 The terrain changes
January 12 Five thousand miles behind them, the riders near the finish
January 13 Blais finishes 4th overall
January 14 An abreviated Dakar pauses in a final remembrance
December 31, 2005
Stage 1 - Lisbon to Portimao, Portugal
Distance 370km
186km transfer
83km special test
101 liaison
Cyril Despres Leads The 28th Dakar After Stage One
Sunrise is more than an hour away when last year's winner Cyril Despres and lead rider for Team KTM Gauloises lines up for the start of the 28th Dakar Rally.
Yesterday's driver's meeting held the attention of the 775 competitors. With the Atlantic coast of Portugal in front of them, they listened to race director Etienne Lavigne issue riding instructions for the most intense race track on the planet, including course changes that many thought led to two fatalities in 2005.
After their many months of preparation for this event KTM-Red Bull US Dakar Team riders Chris Blais and Andy Grider have successfully completed the opening stage of the 2006 Dakar Rally.
Days ago Blais and Grider arrived in Lisbon for last minute bike testing, equipment prep, strategy sessions and the all important pre-rally scrutineering (tech inspection) procedure. This was the second go around for Blais and Grider's first experience in a Dakar Rally.
As a returning top 10 Dakar veteran, Blais' increased celebrity profile was evident. In the Red Bull Energy Station huge photos of Chris, taken during testing in Tunisia, festooned the area. Images of him also have been regularly appearing on television and in the local Lisbon press. Not bad for a kid from California! The notoriety was a hit with team technicians and management but Blais appeared nonchalant about the whole affair. "I guess it's kinda cool!" He sheepishly admits.
The 2005 Dakar 9th overall finisher, Chris Blais, is approaching this 2006 event with a very cool and calm demeanor. "I'm feeling good, I'm happy with the bike, and confident in the abilities of this team. My KTM 660 Rallye is very familiar to me because it's identical to the bike I rode in the last Dakar and trained on all year long back in the USA. I logged about 8000-miles on the bike so as far as it goes, I don't have many concerns. The challenge for all of us this year will boil down to navigation. Our GPS's are much different this year, the road book is very important. Not getting lost will be the key to winning." For more about Chris Blais visit www.chrisblais.com
During a call to the U.S., on Thursday, Dakar rookie Andy Grider offered a few thoughts about his first attempt at the Dakar. "I am just going to ride like I know how. It's my race, nothing different. My wife Annie, my daughter Marley and my parents are here to see us off so I'm really looking forward to it."
Though a newcomer to rally competition, Grider is a veteran of the US and Baja off-road racing scene with numerous wins and championship to his credit. He finished on the podium in the Tunisia Rally. As an alternate for the KTM-Red Bull US Dakar team Grider trained with the team and competed alongside Blais and Kellon Walch as a KTM rider. Grider was called back to duty after Walch was injured during pre-running with Chris Blais prior to the Score Tecate Baja 1000 in early November. (For more information about Andy Grider visit www.griderracing.com)
6:15 AM
The first bike is out, and the 2006 Dakar has started. Riders face a first stretch of 186 kilometres, then 83 km running the first special stage of this Dakar, before running the last 100 kms into Portimao, just south of Portugal.
For this section there's no navigation except for the enduro like arrows pointing the way. Most of the front runners have switched from Michelin Desert to Michelin Baja for better grip on the sandy, occasionally wet ground.
Despite the inverted start which has Despres leaving last, he still crosses the first finish line ahead of everyone else to win the stage. Many of the other factory riders chose a slower pace, including American Team Red Bull's Andy Grider and Chris Blais, who finished 23rd and 31st respectively.
Big Surprise
During scrutineering, the team was delightfully surprised when Grider's wife Annie, marched in with a contingent of Umbrella Girls, not the least of which was a fully decked out Umbrella Girl for the Day - Marley Grider, the couples' 8yr old daughter. As one would expect the Umbrella Girls posing with the American team caused quite a commotion, and not only to the delight of Grider and Blais, but particularly for the of the Dakar press corps elbowing their way in for a shot.
Team Manager Joe Barker
Managing this years campaign is Salt Lake's Joe Barker who is confident that his riders are very much up to the event. Barker's opinion is that his riders are in very good condition and perfectly poised to make a mark on this 28th running of the Dakar. "Chris and Andy are in excellent condition, physically and mentally, and so far all of our pre-race activities have been awesome. We have a long haul ahead but we are ready for action!"
What's Up, Doc?
Joining Barker for his 3rd consecutive stint on the  Dakar is moto medicine and training specialist, Dr. Jonathan Edwards of Las  Vegas. The doctor is himself a very accomplished motocross and rally riding enthusiast and he brings with him a unique ability to know what it  takes to keep riders in top shape until the crucial final stages of the Dakar.  The team is also fortunate that Dr. Edwards is a fluent French speaker  who's ties to the French medical community have paid dividends in prior  events.
Tomorrow - Stage 2 - Portimao to Malaga
Tomorrow's second stage starts in Portugal and finishes in Spain, near Malaga, 567 kilometers altogether, with a 387 km special section.
Rankings:
stage results / overall results
1st stage - Special: 83 km
1.   Despres (Gauloises KTM)  58:10 min
2.   Faria (KTM) 58:14 min  + 00:04
3.   Coma (Repsol KTM) 58:17 min  + 00:07
4.   Rodrigues (YAMAHA) 59:00 min  + 00:50
5.  Esteve Pujol (Gauloises KTM)  59:10 min  + 01:00
6.   Fretigne (YAMAHA) 59:15 min  + 01:05
7.   Casteu (Gauloises KTM)  59:36 min  + 01:26
8.   Pellicer (KTM) 59:54 min  + 01:44
9.   Caldecott (Repsol KTM) 01:00:35 h  + 02:25
10. Goncalves (HONDA) 01:00:45 h  + 02:34
11. Rivera (KTM) 01:00:47 h  + 02:36
12. Duclos (KTM) 01:01:01 h  + 02:51
13. Street (KTM) 01:01:15 h  + 03:05
14. De Gavardo (Repsol KTM) 01:01:18 h  + 03:08
15. Agra Carrera (YAMAHA) 01:01:45 h  + 03:34
16. Verhoefen (YAMAHA) 01:02:11 h  + 04:01
17. Farres Guell (YAMAHA) 01:02:16 h  + 04:06
18. Van Drunen (YAMAHA) 01:02:16 h  + 04:06
19. Toral Garcia (KTM) 01:02:31 h   + 04:20
20. Viladoms (KTM) 01:02:50 h  + 04:40
22. Gau (Gauloises KTM) 01:03:07 h  + 04:56
23. Grider (Red Bull USA KTM) 01:03:16 h  + 05:06
31. Blais (Red Bull USA KTM) 01:04:23 h  + 06:13
43. Sala (Repsol KTM) 01:06:21 h  + 08:10