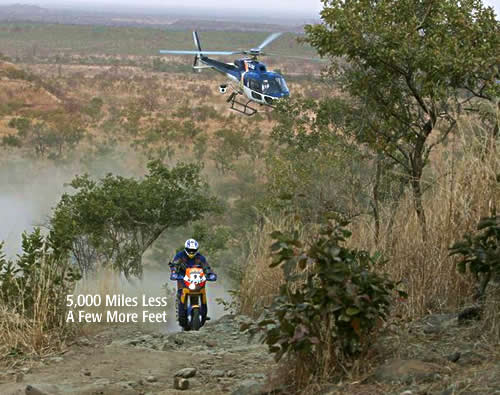 "Sandbox"
Editorial/Art Director
John Siebenthaler
Production Assistance:
Robin Hartfiel
Thanks to the following for their cooperation:
www.ktm.com
www.dakar.com
www.olntv.com
www.dirtbikemagazine.com
www.dualsportnews.com
Rally wrap up
December 31 Racers embark from Lisbon in Stage One
January 1 Still in Spain, Stage Two to Malaga
January 2 Riders cross the Mediteranean to Morocco
January 3 Chris Blais and Andy Girder hang tough for Red Bull KTM
January 4 Bivouac in Tan Tan
January 5 Into the desert – heads up for the mine fields
January 6 Grider out – Team Red Bull KTM looks to Blais
January 7 Sand, sand, sand – lost, found, lost, found
January 8 Rest day – time for a little overdue laundry catchup
January 9 Dakar loses a champion
January 10 Segment cancelled; Dakar looms closer
January 11 The terrain changes
January 12 Five thousand miles behind them, the riders near the finish
January 13 Blais finishes 4th overall
January 14 An abreviated Dakar pauses in a final remembrance
DPPI photo
January 12, 2006
STAGE 12 - Bamako, Mali to Labé, Guinea
Total distance - 872km
197 transfer
368km special test
307 liaison stage
BLAIS GOES FOR GUINEA
3RD TODAY, 4TH OVERALL
Like the saying goes, "In order to finish first, one must first finish!" and such is the strategy being played out in Africa by Red Bull KTM's Chris Blais (#9). Wise beyond his years, the easy going 25-year-old California desert racer is impressing rally veterans by continuing to outwit and outlast the best rally riders on earth. Call him "Mr. Consistency".
Since leaving Lisbon, Portugal on December 31st, Blais has survived an onslaught of extreme weather, brutal terrain, navigational and challenges that the bulk of his rivals have succumbed to. Rally racing is not for the feint of heart and with his string of excellent daily finishes, including a 2nd in stage 8 and today's stage 12 3rd place finish, Blais is paving the way for a brilliant arrival in Dakar on Saturday.
CHRIS BLAIS
3rd today / 4th OA - "I rode at my pace, without taking risks. But I fell twice - that usually never happens to me. The first fall was a little one at very low speed and the second one I slipped on the side of the road, but without any serious consequences. I am now 4th overall."
JOE BARKER
"It is definitely another world, here in Guinea, a lot different from the earlier stages. We're out of the dunes and its very green and lush here. Despite today's very long stage, Chris continues to do an awesome job of staying focused and riding smart. He is really impressing people, in fact the entire team is doing a wonderful job. We finally have a light at the end of the tunnel. Just gotta keep going."
American off-roader Jonah Street, aboard a privateer 525 KTM narrowly missed out on becoming a member of Blais' Red Bull KTM US Dakar team.
JONAH STREET
5th today / 20th OA "It's another good day for me after yesterday's good result. I really appreciate this kind of track, with dust and holes. But my bike can't compare to the leaders'. When Coma overtook me, I couldn't stay in touch. Tonight, I am in the Top 20. It's great but is very far from my original goal. I thought I could be in the top 10, but I made big mistakes in Morocco, I missed some waypoints in Mauritania, but, above all I was really penalized by my lack of speed."
from www.dakar.com
When the twin-engine plane lands on the red ground strip, suddenly you discover major changes: all is different in comparison with the previous day. First the colours, red for the ground and green for the vegetation, but also the people: prior to Mauritania and Mali, clothing was of the same tonality of the desert, yellow-beige, light brown, as mimetic. Here in Guinea, people show incredible colour variations and contrasts. People also show more enthusiasm, more happiness.
From the air, change comes all of a sudden. For the competitors of today's stage it comes slowly, gently. But for all of them all this shift also has a different meaning. This is a new variety of difficulty to be faced.
Stage 12 of the Euromilhoes Dakar 2006 took the competitors from Mali and its capital Bamako to Guinea and the city of Labé. On the 369kms of timed special, Cyril Despres captured his fourth success so far, only gaining over a minute on Marc Coma.
The only task available for Cyril Depres was to attack. In fact, after the riders reached the border between Mali and Guinea and the special test started, the KTM Gauloises "boss" increased the pressure. Last year's winner was first at both CP1 and CP2 but, due to the difficult navigation, he did not resolve to distance his main rivals by more than two minutes.
After 368 kilometres of special test Despres was the winner, less than 2 minutes ahead Marc Coma, less than three before Chris Blais. No big changes in the overall standings, Blais going up the fourth position and Marc Coma still defending his leadership and his confident feeling.
The courageous Frenchman clinched a fourth success on this 28th edition. On his way to a 14th stage win on a Dakar, Cyril Despres beat his main rival Marc Coma (KTM – n°2) by only 1'45". A tiny advantage for Despres considering his time deficit overall: now 32'39".
After his upsets on Mauritanian soil suffering a severe crash on his way to Zouerat, Cyril Despres (KTM – n°1) will certainly have the satisfaction not to have withdrawn from the rally.
But the day was very eventful when it came to the following positions of the leaderboard. Fourth before the start this morning, Pal Anders Ullevalseter (KTM – n°5) struggled and crossed the finish line losing 1h25'. The Norwegian drops down to sixth spot of the race, over 3 hours adrift.
It was also a bad day for Carlo De Gavardo (KTM – n°4), suffering mechanical problems after crossing a river. Water in the engine of the Chilean's KTM forced him to lose over 44min. De Gavardo keeps his fifth spot overall but sees Chris Blais pass him and move up to fourth position.
The American who had claimed fourth place of yesterday's special did even better today, finishing third, 2'29" adrift. Blais, 25-years-of age looks to be headed to an excellent fourth spot in Dakar after capturing 9th spot last year for his first Dakar. He could even do better: he is indeed 21'35" behind Giovanni Sala, third.
Red Bull's KTM Chris Blais finished third overall, but in this case the exploit is simply due to the incredible progression of the American in this final part of the race. Thinking of De Azevedo, and having a look also to the exploits of Norwegian Pal Ullevalseter and Alain Duclos, maybe it is now time to remember that the three representative riders are a part of the 62 people that registered to the KTM Customer Rally Service Package in order to accede to the best racing formula for a private competitor.
For example. Early morning Carlo De Gavardo went down in the water when crossing a river. The Chilean lost more than a half a hour in a singular misfortune could not occur in Mauritania or Mali. Same story for Ullevalseter, and one hour is gone. Giovanni Sala, third overall, lost almost forty minutes to repair a bended brake disk. The 2006 Dakar is reaching the southern part of his road, running very near to the equator, three days to go, but the strain level is still high.
Jean De Azevedo was second for a long time during the special test, confirming the special attitude of the Brasilian in this kind of tracks, so similar to some ones of South America, and closed the special test in a good fourth position.
Rankings :  Special:  368 km
Stage Results:
1. Despres (Gauloises KTM)
2. Coma (Repsol KTM), + 01:45
3. Blais (Red Bull USA KTM), + 02:29
4. De Azevedo (KTM), + 03:01
5. Street (KTM), + 06:43
6. Rodrigues (YAMAHA), + 07:35
7. Viladoms (Repsol KTM), + 08:34
8. Goncalves (HONDA), + 11:51
9. Vinters (KTM), + 15:31
10. Fretigne (YAMAHA), +15:57
11. Duclos (KTM), + 22:27
12. Marchini (YAMAHA), + 22:47
13. AgraCarrera (YAMAHA), + 27:37
14. Verhoeven (YAMAHA), + 29:19
15. Gau (Gauloises KTM), + 30:40
16. Casteu (Gauloises KTM), + 31:31
17. Algay (YAMAHA), + 31:53
18. Czachor (KTM), + 32:52
19. Knuiman (YAMAHA), + 37:50
20. Rivera (HKTM), + 39:43
21. Sala (Repsol KTM), + 39:59
22. De Gavardo (Repsol KTM), + 44:48
Overall Results:
1. Coma (Repsol KTM), 47:01:21 h
2. Despres (Gauloises KTM), 47:34:00 h, + 32:39
3. Sala (Repsol KTM), 48:46:36 h, + 01:45:15 h
4. Blais (Red Bull USA KTM), 49:08:11 h, + 02:06:50h
5. De Gavardo (Repsol KTM), 49:28:16 h, + 02:26:55 h, Penalty: 01.00:00 h
6. Duclos (KTM), 50:59:56 h, + 03:58:35 h
7. De Azevedo (KTM), 51:08:21 h, + 04:07:00 h
8. Rodrigues (YAMAHA), 51:13:49 h, + 04:12:28 h
9. Casteu (Gauloises KTM), 52:31:27 h, + 05:30:06 h
10. Vinters (KTM), 53:32:45 h, 06:31:24 h
11. Gau (Gauloises KTM), 54:07:47 h, + 07:06:26 h
12. Viladoms (Repsol KTM), 54:19:07 h, + 07:17:46 h, Penalty: 40:00
13. Farres Guell (YAMAHA), 54:21:49 h, + 07:20:28 h, Penalty: 30:00
14. Knuiman (YAMAHA), 54:28:16 h, + 07:26:55 h
15. Czachor (YAMAHA), 54:38:18 h, +07:36:57 h
16. Algay (YAMAHA), 54:45:01 h, + 07:43:40 h
17. Fretigne (YAMAHA), 55:44:18 h, + 08:42:57 h
18. Marchini (YAMAHA), 56:12:45 h, + 09:11:24 h, Penalty: 01:00:00h
19. Street (KTM), 56:29:43 h, + 09:28:22 h
20. Stanovnik (KTM), 57:14:40 h, + 10:13:19 h, Penalty: 30:00
Tomorrow  - Friday , January 13, 2006
Stage 13 - Labé to Tambacounda
Total distance 567km
7km transfer
Special test 348km
Liaison stage
212km