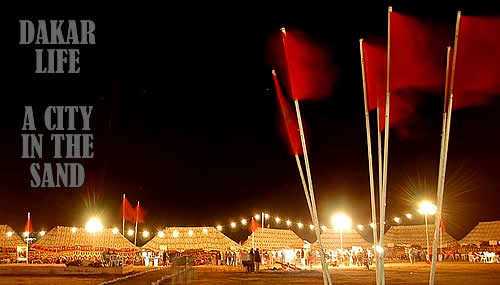 "Sandbox"
Editorial/Art Director
John Siebenthaler
Production Assistance:
Robin Hartfiel
Thanks to the following for their cooperation:
www.ktm.com
www.dakar.com
www.olntv.com
www.dirtbikemagazine.com
www.dualsportnews.com
Rally wrap up
December 31 Racers embark from Lisbon in Stage One
January 1 Still in Spain, Stage Two to Malaga
January 2 Riders cross the Mediteranean to Morocco
January 3 Chris Blais and Andy Girder hang tough for Red Bull KTM
January 4 Bivouac in Tan Tan
January 5 Into the desert – heads up for the mine fields
January 6 Grider out – Team Red Bull KTM looks to Blais
January 7 Sand, sand, sand – lost, found, lost, found
January 8 Rest day – time for a little overdue laundry catchup
January 9 Dakar loses a champion
January 10 Segment cancelled; Dakar looms closer
January 11 The terrain changes
January 12 Five thousand miles behind them, the riders near the finish
January 13 Blais finishes 4th overall
January 14 An abreviated Dakar pauses in a final remembrance
photos by P. Batini
January 6, 2006
Stage 7 – Zouérat to Atar
Total distance: 521 km
10 km transfer
499 special test
12 km liaison
GRIDER CRASHES OUT OF THE DAKAR!
It was a tough Stage 7 for the Red Bull KTM US Dakar team with devastating consequences for team rookie, Andy Grider (#23). After surviving two difficult, very lengthy stages through Morocco and Mauritania Grider and his Red Bull KTM teammate Chris Blais (#9), joined the course out of Zouerat, both looking forward to warmer weather and the challenge of the first major dunes of the rally. (Ed. - Grider's retirement was courtesy of a broken femur; NASCAR driver Robbie Gordon also retired due to mechanical problems.)
Yesterday's dramatic Stage 6 was riddled with crashes and serious outcomes, not the least of which saw the front runner, Cyril Despres (#1), limping into the bivouac last night with a dislocated collar bone. He managed to gather himself up for a courageous attempt at Stage 7 but for all intents and purposes the Frenchman's dreams for a podium spot are on hold until next year. From a competitive standpoint, Despres' dire situation fueled more than a few late strategy sessions in the tents last night.
JOE BARKER
RED BULL KTM US DAKAR TEAM MANAGER
"Today was really going well for us. With the inverted (reverse order) start the opportunity to ride fast without lots of technical navigation challenges early on suited Chris and Andy well."
DISASTER IN THE SAND
Unfortunately, Mauritanias infamous soft quick sand of the El Beyyed erg swallowed the front end of the #23 KTM, sending Grider on what Barker describes as "an F16 style ejection ride."
Grider was just ahead of KTM rider Viladoms (#21) when his crash occurred. According to Viladoms, Grider flew fast and far, completely clearing the long sand embankment they were both negotiating and eventually impacting his back on the hard desert floor. Grider immediately rose, climbed back up the embankment, and attempted to restart his (#23) KTM. However, the gravity of his situation immediately sunk in. His day and his Dakar Rally hopes were over with.
After a helicopter ride back to the bivouac, an examination by rally doctors as well as the Red Bull KTM US Dakar team physician, Dr. Jonathan Edwards, Grider was flown to a hospital in the Canary Islands. Upon learning of his situation, Grider's family members curtailed their stay in Europe to join him. Preliminary reports are that Grider is stable and his injuries were not deemed serious or life threatening.
BLAIS BLAZES ON
By contrast to his teammate's day, Chris Blais (#9), had a smooth, non-eventful Stage 7 adventure. His approach to the Dakar is one of solid determination and cunning. As a second year vet, Blais is well aware that the real racing takes place in the later stages when lack of sleep, fatigue, injury and the elements will begin exacting revenge on the entire rally.
"Chris is cool and calm," observed team manager Joe Barker, "He rides his own race, at his own pace, and all he has to do is look around him to see that all the effort is for naught if he doesn't make it to Dakar."
Blais survived the dunes, camel grass, high-speeds and rocky plateaus over the nearly 500km+ stage. He arrived at the bivouac comfortably in 13th position for the day and now sits in 12th place overall.
Rankings : Special 499 km
Stage Results:
1. De Gavardo (Repsol KTM), 06:28:11h
2. Coma (Repsol KTM), + 01:27
3. Sala (Repsol KTM), + 02:00
4. Esteve Pujol (Gauloises KTM), + 04:29
5. Ullevalseter (KTM), + 13:56
6. De Azevedo (KTM), + 17:12
7. Caldecott (Repsol KTM), + 20:28
8. Fretigne (YAMAHA), + 23:12
9. Despres (Gauloises KTM), +30:23
10. Bethys (HONDA), + 32:29
11. Casteu (Gauloises KTM) + 32:34
12. Blais (Red Bull USAKTM), + 33:41
13. Farres Geull (YAMAHA), + 34:37
14. Czachor (YAMAHA), + 36:29
15. Katrinak (KTM), + 36:38
16. Rodrigues (YAMAHA), + 37:30
17. Vinters (KTM), + 40:20
18. Knuiman (YAMAHA), + 40:29
19. Stanovnik (KTM), + 40:47
20. Street (KTM), +46:45
22. Gau (Gauloises KTM), + 47:22
Overall Results:
1. Coma (Repsol KTM), 24:45:23 h
2. De Gavardo (Repsol KTM), 24:49:53 h, + 04:30
3. Esteve Pujol (Gauloises KTM), 24:52:50h, + 07:27
4. Despres (Gauloises KTM), 25:18:02h, + 32:39
5. Sala (Repsol KTM), 25:23:46 h, + 38:23
6. Caldecott (Repsol KTM), 25:32:07 h, + 46:44, Penalty: 02:00
7. Ullevalseter (KTM), 25:40:00 h, + 54:37
8. Fretigne (YAMAHA), 25:41:36 h, + 56:13
9. De Azevedo (KTM), 26:07:40 h, + 01:22:17 h
10. Casteu (Gauloises KTM), 26:14:41 h, + 01:29:18 h
11. Katrinak (KTM), 19:13:05h, + 57:20
12. Blais (Red Bull USA KTM), 19:17:56 h, + 01:02:11 h
13. Gau (Gauloises KTM), 26:59:59 h, + 02:14:36 h
14. Duclos (KTM), 27:05:50 h, + 02:20:27 h
15. Farres Guell (YAMAHA), 19:42:26h, + 01:26:41 h
16. Czachor (YAMAHA), 27:20:12 h, +02:34:49 h
17. Street (KTM), 28:13:06, + 03:27:43
18. Stanovnik (KTM), 28:13:28 h, + 03:28:05 h
19. Knuiman (YAMAHA), 28:14:23 h, + 03:29:00 h
20. Bethys (HONDA), 28:25:56 h, + 03:40:33 h