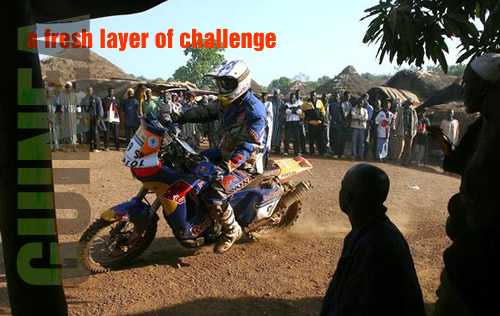 "Sandbox"
Editorial/Art Director
John Siebenthaler
Production Assistance:
Robin Hartfiel
Thanks to the following for their cooperation:
www.ktm.com
www.dakar.com
www.olntv.com
www.dirtbikemagazine.com
www.dualsportnews.com
Rally wrap up
December 31 Racers embark from Lisbon in Stage One
January 1 Still in Spain, Stage Two to Malaga
January 2 Riders cross the Mediteranean to Morocco
January 3 Chris Blais and Andy Girder hang tough for Red Bull KTM
January 4 Bivouac in Tan Tan
January 5 Into the desert – heads up for the mine fields
January 6 Grider out – Team Red Bull KTM looks to Blais
January 7 Sand, sand, sand – lost, found, lost, found
January 8 Rest day – time for a little overdue laundry catchup
January 9 Dakar loses a champion
January 10 Segment cancelled; Dakar looms closer
January 11 The terrain changes
January 12 Five thousand miles behind them, the riders near the finish
January 13 Blais finishes 4th overall
January 14 An abreviated Dakar pauses in a final remembrance
DPPI photo
January 13, 2006
Stage 13 - Labé to Tambacounda
Total distance 567km
transfer 7km
Special test 348km
Liaison stage 212km
SALA RULES THE DAY
BLAIS HANGS TOUGH IN 4TH OA
Chris Blais and the Red Bull KTM US Dakar team would like to extend congratulations to Giovanni "Gio" Sala for a heroic ride and his first ever Dakar stage win today. Starting from the 20th position, this journeyman of the rally circuit and multi-time Enduro champion proved that he had what it takes to run hard when the going is very tough.
Brasialian De Azevedo fell badly just after the start, but continued into the special test until the pain was to high. Then he was transferred by the medical helicopter to the bivouac: nothing serious. Marc Coma ad Cyril Despres immediately passed in front to lead the group through CP2, when they surrendered the lead to six times enduro world champion Giovanni Sala.
GRASP TWO PIGEONS WITH ONE BEAN
The Repsol KTM team-mate was a little disappointed by his bad luck yesterday, so he decided to face one of the most technical special tests of this Dakar as a race in the race – and won. "It is true: yesterday I was disappointed. But that's it. Nothing to be emotionally related to the today's stage. In fact, due to my starting position, I have had a bizarre opportunity: that one of catching my first victory in this Dakar avoiding any risk of lose my "salary" of "water carrier" for the Repsol KTM Team. As we say in Italy, it was the opportunity to grasp two pigeons with one bean", meaning to collect two benefits with one only effort. Nothing to add: I feel very happy!"
"I am very happy about this victory. Today's stage was very fast and dangerous, with many holes," said Sala. "So, I avoided taking too many risks. Then, in the mountains, it looked like an enduro course. And enduro is my business (laugh). When I reached the refueling, I saw that Blais was already there and I worried a bit. So, I attacked as much as possible until the end to protect my third place in the overall ranking."
"Sala was on a mission today, that's for sure!" observed an elated Chris Blais (#9) at the finish of Stage 13's very technical slippery, rock and obstacle strewn 'piste'. "I got a glimpse of his eyes at the fuel stop 210km in and he looked possessed. It was definitely his day."
"Gio is the nicest guy in the world but he gave me a look like he wasn't gonna let some punk kid -like me- beat him. So I just said to myself, "let him go! He rides so fast. He was like no other enduro rider I've every seen. Incredible!"
Blais reported further that today was super technical and filled with opportunities for failure. One false move and it's over with.
"For sure, this was a stage that could easily have ended the rally for me or anyone. It was full of tricky mountain passes and endless villages, which often contain speed traps that we have to be very careful about. The climbs and passes were sort of like running the Baja 1000 and heading up to Mike's (Sky Rancho - a famous Baja racing destination). But today I wanted to have a perfectly clean ride with everything working and I did. It was perfect."
NAVIGATION WOES CONTINUE
As has been the case each day of the rally, adjustments to the roadbook and extra attention to danger situations have been a big part of Blais' strategy. Due to severe weather and the effect this has had on the terrain, it's vital that front runners, such as Blais, take extra care in nightly pre-ride prep and planning.
"I corrected over 8 pages of the (road) book last night. Focusing on dangers and "double dangers" is necessary because of the weather they have had down here since the roadbooks were laid out in 2005. There are gnarly rain ruts and problems that you cannot ignore."
Blais' only other major concern has been his IRI-track which the rally organization required entrants to install. It provides telemetry and GPS monitoring useful for scoring and, when necessary, a measure of safeguarding.
"Two guys are reinstalling my IRI-track right now," said Blais. "They've been working on it almost every day because of problems in tracking the race. It's a lot of hardware and wires, just hope they get it fixed right."
Red Bull KTM Team manager, Joe Barker, equated the day to an ISDE (International Six Days Enduro) stage - "It was rough out there and Chris just kept his head and rode safely, rather than trying to beat everyone. This was a marathon stage and any little situation could have been disastrous if he wasn't cool and calm. He's a very smart rider and each day he gives us another glimpse of how good he is."
FUNNY STUFF FROM BLAIS
"Today the helicopter was following, and I knew they were rolling video but I really had to pee. Real bad. But I did not want to pee on camera. After a while I just said "Oh the hell with it, I gotta go!" so I pulled over and did my thing. Last year, I would have just let go in my pants but not today. You try to hold it, you try to talk yourself out of having to go but it plays with your head and eventually you gotta give in."
CONGRATULATIONS!
… to American Jonah Street for continuing to prove himself as a future star of the Dakar. "Another good day for me on a stage even faster than yesterday's, but sometimes a bit dangerous. I stopped when I saw Azevedo on the ground and stayed with him for about five minutes. Except a tiny mistake, I have been almost perfect in navigation. Actually, I improve every day. For me, the rally should last one more week to enter the top 10."
Special:  348 km Special:  348 km
Stage Results:
1. Sala (Repsol KTM), 05:03:49h
2. Despres (Gauloises KTM), + 03:12
3. Duclos (KTM), + 03:32
4. Coma (Repsol KTM), + 04:35
5. Street (KTM), + 06:28
6. Viladoms (Repsol KTM), + 08:05
7. Fretigne (YAMAHA), +08:07
8. Blais (Red Bull USA KTM), + 09:59
9. Rodrigues (YAMAHA), + 11:15
10. Goncalves (HONDA), + 12:40
11. Gau (Gauloises KTM), + 16:09
12. AgraCarrera (YAMAHA), + 16:17
13. Marchini (YAMAHA), + 17:04
14. Casteu (Gauloises KTM), + 20:05
15. Ullevalseter (KTM), + 23:14
16. De Gavardo (Repsol KTM), + 27:56
17. Algay (YAMAHA), + 28:59
18. Faria (KTM), + 32:03
19. Verhoeven (YAMAHA), + 34:17
20. Bethys (HONDA), + 38:49
Overall Results:
1. Coma (Repsol KTM), 52:09:45 h
2. Despres (Gauloises KTM), 52:41:01 h, + 31:16
3. Sala (Repsol KTM), 53:50:25 h, + 01:40:40 h
4. Blais (Red Bull USAKTM), 54:21:59 h, + 02:12:14 h
5. De Gavardo (Repsol KTM), 55:00:01 h, + 02:50:16 h, Penalty: 01.00:00 h
6. Ullevalseter (KTM), 55:33:13 h, + 03:23:28 h
7. Duclos (KTM), 56:07:17 h, + 03:57:32 h
8. Casteu (Gauloises KTM), 57:55:21 h, + 05:45:36 h
9. Rodrigues (YAMAHA), 58:28:53 h, + 06:19:08 h, Penalty: 02:00:00 h
10. Gau (Gauloises KTM), 59:27:45 h, + 07:18:00 h
11. Viladoms (Repsol KTM), 59:31:01 h, 07:21:16 h, Penalty: 40:00
12. Vinters (KTM), 59:40:35 h, + 07:30:50 h
13. Knuiman (YAMAHA), 60:12:44 h, + 08:02:59 h
14. Algay (YAMAHA), 60:17:49 h, + 08:08:04 h
15. Czachor (YAMAHA), 60:25:53 h, +08:16:08 h
16. Fretigne (YAMAHA), 60:56:14 h, + 08:46:29 h
17. Street (KTM), 61:40:00 h, + 09:30:15 h
18. Bethys (HONDA), 61:47:37 h, +09:37:52 h
19. Marchini (YAMAHA), 62:33:38 h, + 10:23:53 h, Penalty: 02:00:00 h
20. AgraCarrera (YAMAHA), 63:12:50 h, + 11:03:05 h, Penalty: 13:00 h
Tomorrow  - Saturday, January 14, 2006
Stage 14 -Tambacounda to Dakar
Total distance 634km -
107km transfer -
Special test 254km -
Liaison stage 273km