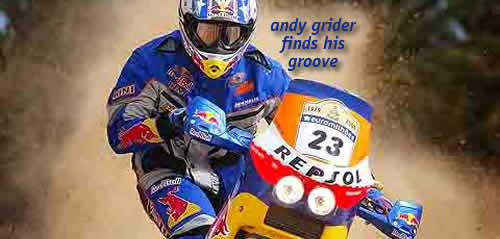 "Sandbox"
Editorial/Art Director
John Siebenthaler
Production Assistance:
Robin Hartfiel
Thanks to the following for their cooperation:
www.ktm.com
www.dakar.com
www.olntv.com
www.dirtbikemagazine.com
www.dualsportnews.com
Rally wrap up
December 31 Racers embark from Lisbon in Stage One
January 1 Still in Spain, Stage Two to Malaga
January 2 Riders cross the Mediteranean to Morocco
January 3 Chris Blais and Andy Girder hang tough for Red Bull KTM
January 4 Bivouac in Tan Tan
January 5 Into the desert – heads up for the mine fields
January 6 Grider out – Team Red Bull KTM looks to Blais
January 7 Sand, sand, sand – lost, found, lost, found
January 8 Rest day – time for a little overdue laundry catchup
January 9 Dakar loses a champion
January 10 Segment cancelled; Dakar looms closer
January 11 The terrain changes
January 12 Five thousand miles behind them, the riders near the finish
January 13 Blais finishes 4th overall
January 14 An abreviated Dakar pauses in a final remembrance
photo H. Peuker
January 2, 2006
Stage 3 – Nador to Er Rachidia, Morocco
Total distance: 672 km
237 km transfer
314 km special test
121 liaison
GRIDER SHOWS GRIT - 1ST RUNNER UP IN STAGE 3
Within a few hours of arriving on African soil Andy Grider mounted his factory #23 Red Bull KTM 660 Rallye bike and made his presence obvious to friend and foe alike. From start to finish, Grider logged a very heads-up ride on the heels of veteran Dakar protagonist, Andy Caldecott #10. Good weather and favorable Baja, Mexico like terrain, Grider finished the long 672 km course behind Caldecott by a mere 3 minutes, 4 seconds. Grider now resides in 8th overall.
(from news feed via www.KTM.com) "Everything was new for me," asserts the debutant of the Red Bull KTM Team. "Our Manager Joe Barker has trained us in many tests in the American deserts but this land is completely different. Every time you learn something you can feel more and more confident. I enjoyed the stage, and all was under control. I started fast this morning. Rapidly the landscape changed. Suddenly, I felt completely alone in the middle of the desert but I also felt comfortable and I opened the gas. In a few minutes I noticed far over there a cloud of dust. I pushed and then I reached Andy (Caldecott). We rode together until the end of the special test and there we discovered we were ranked first and the second."
Andy Grider quote on www.dakar.com - "I felt at home today, the stage looked like the Bajas we ride in the USA, so I was quite at ease. I had no problem of navigation since I only had to follow the riders who started before me. Anyway, I am quite surprised to clock such a good result early in the rally. Actually, I am here to learn. And I am sure the dunes stages will much more difficult for me."
CHRIS BLAIS MAKES NO WAVES
After two troublesome days plagued by problems with a defective GPS system (now repaired!) Chris Blais #9, enjoyed a trouble free day racing through Morocco. The only trouble he'd admit to was allowing too much fuel to be added during one of the scheduled fuel stops.
"I was made the mistake of allowing too much fuel to be poured into my KTM which made bike heavier than I would have liked." said Blais, "and I didn't need that much gas. It did nothing but slow me down a little because of the extra weight. Not a big problem but I know I could have gone faster and had a better finish today." Despite being "slowed down" Blais hauled in a very respectable 9th place finish which lands him in 13th overall through day 3.
TIP OF THE VISOR TO A PAIR OF AMERICAN DAKAR ROOKIES
Last night, suspension guru and former Red Bull - KTM Dakar team wrench, Bret Leef sent me a reminder about two more American rookie's challenging this year's Dakar:
STREET STYLE
Jonah Street #42 (KTM 525 RFS) - 18th Stage 3 - 14th overall - Jonah's hopes of landing a Red Bull-KTM US Dakar team ride during the original 2003 Dakar Rider Search fell a bit short when Chris Blais, Kellon Walch and Andy Grider were selected. Jonah is a very capable rider who thus far has had a pretty good ride aboard a Charlie Rousseau prepped 525 KTM Racing 4-Stroke in his first Dakar Rallye.
James Embro #132 (KTM 660 Rallye) - I've had the good fortune to meet James and his family and ride with him a couple of times on Scot Harden's Nevada Rally Experience rides. A Georgia gentleman through and through, James is fast and enthusiastic about off-road racing and everyone who knows him is delighted that he's finally made the big show. James' positive spirit is infectious and if he can just stomach two weeks of navigation (James, remember "leading" us out of Caliente?), you'll see him in Dakar, for sure. Good luck, James!
FAST WRENCH
Best wishes also to James' mechanic, Elmer Symmons. This talented South African expatriate (oh yeah, he's a California boy now) Elmer is "enjoying" his 2nd Dakar. Like so many other Dakar Rally techs, drivers and managers, this very talented off-road racer is working tirelessly to make it possible for another guy, James Embro, to reach Dakar safe and sound. Bless you, Elmer!
Rankings as of the 3rd stage
Special: 314 km
Stage Results:
1. Caldecott (Repsol KTM) 03:21:11h
2. Grider (Red Bull USAKTM) +03:04
3. Despres (Gauloises KTM) +03:06
4. De Gavardo (Repsol KTM) + 03:27
5. Pellicer (KTM)+ 04:11
6. Coma (Repsol KTM)+ 05:45
7. Amaral (KTM) + 06:28
8. AgraCarrera (YAMAHA)+ 06:46
9. Blais (Red Bull USAKTM) + 06:55
10. Ullevalseter (KTM) + 07:08
11. Gau (Gauloises KTM) + 07:42
12. Fretigne (YAMAHA) + 08:00
13. Duclos (KTM) + 08:27
14. Sala (Repsol KTM) + 08:39
15. Katrinak (KTM)+ 08:59
16. Rivera (KTM) + 09:16
17. Casteu (Gauloises KTM) + 09:28
18. Street (KTM) + 09:44
19. Verhoefen (YAMAHA) + 10:22
20. Esteve Pujol (Gauloises KTM) + 11:12
28.Viladoms (Repsol KTM) + 20:47
Overall Results:
1. Despres (Gauloises KTM), 06:03:12h
2. Coma (Repsol KTM), 06:04:28h, + 01:16
6. Pellicer (KTM), 06:04:51h, + 01:39
4. Caldecott (Repsol KTM), 06:06:53h, + 03:41, Penalty: 02:00
5. De Gavardo (Repsol KTM), 06:06:53h, + 03:41
6. Casteu (Gauloises KTM), 06:08:50h,+ 05:38
7. Fretigne (YAMAHA), 06:09:01h, + 05:49
8. Grider (Red Bull USAKTM), 06:09:12h, + 06:00
9. Esteve Pujol (Gauloises KTM), 06:09:47h,+ 06:35
10. AgraCarrera (YAMAHA), 06:10:33h, + 07:21
11. Duclos (KTM), 06:12:29h, + 09:17
12. Amaral (KTM), 06:13:23h, + 10:11
13. Blais (Red Bull USAKTM), 06:13:35h, + 10:23
14. Street (KTM), 06:15:01h, + 11:49
15. Gau (Gauloises KTM), 06:15:13, + 12:01
16. Katrinak (KTM), 06:16:23, + 13:11
17. Sala (Repsol KTM) 02:46:56+ 9:32
18. Farres Guell (YAMAHA), 06:17:04h, + 13:52
19. Verhoefen (YAMAHA), 06:17:56h, + 14:44, Penalty: 02:00
20. Rivera (KTM), 06:18:17h, + 15:05
24. Viladoms (Repsol KTM), 06:44:01h, + 06:37