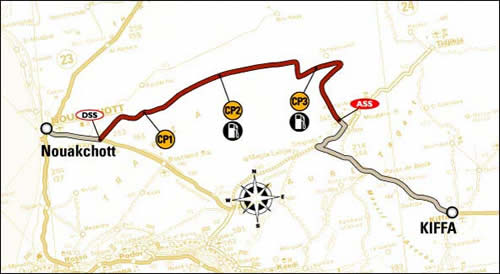 "Sandbox"
Editorial/Art Director
John Siebenthaler
Production Assistance:
Robin Hartfiel
Thanks to the following for their cooperation:
www.ktm.com
www.dakar.com
www.olntv.com
www.dirtbikemagazine.com
www.dualsportnews.com
Rally wrap up
December 31 Racers embark from Lisbon in Stage One
January 1 Still in Spain, Stage Two to Malaga
January 2 Riders cross the Mediteranean to Morocco
January 3 Chris Blais and Andy Girder hang tough for Red Bull KTM
January 4 Bivouac in Tan Tan
January 5 Into the desert – heads up for the mine fields
January 6 Grider out – Team Red Bull KTM looks to Blais
January 7 Sand, sand, sand – lost, found, lost, found
January 8 Rest day – time for a little overdue laundry catchup
January 9 Dakar loses a champion
January 10 Segment cancelled; Dakar looms closer
January 11 The terrain changes
January 12 Five thousand miles behind them, the riders near the finish
January 13 Blais finishes 4th overall
January 14 An abreviated Dakar pauses in a final remembrance
January 9, 2006
STAGE 9 Nouakchott > Kiffa
Total distance: 874 km
30 km transfer
599 special test
245 km liaison
DAKAR'S DARKEST DAY
Chris Blais and the entire Red Bull KTM US Dakar team would like to extend their condolences to the family of Andy Caldecott #10, who tragically lost his life today during Stage 9 of the 2006 Dakar Rally. The 41-year-old Australian was a talented member of the Repsol Junior team as well as a friend and staunch ally to Chris and the American team.
"I last saw and spoke with Andy at a gas stop just 20km from where he crashed," said Blais. "He was a tremendous rider and a big help to me during earlier stages in the rally. This is a huge loss and all of us are stunned by his passing."
STAGE 9 RESULTS
Blais finished 9th overall for Stage 9, he is now in 6th position overall. Today's was a long and trying stage with very high-speeds, dust and challenging obstacles. By 10pm, more than half of the field had still not arrived in the bivouac.