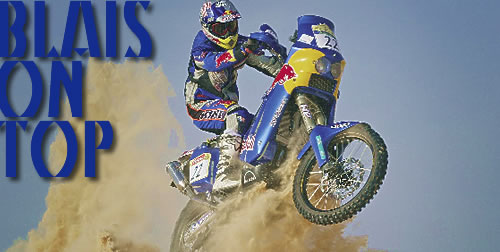 "Sandbox"
Editorial/Art Director
John Siebenthaler
Production Assistance:
Robin Hartfiel
Thanks to the following for their cooperation:
www.ktm.com
www.dakar.com
www.olntv.com
www.dirtbikemagazine.com
www.dualsportnews.com
Rally wrap up
December 31 Racers embark from Lisbon in Stage One
January 1 Still in Spain, Stage Two to Malaga
January 2 Riders cross the Mediteranean to Morocco
January 3 Chris Blais and Andy Girder hang tough for Red Bull KTM
January 4 Bivouac in Tan Tan
January 5 Into the desert – heads up for the mine fields
January 6 Grider out – Team Red Bull KTM looks to Blais
January 7 Sand, sand, sand – lost, found, lost, found
January 8 Rest day – time for a little overdue laundry catchup
January 9 Dakar loses a champion
January 10 Segment cancelled; Dakar looms closer
January 11 The terrain changes
January 12 Five thousand miles behind them, the riders near the finish
January 13 Blais finishes 4th overall
January 14 An abreviated Dakar pauses in a final remembrance
Stage 4 – Er Rachidia to Ouarzazate
Total distance: 639 km
56 km transfer
386 km special test
197 liaison
BLAIS & GRIDER HANG TOUGH IN MOROCCO
Stage 4 ran between Er Rachidia, Morocco and Ouarzazate, Morocco and so far had the most terrain changes of the 2006 Rally. Yesterday's top finishers, The Andys, Caldecott #10 and Grider #23, left at 6:00am – a mixed blessing. On one hand, they would not have to deal with the dust that haunted the rest of the field but going out first also means navigating first on virgin terrain.
"I rode smooth and smart today, only getting messed up on one navigation trap for a short time. I picked up with a couple of other riders, found the course again and got going." Said Grider. "Things went well until one of my saddle-tank gas lines let loose. There I was, about 100km into the day and well into the special test, when I was forced to stop and repair it."
Grider managed to dump his tanks and fix the troublesome small plastic fitting but his problems were not quite over.
RESCUE MISSION
"My battery went dead trying to start the bike, so until Chris (Blais #9) showed up to give me a jump start, I went nowhere," said Grider, "I got going again and rode for another 20km or so until I was completely out of gas. I was stranded again for about an hour and a half. Lucky for me however, one of the Repsol Jr team riders - Viladoms #21 - stopped and gave enough gas to get me to the the next gas stop."
AFRICA IS BIG & GETTING BIGGER
While Grider sat waiting for Viladoms' eventual rescue, he had ample time to ponder just how big Africa is, or at least appeared to be.
"In the states and in Mexico, no matter how remote it seems, there's always somebody near by, eventually. But here in Morocco I sat out of gas for a long time and never saw or heard anybody. When I mentioned this to Hans Trunkenpolz (KTM Dakar team director) he told me "You haven't even seen Africa yet – just wait!""
BLAIS TURNS 25
For the second time in his young life, Red Bull KTM US Dakar rider Chris Blais is celebrating another birthday, his 25th, from the controls of a KTM 660 Rallye machine. After safely arriving in the bivouac this afternoon, Blaise offered this view of the day's proceedings.
"So far everything has been great. I'm feeling good, I have been riding pretty well and the fact that the top 20 guys are still so bunched up, within 10 minutes or so of each other, makes the race better. Today I had hoped to move up the standings with a good ride but I lost a little more time than I'd planned for. I had to stop to get Andy going again and probably lost about 15-minutes in the process . By the time I got rolling again a pack of 6 slower riders managed to catch up and pass me. This also meant riding in a lot of dust throughout most of the stage."
Blais also got a taste of just how unforgiving the rocky track was and how even the slightest episodes can have a dramatic affect.
"I didn't crash my KTM but I did manage to sustain some damage. I completely flattened my right side exhaust and nearly did the same on the left side, too. I also smashed up the skid plate pretty good in one of the gnarly rock sections. I made it to the finish today in 12th, so that's not too bad. And I am still feeling very good. Even better now that Andy Caldecott has given me a bag of Gummy Worms (candy) to enjoy for my 25th birthday!"
In hindsight, despite the minor problems suffered by Blais and Grider, today's stage 4 was not as difficult as Dakar Rally director Etienne Lavigne had warned everyone at the briefing last night. He also warned the contingent about today's first dune crossings of the rally. However, the Merzouga erg were passed by most riders without difficulty.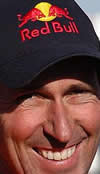 AUSSIE ANDY CHECKS IN
I had a chance to speak on the phone today with Stage 3 winner, Andy Caldecott #10. Andy's a late addition to the Repsol Red Bull KTM Junior team and he was called up to replace an injured rider a few weeks ago. This will make his 3rd attempt at Dakar.
"I hadn't expected to ride the Dakar again this year, so until I got the call 3 weeks ago, I was just carrying on with everyday life back in Australia." Said Caldecott. "I haven't trained but so far things have gone pretty well for me. The Repsol Jr team is a good one, the bike is excellent, very similar to the KTM I rode in 2005 and my Spanish mechanic is good. Despite the fact that we can't speak each other's language we get along quite fine. I have become good friends with the Americans, Andy and Chris, Joe Barker and the whole team. Andy and I rode together yesterday and really had a good run, finishing in 1st and 2nd place for Stage 3. The factory guys like Coma and Despres are full time paid riders with factory equipment so they have the advantage but we have good equipment and a great team, too."
Tomorrow the stage will reach Tan Tan, the first of an "over 800 km" trio. Exactly 819 kilometers, with the 5th special test of the Dakar, 350 km. No dunes in the special, but two long technical sections. The race will also return to sea level. Look for heat to begin to affect the competitors.
Rankings: 4th stage
Special: 386 km
Stage Results
1. Esteve Pujol (Gauloises KTM), 04:13:01h
2. Coma (Repsol KTM), + 00:28
3. De Gavardo (Repsol KTM), + 05:15
4. Despres (Gauloises KTM), +06:50
5. Casteu (Gauloises KTM) + 15:41
6. Caldecott (Repsol KTM), + 17:44
7. Fretigne (YAMAHA), + 18:39
8. Sala (Repsol KTM), + 20:32
9. Ullevalseter (KTM), + 21:33
10. De Azevedo (KTM), + 24:24
11. Faria (KTM), + 24:37
12. Blais (Red Bull USAKTM), + 26:20
13. Katrinak (KTM), + 26:25
14. AgraCarrera (YAMAHA), + 27:58
15. Amaral (KTM), + 27:59
16. Farres Geull (YAMAHA), +28:22
17. Duclos (KTM), + 28:43
18. Gau (Gauloises KTM), + 29:50
19. Verhoeven (YAMAHA), +31:42
20. Pellicer (KTM), + 38:35
25. Grider (Red Bull USAKTM), +01:12:09
59. Viladoms (Repsol KTM), + 01:35:17
Overall Results:
1. Coma (Repsol KTM), 10:17:57 h
2. Esteve Pujol (Gauloises KTM), 10:22:48 h, + 04:51
3. Despres (Gauloises KTM), 10:23:03 h, + 05:06
4. De Gavardo (Repsol KTM), 10:25:09 h, + 07:12
5. Casteu (Gauloises KTM), 10:37:32h, + 19:35
6. Caldecott (Repsol KTM), 10:37:38h, + 19:41, Penalty: 02:00
7. Fretigne (YAMAHA), 10:40:41h, + 22:44
8. Sala (Repsol KTM), 10:50:19h, + 32:22
9. AgraCarrera (YAMAHA), 10:51:32h, + 33:35
10. Blais (Red Bull USAKTM), 10:52:56h, + 34:59
11. Ullevalseter (KTM), 10:53:04 h, + 35:07
12. Duclos (KTM), 10:54:13 h, + 36:16
13. Amaral (KTM), 10:54:23 h, + 36:26
14. Katrinak (KTM), 10:55:49 h, + 37:52
15. Pellicer (KTM), 10:56:27 h, + 38:30
16. De Azevedo (KTM), 10:56:51 h, + 38:54
17. Gau (Gauloises KTM), 10:58:04 h, + 40:07
18. Farres Guell (YAMAHA), 10:58:27 h, + 40:30
19. Verhoefen (YAMAHA), 11:02:39 h, + 44:42, Penalty: 02:00
20. Street (KTM), 11:07:42 h, + 49:45
24. Grider (Red Bull USAKTM), 11:34:22h, + 01:16:25
33. Viladoms (Repsol KTM), 12:14:17h, + 01:56:20