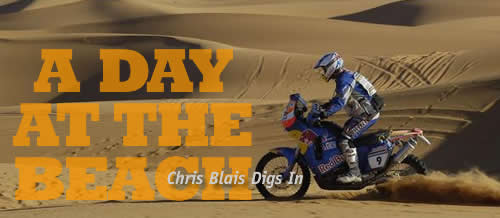 "Sandbox"
Editorial/Art Director
John Siebenthaler
Production Assistance:
Robin Hartfiel
Thanks to the following for their cooperation:
www.ktm.com
www.dakar.com
www.olntv.com
www.dirtbikemagazine.com
www.dualsportnews.com
Rally wrap up
December 31 Racers embark from Lisbon in Stage One
January 1 Still in Spain, Stage Two to Malaga
January 2 Riders cross the Mediteranean to Morocco
January 3 Chris Blais and Andy Girder hang tough for Red Bull KTM
January 4 Bivouac in Tan Tan
January 5 Into the desert – heads up for the mine fields
January 6 Grider out – Team Red Bull KTM looks to Blais
January 7 Sand, sand, sand – lost, found, lost, found
January 8 Rest day – time for a little overdue laundry catchup
January 9 Dakar loses a champion
January 10 Segment cancelled; Dakar looms closer
January 11 The terrain changes
January 12 Five thousand miles behind them, the riders near the finish
January 13 Blais finishes 4th overall
January 14 An abreviated Dakar pauses in a final remembrance
January 1, 2006
Stage 2 – Portimao, Portugal to Malaga, Spain
Total distance 567km
65 km transfer
115 km special test
387 km liaison
Stage 2's longer 567km course featured high-speed off-road terrain filled with picturesque mountain scenery and treacherous obstacles. The day started out with a threat of rain so American teammates Chris Blais #9 and Andy Grider #23 relied heavily on their navigation skills to see them safely to the end of the stage. Careful navigation, both road book and this year's very scaled back GPS systems, will play a key role as the rally moves from European soil across the Mediterranean Sea and down into Africa. Thankfully, our boys kept their cool throughout today's stage and managed to successfully arrive without incident.
TIRE WARS - In preparation for today's undulating and very twisty "Pike's Peak" style course, the team's decision to equip their pair of very potent KTM 660 Rallye bikes with motocross style tires proved a good one. The technicians worked into the wee hours changing wheels and tires in anticipation of high-speed gravel roads, mud and occasional slick mud sections that appeared more than a few times.
BLAIS GPS WOES – AGAIN! – Throughout yesterday's stage 1, the GPS system on Blais' #9 KTM was not working, often leaving him without reliable readings rendering him unable to trust his GPS display at all. Upon learning this at the Stage 1 finish, KTM-Red Bull team manager Joe Barker ordered an overhaul and GPS equipment retrofit. Luckily, backup equipment was sourced and as the final minutes of 2005 ticked away repairs were accomplished successfully. By now, everyone was convinced that Blais wouldn't have to worry about GPS gremlins again.
Unfortunately, early this New Year's morning, the new GPS system began to give bad readings once again. One "helpful" French technician was convinced that Blais' "animal magnetism" was the problem and he'd just have to suffer the consequences! With only minutes before the start of Stage 2, there was reason for great concern! As luck would have it, an angel appeared at Blais' side. The "angel" was none other than Australian technical wiz Lee Palmer, chief tech for the #2 Marc Coma KTM. In no time at all and with just a few twists of wrench and screwdriver, Palmer instituted a quick fix and Blais was on his way.
By contrast to Blais' GPS situation, teammate Andy Grider's day was smooth and uneventful. By now he's safely aboard the ferry on the cruise to Africa, and with his first two Dakar stages under his belt, this off-road veteran should be dreaming about getting the race going in Nador tomorrow morning.
NO SLEEP FOR MANAGEMENT - Late today, I received a flurry of calls from Joe Barker. Overall, he's very happy that his riders and team made it unscathed through the opening two stages but his "real" day's seem to begin when "the boys" have safely completed the day's ride and he can focus on a long list of "gotta do's" for tomorrow.
Anyone who's ever been part of a long off-road race or marathon "raid" rally, such as the Dakar can appreciate that sleep is something that is now on hold until the riders are standing on the podium in Dakar. Each day merges with the next and sleep is something you put on hold until after the event.
"Chris and Andy are all set to head over the water to Africa," said Barker. "We've got the support vehicles staged for the ferry ride across the water to Africa so we're driving these vans back up from Malaga, Spain to Lisbon, Portugal." During Barker's last hours in Europe, he'll be on the constant prowl for any possible advantages he can – be it equipment or information – that will benefit his team. Talk about team spirit!
STAGE 2 results –
1st – Ruben Faria #160 – Total time: 1hr 37min 7sec
14th – Chris Blais #9 – Total time: 1hr 41min 06sec
17th – Andy Grider #23 – Total time: 1hr 41min 41sec
OVERALL result through Stage 2
1st – Isidre Esteve-Pujol #3 – 2:37:24
16th – Grider #23 – 2:44:57
17th – Blais #9 – 2:45:29