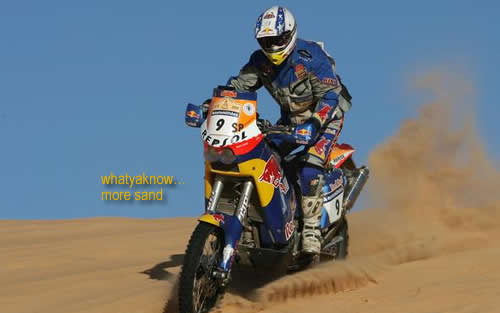 "Sandbox"
Editorial/Art Director
John Siebenthaler
Production Assistance:
Robin Hartfiel
Thanks to the following for their cooperation:
www.ktm.com
www.dakar.com
www.olntv.com
www.dirtbikemagazine.com
www.dualsportnews.com
Rally wrap up
December 31 Racers embark from Lisbon in Stage One
January 1 Still in Spain, Stage Two to Malaga
January 2 Riders cross the Mediteranean to Morocco
January 3 Chris Blais and Andy Girder hang tough for Red Bull KTM
January 4 Bivouac in Tan Tan
January 5 Into the desert – heads up for the mine fields
January 6 Grider out – Team Red Bull KTM looks to Blais
January 7 Sand, sand, sand – lost, found, lost, found
January 8 Rest day – time for a little overdue laundry catchup
January 9 Dakar loses a champion
January 10 Segment cancelled; Dakar looms closer
January 11 The terrain changes
January 12 Five thousand miles behind them, the riders near the finish
January 13 Blais finishes 4th overall
January 14 An abreviated Dakar pauses in a final remembrance
DPPI photo
January 7, 2006
STAGE 8 - Atar to Nouakchott
Total distance: 568 km
34 km transfer
508 special test
26 km liaison

BLAIS CELEBRATES 2ND PLACE FINISH!
Moves into top 10
 
My morning wake up call today was extra special. On the phone from the Stage 8 finish in Nouakchott, Mauritania was an elated Chris Blais. The Red Bull KTM team rider had just wrapped up 2nd place for the day, the best finish of Blais' budding Dakar Rally career. Here are a few highlights from Chris' spectacular day:
CHRIS BLAIS
"I guess it was a little bit of luck and a little bit of everything today that worked for me. It was another wild day. Everybody is charging way fast. Sometimes to just stay on top of the sand and not sink in, sometimes to chase down the guy ahead, and sometimes to try to stay ahead of the pack.
LOST!
At 272km in, there were big gap between the GPS waypoints and the lead group [including Esteve, Coma, Despres and De Gavardo] ended up going quite a distance off piste [off course]. We appeared to be going off to the right too far in search of the proper waypoints which are supposed to appear 3km before you get to them. Lots of confusion for everyone. I saw that nobody had a proper read so I stopped and went to one side of the course, retraced my tracks and went back 1 to 2km in the direction we'd come. I was convinced that we were all at least 5km off course.
EUREKA!
I'd located the course again and acquired the waypoint we were all looking for, I started to head back in the proper direction. Despres #1 and Casteu #8 saw what I was up to and passed me. I dropped in with them and chased 'em to the fuel stop. Had I not found the waypoint we would not have found the fuel stop. And this is not a place where you want to be lost and out of fuel.
MAALOX MOMENTS
I began the day with a bad stomach so I had to stop and take care of business at 60km. I lost a few minutes taking care of my situation but it was worth it. Believe me.
SAND, SAND & MORE SAND
The sand out here is endless and tricky. At first very fast washes then super soft sand then lots and lots of loose rocks and more sand. I kept pushing hard but I wasn't comfortable going so fast. After the sand and rocks the course entered a twisty, 2nd gear brush sections.
MEN OVERBOARD
Everybody was crashing, and often. I watched guys like Gio Sala #6 and Andy Caldecott #10 falling off and getting stuck in the very soft sand. Everybody is falling – no matter how much experience they have. Pro or amateur they're all going down. Again and again. Everywhere you looked riders were cartwheeling. We's skid off dunes and roll over. One time I fell down hill and couldn't unstick my bike. I'd try to turn it around but the bars would just dig deeper - a bad spot an extreme angle. I tore up parts and ended up riding the last 120km with no front brakes. To make things worse we had very windy, sandstorm conditions. It was much warmer today and my feet were hot all day from endless standing. You couldn't sit ride you had to stand on the pegs all day.
GOOD SAMARITAN
At one point I launched off a small cliff and went down. Caldecott stopped to get me going again. I dropped in behind and let him lead the way after that. He did me a big favor by helping me. I owe that guy a big one!
BLAIS' NEAR DEATH EXPERIENCE
Approaching a fuel stop I hit a road crossing and launched my KTM about 60-feet! It was very scary. It was like clearing a big double. Fortunately I didn't crash but it was hairy - not something I expected to see and I'm disappointed that it wasn't marked in our road books.
CARNAGE
Both Casteu's and Fretigne's bikes were very torn up. They'd obviously gotten off hard and lost pieces and parts including road book holders, which you can't navigate without.
FINALLY A DAY OFF!
The entire Red Bull KTM US Dakar team is glad to have arrived at the rest day. Speaking for myself I need a break to make the rally fun again. For me it gets tiring riding every day as much as we do and 24-hours off the bike will be awesome.
SIGHTINGS, ETC
In the beginning we went through 4 or 5 villages then 300km where we didn't see a damned thing. No living beings.
Jonah Street, passed me on his 525 KTM. It's better suited for the tight stuff and he blasted by in the twisty section.
About 50km from the finish there was some guy on an Adventure bike riding along straight toward us, appearing to be having a good time. I thought "Who is the guys coming at me? And what the hell is he doing way out here?"
The roadbook hasn't' been as good as it should be. We went for 15km where there were no notations – nothing to gauge from. You can't go in a straight line and detect partially visible tracks but they are not reliable.
We see photo guys every so often. When you are out there you realized there is nothing out here. The organizers tell us how much fuel need to be in the bikes. I always want a little bit extra so that if I get lost I won't also get out of gas, too. If you are all by yourself and nobody else goes.
BLAIS ON GRIDER
After the stage 7 start I never again saw Andy (Grider #23). I had branched off with a couple of other riders during the stage and our paths didn't cross. Until I finished riding yesterday and arrived at the bivouac, I had no idea that he'd been hurt or that they had transported him to the hospital in the Canary Islands.
HOW THINGS WILL CHANGE WITH ONE-MAN TEAM
Andy's mechanic will stay on to help out and gain experience but now we'll just have one less rider. Both mechanics, Matt Spencer and Matt Hebert are working on my bike right now. A decision was mad to leave the same engine in the bike because it's really been running well. No problems at all. Normally we would change the engine by now but we'll leave the bike as is. My WP forks and rear suspension never even get serviced, they're good. Same grips. Same bars. Same seat – very nice. Same bodywork – no damage at all.
JOE BARKER CHECKS IN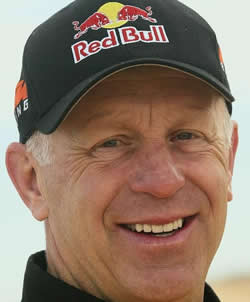 Red Bull KTM US Dakar team manager, Joe Barker, is the tireless captain of the American team. His flashlight burns into the wee hours of each rally morning while he checks and rechecks the all important details that will assure that his riders and mechanics will have a chance to continue on until next weekend. Today, he was elated to locate and secure a house, with one bed [maybe for Blais?] so that his guys might seek a few hours of refuge from the blowing sand. (peuker photo)
"It's really blowing out at the bivouac. Couldn't see anything, couldn't breathe. The bivouac is 3km from the airport which doesn't allow easy access - we couldn't just run back and forth. There are a ton of military types around these parts. So thanks to our friend Jordi Arcarons, we've been able to secure a house for the rest stop and it's been a real treat. Steak and pasta dinner. Showers. It's all good!"
from www.dakar.com
"Former privateer David Casteu (KTM – n°8) who finished 13th of last year's event clocked the fastest time at CP2 before capturing his first ever (stage win). Casteu beat the USA's Chris Blais (KTM – n°9) by 2-minutes, 13-seconds. The 25-year-old American managed his best ever performance in a Dakar. Third was Cyril Despres who was taking it easy until the first check-point (18th over 11" adrift) resting his shoulder, before making the right move when it really mattered. The title-holder finished 2'17" behind but gained time on his Spanish rivals: over 2-minutes on Esteve and close to 4-minutes on Coma. Despres still remains well behind the race leaders and seemed to have forgotten his shoulder worries but was complaining about a wrist tendonitis."
from www.ktmpress.com
The Dark Side of The Moon For the 7th stage the competitors left Tan Tan very early in the morning. Around 2:00pm the first riders were at the bivouac of Atar. But the stage was not over. At midnight about 50 riders were still in the desert, almost sure they would spent the night far from the bivouac. Some decided to stop and sleep a short, cold and troubled night. Others proceeded very slowly, sentenced to the withdrawal. Throughout the night, one after another, headlights came out of the darkness to announce the arrival of another rider. The organizers decided to let the last riders leave for the next stage, after a medical check-up. Should they reach the bivouac at Nouackchott? And if so, should they have time to enjoy this area devastated by a sandstorm?  
In the last hundred kilometres David Casteu took maximum advantage of the situation and finally won his first special test of the Dakar, just in front of the admirable American, Chris Blais. The pair was followed by Cyril Despres and Isidre Esteve.
"I have to thank Cyril Despres", said Casteu at the finish. "He is a master of navigation. I only had to follow him and learn. At the finish I thought for a long time this was the area where last year we have lost Fabrizio Meoni, and I dedicated him my first victory, I am sure he is watching us and he is also happy for my success today."
Leading more than the 60% of all Dakar competitors is Hans Trunkenpolz, the "General" of the KTM Army: "For me the race is always very interesting. During so many years, every time I loved this special taste of the victory, but one kind of feeling has become more and more intransigent: this one coming from the safety of the riders. Each day I feel good when a KTM rider wins a stage, but I finally feel completely comfortable only when the last rider has reached the bivouac without any accident".
Finally a rest day. 24 hours of détente. Restart on Monday, compass to Kiffa.


Stage 8 rankings : Special:  508 km 
Stage Results:
1. Casteu (Gauloises KTM), 05:55:55h
2. Blais (Red Bull USAKTM), + 02:13
3. Despres (Gauloises KTM), +02:17
4. Esteve Pujol (Gauloises KTM), + 06:58
5. Coma (Repsol KTM), + 08:02 
6. Caldecott (Repsol KTM), + 08:47
7. Rodrigues (YAMAHA), + 09:51
8. Vinters (KTM), + 11:24
9. Viladoms (Repsol KTM), + 12:16
10. De Azevedo (KTM), + 13:52
11. Sala (Repsol KTM), + 14:07
12. De Gavardo (Repsol KTM), + 15:21
13. Bethys (HONDA), + 16:24
14. Ullevalseter (KTM), + 25:38
15. Duclos (KTM), + 30:33
16. Meillat (HONDA), + 45:03
17.Piroud (YAMAHA). + 48:06
18. Rivera (KTM), + 49:44
19. Stanovnik (KTM), + 52:15
20. Gau (Gauloises KTM), + 54:07
Overall Results
1. Coma (Repsol KTM), 30:49:20 h
2. Esteve Pujol (Gauloises KTM), 30:55:43 h, + 06:23
3. De Gavardo (Repsol KTM), 31:01:09 h, + 11:49
4. Despres (Gauloises KTM), 31:16:14 h, + 26:54
5. Sala (Repsol KTM), 31:33:48 h, + 44:28
6. Caldecott (Repsol KTM), 31:36:49 h, + 47:29, Penalty: 02:00
7. Ullevalseter (KTM), 32:01:33 h, + 01:12:13 h
8. Casteu (Gauloises KTM), 32:10:36 h, + 01:21:16 h
9. De Azevedo (KTM), 32:17:27 h, + 01:28:07 h
10. Blais (Red Bull USAKTM), 32:17:56 h, + 01:28:36 h  
11. Duclos (KTM), 33:32:18 h, + 02:42:58 h
12. Gau (Gauloises KTM), 33:50:01 h, + 03:00:41 h
13. Czachor (YAMAHA), 34:14:30 h, +03:25:10 h
14. Bethys (HONDA), 34:38:15 h, +03:48:55 h
15. Rodrigues (YAMAHA), 34:40:54 h, + 03:51:34 h 
16. Marchini (YAMAHA), 34:41:55 h, + 03:52:35 h
17. Stanovnik (KTM), 35:01:38 h, 04:12:18h
18. Vinters (KTM), 35:15:27 h, 04:26:07h
19. Viladoms (Repsol KTM), 37:10:18 h, + 06:20:58h
20. Piroud (YAMAHA), 37:23:22 h, 06:34:02