verbal+visual
i write. i design. people look.

taking business to market
My interest in communications began in the late '60's. I was majoring in Public Relations as a University of Florida journalism student who discovered a passion for photography and design along the way.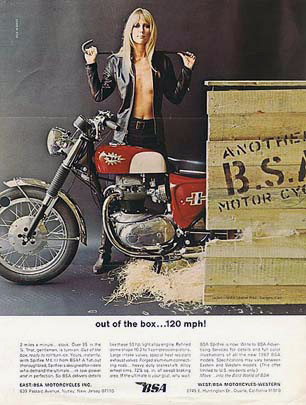 Classic 60's appeal — flows from clean composition, a cool head, and crisp, smart copy in this great ad by an unknown agency for BSA Motorcycles – Western. (clik on image to enlarge.)
It's still inspiring me to provide clean, clear marketing concepts for clients.
Before desktop publishing replaced tradition and craft, print's Golden Age meant memorable layouts that led with provocative headlines and arresting copy from legends like David Ogilivy and Leo Burnett.
I wanted to be just like them.
When I saw this ad for a BSA Thunderbolt in Cycle World magazine, juxtaposing a sleek, pre-silicon model in the role of a crowbar-wielding setup mechanic, it fired my interest in the magic of advertising and marketing.
Swapping a few inches of bylined event coverage in the student paper for a press pass at nearby race venues like Daytona, Sebring, and Gainesville Raceway got me close to the action and provided an opportunity to practice my craft in multiple dimensions.
In the years since, digital media has dethroned print, but not inspiration. I hang on to that yellowing page of glossy 80-lb text as a reminder that no matter how clever the technology, without creative there is no message.