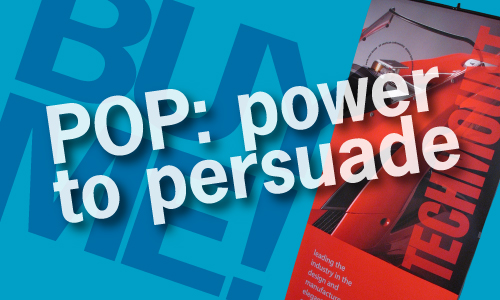 Dimensional Advertising: See-Stop-Buy

professional marketing and communications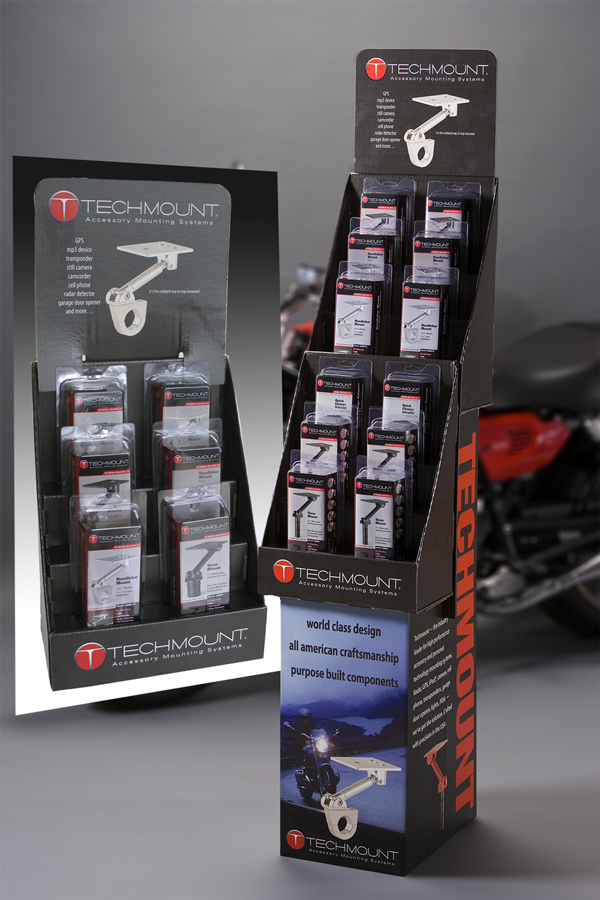 Display Combo 12-Pack
I designed this unique dealer display POP for triple duty: 1) a 12-unit retail floor display, 2) a six-unit counter display, and 3) a reorder shipper, all in a short run piece that takes up less than two square feet of retail floor space.
POP — Retail's Best Friend
Humans are predictable, especially when we're on the hunt for bling. We like shiny. We like new. We like — movement! Color! Size! Our plains hunter ancestors' hard-wired survival skills equipped us to notice what's different. Which brings us to the rationale for POP (Point Of Purchase) advertising. It works simply because it's instinctive.
POP's capable of delivering an exceptional ROI. It's qualified, measurable and, for the right product, remarkably effective. In fact there may be nothing quite as persuasive as POP when it comes to coaxing that last hesitant dollar out of the jeans of a nervous, cash strapped market in a down economy.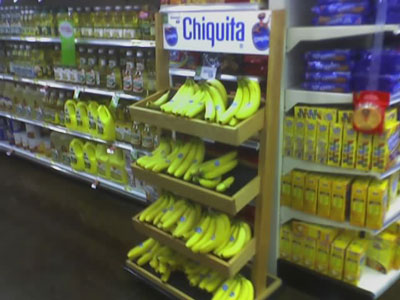 POP — A Marketing Essential
Manufacturers jockey for valuable real estate for their displays, like this Chiquita kiosk. Simple, and effective – and if it works for bananas, it'll work for parts.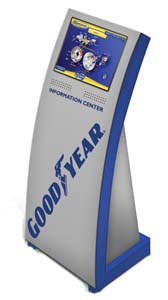 Whether your goal is a high visibility promotion or long term interactive display, the options are limitless. Bacardi's Bat scored with their luscious Mojito flavored launch while Goodyear's digital display serves the customer the right answer every time.
By Any Other Name
Also referred to as At Retail Marketing and Point Of Sale (POS), dimensional advertising is the little engine that can and does drive buying outcome in virtually all consumer categories. Relied on for pushing impulse items and focusing buyers' eyeballs on promotional goods, dramatic advances in digital sophistication are today responsible for propelling POP marketing to new heights.
You'll find POP everywhere – grocery stores, malls, theaters, restaurants (table tents) – except in most powersports dealer showrooms.
Nothing To Gain But Sales
Despite a few memorable examples from the OEMs, industry spending remains focused on event marketing. The aftermarket as a whole just hasn't realized the multiplier effect that premium POP has on sales of everything from big ticket items to checkout trinkets.
Properly researched and designed POP can be very useful in offsetting e-commerce competition, something that most dealers today view as just short of the plague when it comes to threats to their livelihood.
What Works — What Doesn't
Batteries aren't produce. If you've heard an industry consultant or manufacturer's rep recommending the cliched mass display of merch stacked at the end of an aisle or along the back wall — a technique similar to lining up the trees in the forest so they'll then stand out — resist the urge unless what you're selling is truly unique.
Modern marketing has moved considerably beyond that model and consumers know it. They know it from the interactivity that assaults their senses at the mall, in the grocery, at the gas pump. POPs influence on consumer purchasing is hard to ignore and rating effectiveness can be as simple as measuring coupon redemption rates.
For manufacturers looking to book more shelf space, imaginative POP can be the way to the dealer's heart. And for dealers, POP's the answer to what's often seen as a retail arena desperate for fresh air and sunlight.
I've had a lot of fun designing POP efforts for my clients, ranging from bus shelter posters to floor displays. If you haven't thought about adding POP value to your event marketing and retail merchandising plans it's a great way to get out in front.