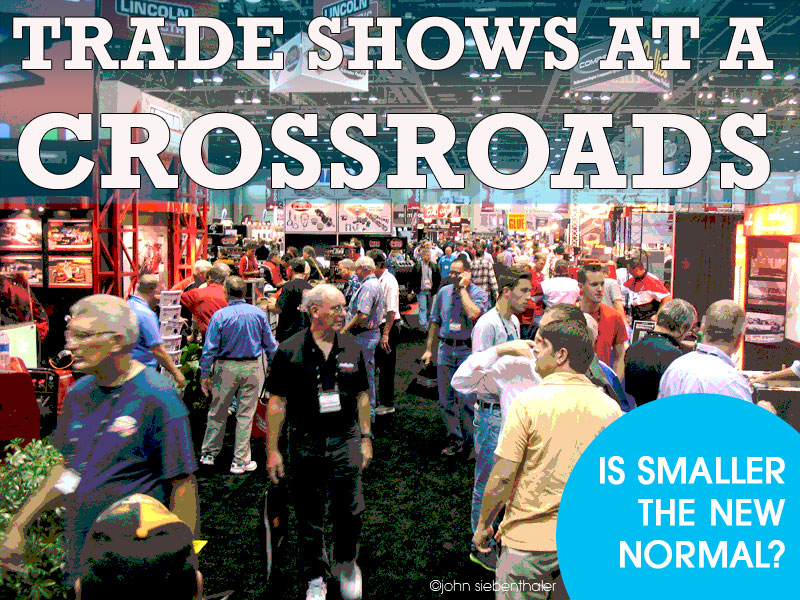 Industry Events Struggle Against Waning Interest
January, 2013 | by John Siebenthaler: photos©john siebenthaler

taking business to market
What happens when a still popular but aging format finds itself confronted by a fresh young challenger that can't wait to crash the party?
That's the big question industry trade shows face today as a mass marketing concept that came of age when rabbit ear antennas were wrapped in foil to draw in television broadcasts continues to lose cachet.
For trade shows to remain relevant in a digital society that has its nose constantly pressed to a smartphone is proving difficult when the answer to what's new under the sun is only a mouse click or finger swipe away. (Please, don't anyone mention a world's fair.)
Over the years I've attended dozens of trade shows and professional events, in venues ranging in size from phone booth status to stadium spectacle, always anticipating the next great product breakthrough or technical innovation. And it wasn't that long ago that exhibitors measured event success by the catalog and collateral tonnage distributed to attendees who then carted away the print efforts in cobbled together tow-behind milk crates.
For the past roughly half-dozen years, participation and excitement have been waning. Why? It's tough to find any one source of blame, especially when event promoters have a tendency to view private and confidential metrics through rose-colored glasses.
If the core function of a trade show is marketing, then gauging success (measured by turnstile attendance and booth contracts) should be a relatively simple matter. Before looking at the role of the web and the introduction of smartphones and their converging effect on conventional commerce lets recall the status quo.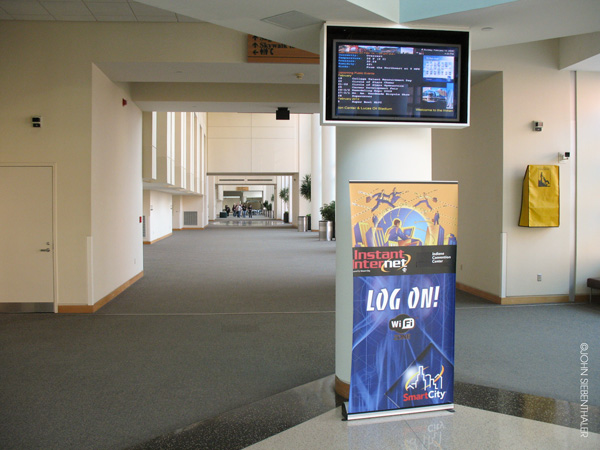 Old Dog, Old Tricks
Trade shows and allied industries events have traditionally been scheduled around new product intros, fixed date catalog releases, and other significant milestones considered time sensitive and absolutely carved in stone. Seller and buyer were united only after an unflinching analog workflow of new product development, collateral creation, catalog production, and publicity decided the time was right, simply because there was no alternative.
For trade shows to remain relevant in a digital society that has its nose constantly pressed to a smartphone is proving difficult when the answer to what's new under the sun is only a mouse click or finger swipe away.
Press schedules were rigidly enforced. Calendar seasons were absolute. And in between came project travel, copywriters, art directors, photographers, account reps, pressmen, engravers, typesetters, production meetings, creative sessions, contracts and much more. It was an expensive, labor intenstive process that could not be altered for customer convenience or manufacturer advantage. What's changed?
The introduction of the fax machine – the first digital technology to significantly affect the analog production cycle – time-shifted the landscape. Today the bulk of that organizational and fulfillment process is carried out by multi-tasking professionals working from a laptop wherever there's an internet connection and a phone or tablet where there's not.
Manufacturer's catalogs are no longer tethered to the next available press run: on-the-fly updates are incorporated directly into online docs, web pages and increasingly print-on-demand hard copy output. Simply put, the element of surprise as a reason to attend is long gone. If it can happen to the Consumer Electronic Show, it can happen to anyone.
In the powersports industries, for example, solutions being tried include distributors abandoning coveted anchor locations for their own proprietary events and new competitors offering parallel shows. The answer(s) are far from simple but engagement seems a likely place to start.
Use Smart Technology for Consumer Engagement
The
use of social media by the powersports aftermarket
lags far behind other manufacturing and retail channels.
If the digital revolution is seen as the problem, it may just as well be the solution. Here's why. Retail consumers have access to much of the same online information as dealers and retailers, so not only is shopping now comparison based, it's expected by manufacturers as much as it's decried by sellers.
The growing use of Google+ hangouts, Skype, and Facebook chat makes the need to physically connect all but extinct. And cheap airfares aside, the increase in traveling stress and strain acts as an invisible brake on attendance, further causing numbers to suffer.
The traditional method of trade show selling is little more than a variation of fishing with a cork bobber. Set up a booth, any booth. Bait the hook with collateral and ad specialties. Oh yum, more stale hard candy. Oh good, Umbrella Girls. And wait. "Cyber cafes" as event features? Popular with what demographic?
Occasionally there's a booth design that works really well that can magnetically attract prospects out of the stream flowing by but they're few and far between.
Sometimes more aggresive techniques are simple and effective. My all time favorite drive-by phrase is, "Do you drill," shouted from the live demo booth selling The Last Drill Bit You'll Ever Need. Price point meets gadgety gimmick but of limited use.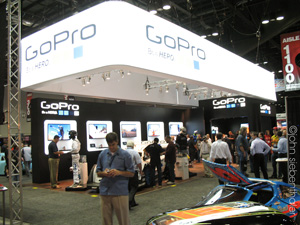 On top of exceptional and engaging booth design, bribing foot traffic can work quite well: GoPro giving away Heros (left) on the hour coupled with their free draft beer concession is guaranteed to draw a crowd at the Performance Racing Industry's aftermarket trade show.
Most often, though, it's a cat-and-mouse game based on ambush in which the main technical innovation in recent years has been the use of badge scanners for capture and follow-up, um, later. Not exactly a win-win for marketing that can otherwise put online ads in front of web surfers right now.
If the introduction of QR codes a few years ago seemed to many to be the answer, in reality they're only part of a mix waiting to be identified. Mobile devices - smart phones, tablets, readers - and social channel interaction might provide a technically feasible way to introduce a measureable dimension that's missing.
Proximity data scraping, for instance, might offer advantages. If nothing else the actual booth context needs to be focus on the customer experience and engagement techniques to promote the value for the visitor who makes the trip, as opposed to the dealer who's satisfied to learn online back home.
For the real time physical event to remain vital and essential, strategies that leverage the nearly universal participation of attendees in social media and networking need to evolve. Only then will the necessary components - buyers and sellers - find common ground for a continued physical participation in a universe that no longer requires it.