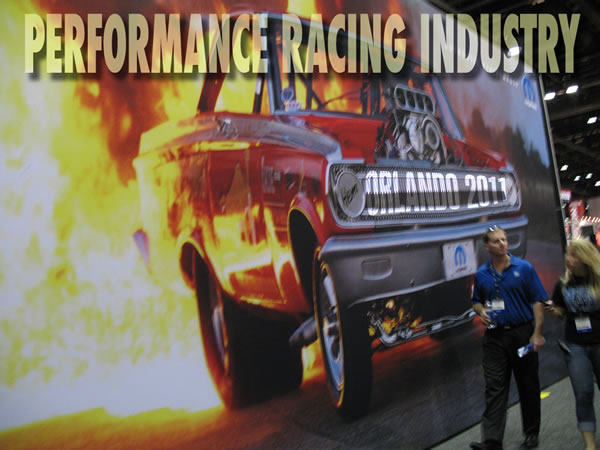 24th Performance Racing Opens To Steady Traffic
December, 2011 | by John Siebenthaler: photos©john siebenthaler

taking business to market
update: In March, 2012, the giant Specialty Equipment Market Association (SEMA) announced their purchase of PRI, in a move most agree is the best of both worlds.
marketing standouts
GoPro everything needed for consumer engagement
IDG industrial doesn't have to mean boring
Staubli pride of product translates to floor presence
quick links of interest
Sealed Air do you ship?
Seibon Carbon complete composite capabilities
Sodikart USA karts and more
Braille Battery green lithium performance
Performance Racing Industry motorsports B2B
PRI on twitter @pri_show

more event coverage
(ORLANDO) I attend trade shows for several reasons: as a rich source of material for web site content, for networking, to generate marketing and public relations connections, and of course to catch up on the latest news about people, products and services.
After a two-year hiatus I returned to Orlando's Orange County Convention Center for Performance Racing Industry's 24th Annual motorsports trade show.
Despite a noticeably smaller exhibitor footprint accurately credited to a stalled economy this event remains a favorite, not only for content but for execution as well.
why attend Attending solely for the traditional unveiling of the new print catalog has become another victim of the 24-7 internet era, but trade shows remain a critical professional resource for matching names with faces and products with vendors.
As print media's impact has spiraled downward, live events are even more crucial for dealers to stay informed about industry trends. Call it the 3D factor. Whether as a dealer or a competitor, seeing an Indycar or ALMS ride in the relative calm of a show floor booth drives home the human scale that just can't be imagined in print, broadcast or web media.
Dealers can survive using downloads and hard copy periodicals to fathom out quality, fit and finish, but there's nothing like touching feeling holding a product for making a connection based on instinct and information. It's the kind of feedback that's supported – not replaced – by the media marketing function. Furthermore, it's the experience your customers expect, and it's grist for your own marketing mill that when done correctly more than makes up for the time and expense of attending industry trade events. According to PRI numbers, over 38,000 attendees agreed with that premise.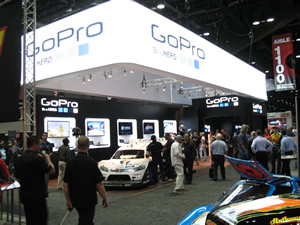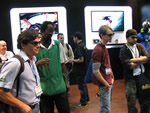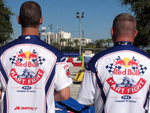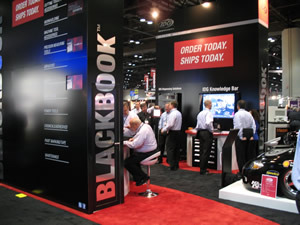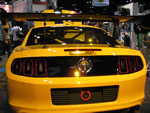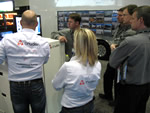 marketing performance — pri gets it right
top row GoPro's HERO booth drew a consistent crowd with a masterful mix of superb product and outstanding display design.
2nd row L GoPro's new 3D hi-def display showed impressive visuals with non-dorky glasses.
R If Red Bull's a sponsor, you know it's big.
3rd row Industrial Distribution Group (IDG) made their show and market debut with a beautifully done booth design.
4th row L Ford Racing's Boss Mustang is a perfect example of the type of quality PRI attracts.
R Cruden's simulators got plenty of attention from major race teams like Hendrick Motorsports.
summary My two-year break gave me a little perspective – enough to notice an increased direct Asian presence, a significant downsizing in booth space size commitments, and a resolute buyer zeitgeist. Spending was considered, not spree.
While Grassroots Motorsports was aggressive in loading down backpacks with comp issues courtesy of friendly faces, overall it's game over for print media. Gone was Source Interlink's island stronghold which in previous events launched waves of reps on exhibitor's beachheads, replaced by an easily missed 10' x 10' booth at the back of the hall.
The show tone overall was one of stability and realistic recovery, along with a continuing expansion of clean and green technologies like lithium batteries and diesel development.
marketing As in past years, there were several memorable efforts that stood out. Though not as plentiful as in prior events, inspired marketing seemed to be reaping its just reward in terms of traffic. MoPar's wrap graphic (top) of a period hemi-powered fire burnout was just one example of breakout design.
On the other hand, failures were ever present, either as core branding or event investment. I simply don't understand the decision making process that can justify deep blue ink on a black background as appropriate for an embarrassing print (lack of) effort.
When you add up the costs of attending and promoting this or any trade event it's amazing that for so many there's no budget available for booth, package, product and collateral design.
I'll say this: whether the cause is nepotism or simply a fascination with DIY graphics and free templates there are hundreds of thousands in sales left on the floor every year due to the false economy of absolutely horrific booth banners and $10 a thousand business cards.
karts This year I needed to learn about karting's role as a marquee performer in the performance show, PRI's unique Powered by Rotax Red Bull Kart Fight. Co-sanctioned by the World Karting Association and the International Kart Federation, perfect weather, a made-to-order venue and international vibe make this opening day evening event a crowd pleaser that generates plenty of exposure for up and coming talent, aftermarket suppliers, and the sport in general.
Kart Fight is a one-day only parking lot track conversion contested for attendees only in the shadow of the world's largest racing trade show. Alongside fully functional outdoor dynos, contestants prep and tune in the temporary pits for this one-race championship that features plenty of professional and amateur talent.
I spoke with Kevin Williams, World Karting Association's District 10 rep, about what the races meant for karting. "Exposure, and the opportunity to market our sport to a much larger audience," which he noted will air on Fox Sports January 1st and 9th, 2012.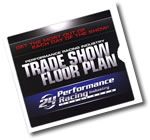 Three races – Karter Division, Red Bull Consumer, and All-Star Driver - make up the program, with 44 champ karts driven by the pros and 10 spec rides for the Southeastern region winners, battling it out on a six-turn quarter-mile temp track where straightaway speeds can reach 100 m.p.h. There's grandstand seating for 2,500, another 1,000 or so will watch from outside the fence, and it all takes place just a few feet from the trade show main hall.
home grown hot rod Hanging out back on an aisle end cap of their own was the F11 Roadster roller, the direct descendent of Carrol Shelby's controversial Series 1 roadster, now clad in Cobra-sorta skin sans the side exhausts. Bob Wingard collected up the unused chassis inventory after Shelby's efforts petered out, then changed over the original Olds powertrain for a 427 Ford FE sizzler that when everything's buttoned up results in a 50-50 weight distribution on one of the stiffest chassis on the planet.
That chassis – 254+ pounds of pure aluminum boxed platform beauty – needed adapting for the 427 and the new RBT five-speed transaxle hanging out back. F11 has meticulously fabbed all the bits and pieces and brackets and mounts needed to accommodate the sideoiler, along with updated wiring, control and other modifications that were lacking in the original. The result is a roller – no turnkey option – capable of sub four-second 0-60 times. Price sans engine, paint and tranny will set you back a little shy of $105K.
innovations in distribution PRI first timer Industrial Distribution Group (IDG) came to town with an imposing booth that featured their unique on-premises consumables vending systems designed for manufacturers needing inventory accountability. IDG, with long-tail experience as an inventory supply and control partner to Fortune 500s like Ford and Boeing, introduced their approach to a more efficient workplace facility in the form of on-site dispensers capable of auditing consumables – drill bits, adhesives, abrasives, machine tools – at the point of delivery. Inventory is calculated and restocked based on POS data generated by workers accessing the versatile vendors.
How does it work in real time? Their Full Storeroom Management (Integrated Supply) concept might not roll off the tongue but it does represent an intelligent application of dedicated software to the realtime tracking of consumable inventory in a workplace environment. They're promising to lower the cost of indirect material processes, which might also be found under the heading of Cost Of Manufacturing. This, they claim, can improve inventory turns, accountability, access to working capital, and other tangible aspects of the manufacturing process.
Although designed for the manufacturing floor, it seems logical that this concept of onsite automated inventory management could easily be adapted to a POP consumer mode. Depending on the channel, dealers could opt for their customer's most popular consumer items like fasteners, lubricants, tools, chemicals, etc., transforming afterthoughts into top-of-mind impulse buying by the register. Because consumption is tracked automatically and restocked overnight for most items, the days of relying on manual counts for inventory management of popular shelf items could become history.
At a time when the most common complaint from brick and mortar storefronts is how can we compete with online, well – here's one solution that's nearly guaranteed to produce profits.
cruden simulators Lets say I wanted to buy a simulator – and trust me, as soon as that winning lottery ticket turns up the money's spent – cruden sets the bar for innovation. First, an aside. My first exposure to a simulator was in the cockpit of a cargo plane at Dobbins Air Reserve Base just outside Atlanta many years ago. Long story short, between rollout and wheels up I managed to flip the plane upside down into a Berlin apartment complex. In the years since I've enjoyed a few more event opportunities to test my skill on both bike and automotive competition simulators. Apparently I have none.
The cruden concept takes the simulator experience to that of a major theme park experience. Set on the far end of the hall, I heard the displays long before I saw them. Unusual is their three-seater observer ride along configuration, which apart from taking your pals for a ride also offers engineers and other stakeholders to get hands-on experience sitting on either side and slightly behind the driver.
gopro HERO GoPro brought their HERO action camera experience to the floor in an amazing display of event marketing innovation. The gleaming white hard and soft surface island featured an array of nearly 20 flat screen monitors, split between aisle and booth floor views, that included a 3-D loop viewable with supplied glasses that didn't make you look like a dork. Staffers built excitement with a variety of giveaways and promotions, led by a pumped up "GOPRO!" cheer that drew doubletakes, attendees and conversions.
Billed as the world's most versatile camera, that claim was hammered home through extensive use of looped videos on wall mounted and free standing monitors stretching the length of the booth. This is one value-packed product, capable of delivering high quality HD video and/or motion stills, with packaging configurations that include the most appropriate mounting solutions for the activity: outdoors, motor (power) sports and surf.
Affordable and well supported by professional grade collateral, a near-perfect price point and an impeccable brand, both the HERO (5mp) and HERO2 (11mp) are very adaptable to the selling environment of a showroom floor, which is just the edge stand-alones need to compete with big box and online competitors.
wrap up As with any major manufacturing sector, there's no way to comprehensively cover the 1,000 or so suppliers of motorsport goods and services that supported the 24th annual Performance Racing Industry trade show. This is an event that benefits both motor and powersports participants, and if you haven't yet been it's not to early to start planning for 2012. See you at the track.