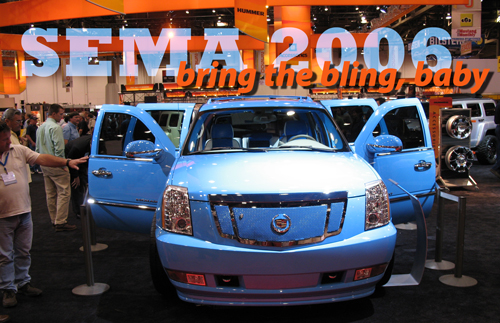 This Caddy Escalade is pimped to the max — watch the video to see what's in back of this boulevard hauler. If parked at your local SafeWay you'd need riot control but at SEMA it's just another pretty face.
The SEMA Spectacle – Live, From Las Vegas
November, 2006 | by John Siebenthaler: photos©john siebenthaler

taking business to market


HOT PICKS
CleanTools Primo Booth Display


TRENDS
Best Booth Display — Ever?
Retail Marketing Gurus
Shiniest Product on the Planet!

more event coverage
(LAS VEGAS) In any endeavor there's always one 800-pound gorilla beating up on the other cats. For the automotive aftermarket, that monkey's the annual SEMA (Specialty Equipment Market Association) trade show in Las Vegas.
The 2006 show started hot and ended hotter as I got my feet wet for the first time at this granddaddy of all automotive extravaganzas. Encompassing every square inch of the Las Vegas Convention Center and most of the parking lot, booths, displays and exhibits ran the gamut from first time 10x10s to massive manufacturer productions that conceivably came straight from Hollywood.
Ford, GM, and Chrysler were joined by metric counterparts Toyota, Nissan, Suburu and Scion. Scion?? Yep, one of the hippest booths, and most popular, in the hall. A rattle-can finished pseudo monster truck had everyone within eyeshot doing a double take, and then stopping to do a little head scratching in depth.
Much of the time I could've been at Dealer Expo for the bikes used as either props or main displays. And it seemed somehow weirdly appropriate for Boss Hog to be displaying their line of hallucinogenic heavyweights at a four-wheeled festival of excess.
Said to be second in size only to the Consumer Electronics Show, this is one monster of an assignment to maneuver — Lewis and Clark had it easy compared to the navigational challenges posed by the labyrinth of halls, isles, levels and street addresses that SEMA takes up in its annual desert encampment.
And it dawned on me, after passing several of the SEMA member signup and merchandise booths scattered around the premises, that this was the first time I'd seen attendees of any event waiting in line to buy the branded apparel, badge holders and other merchandise offered by the organizers. That's a Warren Buffet stat other shows might consider studying.
Look! Up In The Sky! It's a…! It's a…! Getting off the monorail at the convention center stop, I felt like a 12-year-old at a strippers convention. Towering 30 feet over the parking lot was a fully decked out Ford F-350 perched daintily on a rotating platform balanced at the end of a hydraulic crane. Why? Doesn't matter. Twenty feet away was one of those helicopter turbine-powered bikes out of Louisiana, the first of many contradictions that I'd confront.
Descending the three-story escalator past the outdoor static and dynamic venues, my confidence in being able to take a quick lap through and out was severly shaken. Bigger is better? SEMA invented the phrase.
Lets set the stage. The automotive aftermarket is a huge industry, once defined primarily as speed equipment hard parts with a few wheels and tires thrown in. Today it's hard to say what the boundaries are: we now travel in a cocoon environment that engages all the senses on an interactive basis.
SEMA might be very broadly categorized as focused on appearance and function, while the rival Performance Racing Industry (PRI) show held cross country in Orlando appeals primarily to the competition market segment.
Upholstery and sound systems, electronic alarms and cable entertainment channels, lubrication and fuel, dynamic CNC prototype modeling and window treatments — then toss in paint and film graphics, various genres made up of imports, "old school" hot rods, performance, off-road, and — well, there's just a whole lot of stuff to try and wrap your mind around.
For instance: Kicker speaker's wildly adapted Arctic Cat featured a potato cannon the size of a utility pole mounted atop an arctic white UTV propelled by a tracked conversion kit.
And topping everything off are the dynamic demos: live rock climbers circling endlessly out front, slalom courses if you've got the time to wait in line out back.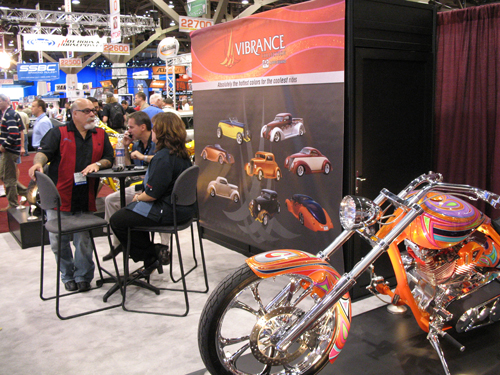 Who's Who You'll likely see (and I did) Mario Andretti at the former, and Don Garlits at the latter. Of course there's crossover, but the cams and crankshaft crowd favors PRI, while custom audio shops can be counted on to make the trek to Vegas. Finally, while PRI's focus is mainly domestic with hardcore Euro techno making the trip, there's no doubt SEMA's flavor is international.
What I didn't expect to find were so many v-twins used as product props or simply booth draws; it's a no-brainer for the paint manufacturers to feature the latest in techniques with an American Other as the canvas, and sure enough I ran into Dave Perewitz at the PPG booth.

Event Insight: A Booth That Really Works One of the first displays I came across Alpha Otto's, featuring Dueling Tahitian Hula Dancers. Yeah, that's right. Welcome to the show. Complete with some pretty handy live drumming, they seemed authentic — like I'd know, being from Florida.
One of the finest examples of clean, original thinking was the Best Nostalgia booth put together by CleanTools to promote their line of towel based finish products.
Incorporating a faux 20-foot oak tree, fabricated asphalt driveway in the middle of a real grass lawn, 50s-era garage out back, retro highway billboard and a gorgeous 54' Chevy Bel-Air, it was a genuine trip in the way-back time machine, complete with the backyard umbrella-topped patio table, beat up Huffy bike with paper carrier and the watering can by the garage.
This was Smart Marketing at it's best, especially when at first glance the product lacks enough sex appeal for anything this fresh. All too often the who really cares approach is to hire a local pole dancer to hand out samples. Sometimes works, and can look good, but does little to build the brand. And when you're on a Vegas per diem, your marketing scheme better leave some markers.
CleanTools was able to put the customer exactly in the physical environment where their products are meant to be used. Very few will ever have the Father Knows Best driveway of their youth, real or imagined, let alone the fab two-door to wash and wax on a daily basis, but boy was it easy to get transported back for a couple of minutes.

Caution! May Need Bling Intervention Best Bling (and this was one tough category to hand out) goes to the GM pavillion for their Caddy Escalade bike hauler. This was one over the top Viagra statement, and for a set of wheels that featured a robin's egg blue paint job, it somehow worked.
Then there was the Who Knew You Could Do This With Swarovski crystal category. Got a spare Merc SL rusting away in the driveway? Then take a look at what D.A.D. offers in the way of — well, adjectives fail — accessorizing for an otherwise perfectly functional Benz . There it sat, shimmering quietly in an out-of-body oneness with the universe, daring showgoers to touch.
It was a, and I mean no disrespect, scrapbookers ultimate fantasy of glue-gun overload. I wondered if Windex marketing thought about renting this ballroom dancing chandelier-on-wheels out for special events.
Not enough you say? How 'bout the CNN Baghdad Hummer, rehab'd by Chip Foose and the Over-Haulin' cable crew after being thoroughly thrashed in Iraq, for a top-notch stylin' treat. It eventually went on the Barret-Jackson auction block for over $1-mil in dollars donated to Fisher House, CNN's designated military charity.
SEMA's a multi-dimensional marketing solution offering channel after channel of aftermarket adaptations to a demanding audience, a fact not lost on the OEMs present throughout the halls.
Among the familiar brands, Scion's presence stood out as beacon of brand buzz. Their afore mentioned monster truck had everyone smiling at the audacity. And over there was Hyundi, demanding double-takes at the clever treatments laid on their otherwise humble standard fare.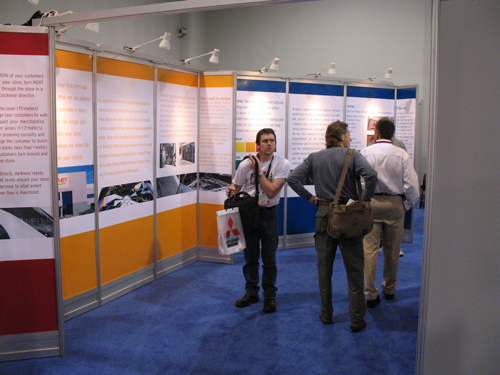 Focus On Retail Design And file this under the heading of absolutely something for everyone. The Canadian market/brand management firm of Watt: strategy + design had a full-on walk through pavillion dedicated to the why's and wherefor's of marketing must haves, with a major focus on designing the ultimate retail space. I thought this stuff only existed in the design annuals.
So what's next? For starters, this year's plans definitely include lengthening my stay to make sure I miss as little as possible. Based on simple logistics, it's impossible to see the entire show — including the adjunct AAPEX exhibits — in just three days.