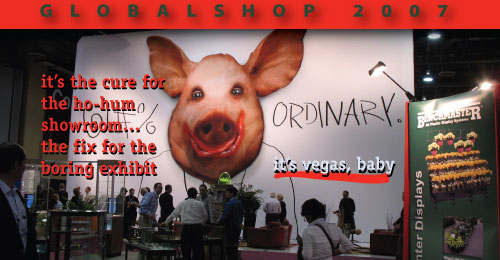 POP and POS Power Successful Profit Strategy
March, 2007 | by John Siebenthaler: photos©john siebenthaler

taking business to market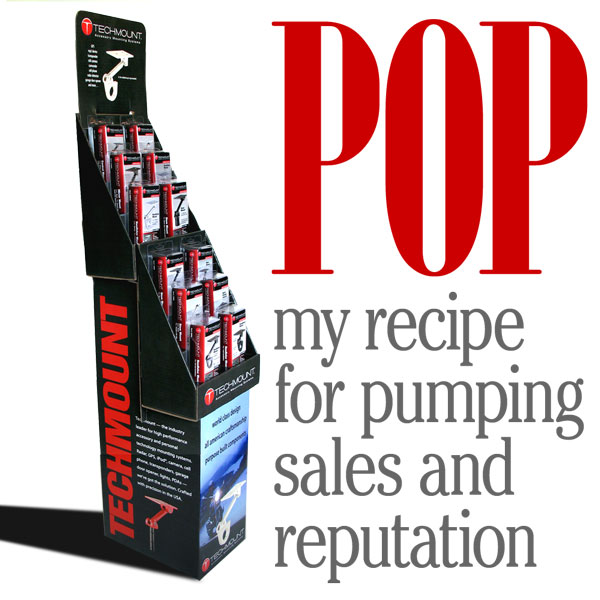 find out design details here
discover more POP info here
open POP-PR case study here
(LAS VEGAS) I hadn't quite recovered from Christmas when Santa POPped up again, this time in the Las Vegas desert.
Globalshop is a trade only event dedicated to the science and scorcery behind what's now officially referred to as At Retail Marketing. Probably the easiest way to define POP is to say that Globalshop is to brick and mortar retail what interior design is to decor.
Originally known as POP (point-of-purchase) but rebranded as dimensional advertising, this is the motivator that makes customers pull out their wallets when they had no intention of buying and no inkling of wanting.
I made the pilgrimage to this mammoth spectacle to see, learn and study the tips and tricks that translate into sales for the client. How big? Over 16,000 attendees trying to see over 900 exhibitors. If you get stuck ogling the latest in wide-format printing you're liable to miss the train.
Who attends? Retailers from around the globe, looking for the latest selling edge in displays, furniture, and fixtures to help set their establishment off from the competition. And manufacturers, seeking out that extra little something in the way of packaging and promotion to stack the subconscious deck, if only by a fraction.
The powersports community was well represented, although not in depth. Both on the OEM side (Suzuki, HD, Yamaha) and indirectly (Budweiser), two and four-wheelers were enlisted in the point-of-purchase marketing wars.
Must Have Marketing The place to get started is POPAI's At Retail Marketing pavilion, a hall jammed full of luscious floor displays, kiosks, fixturing, packaging, interactive, and digital that primes viewers with solutions before encountering the vendors. If it's for sale anywhere, you're likely to see POP attached to the brand, using creative talent, production capabilities and materials that are very likely to be sourced out on the show floor.
The marketers are a familiar list: Apple, Coke, Nabisco, Nike, Harley-Davidson, Suzuki, Budweiser, K-Swiss, DeWalt. And on and on, Fortune 500 and many more. This walkthrough warm-up features the type of displays we're familiar with, nearly always provided by the manufacturer.
Is there anything the mid-line aftermarket manufacturer, or independent stand alone retail store can take home? For starters POP doesn't exist in a vacuum. The solutions brought to bear on the ever more complex challenge of separating consumers from cash are increasingly ingenious. Why does it matter? Because every dollar spent on impulse item "A" at their store over there is a dollar not spent on essentials "B" in your store over here.
Technology Drives The Show It seemed like the big buzz this year was digital. As chip prices sink, capacities increase and applications burst forth like bees from the hive in search of spring blossoms.
Exhibits were displaying big gains from chip-driven microtechnology at the same time reproduction processes ranging from digital four-color to rubber plate printing to 3-D laminates have made amazing gains in accuracy and fidelity. In all instances the net result is a much more vibrant, more engaging interaction between shopper and vendor.
In our consumption driven economy, consumers want to spend, but often don't know how to spend. Claims of sales gains ranging from one to four hundred percent (depending on the product) when digital signage is employed were more than believable.
POP suppliers like to cite the 70 percent instore sales conversion figure as a strong indicator of how powerful point-of-purchase advertising can be in driving sales. Even if that number's off by half, would a 35 percent sales boost get your attention? Given the slightest nudge, shoppers will gladly oblige with a credit card at the ready and ready to swipe.
Making Consumers Spend. And Spend. And Spend. Store design and fixturing — the art of designing and fabricating custom furniture that achieves eye appeal and product security simultaneously — has achieved architectural status in offering both style and elegance, replacing the tired old industrial cases with their Cold War era laminates set out in a visually barren warehouse space.
Much of the progress on display is in the area of retail space design and the application of sophisticated new technologies by design/build firms like Winntech (responsible for the outrageous booth above), blackbox and Gino Pellegrini's award-winning Inter Global Exhibitions to define the selling arena.
Snapshot impressions include the realization that store lighting's going green in an avalanche of new devices that save energy — and money — without losing impact, while manufacturing and milling of new surfaces is creating a bold new world of design solutions. Traditional specialties — packaging, boxes, shopping bags, posters — all benefit enormously from the escalating advances in printer technology coupled with innovations in CAD manufacturing.
Attending a show like Globalshop is a daunting task if the aim is to give at least a passing glance to every booth on every aisle. I didn't succeed before running out of time, but was able to spend time with several fabricators, designers, and vendors, including Cable Electronics from just outside Dallas.
Digital Pizzazz CE Labs, as they like to refer to themselves, were showing off what may be the so-called killer app of the season from their booth in the Digital Display section, a market some have predicted could grow into a $5-billion specialty over the next five years.
Tough to describe even with visuals, their touch-screen Flash drive displays, which can be implemented in sizes from 10-inch countertop displays up to 50-inch traffic stoppers, were absolutely astounding to view.
In simple terms, if you've got a catalog on your web site, you've got content ready to port to a touch screen display that can, for example, be positioned at a designated traffic hotspot. Depending on how well the content's managed, buyers will be controlled by the medium without ever realizing who's doing the manipulating.
As CE Lab's Eric McReady points out, that content is easily controlled by the user, or more likely the creative source for the retailer or manufacturer. In other words, Photoshop, Dreamweaver, Flash and a database add up to digital fireworks on the sales floor.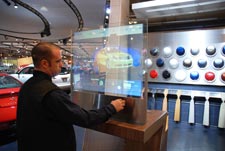 Competing for attention was the booth shared by Brookview Technologies and HoloFX programmers. Their displays feature transparent, wafer-thin screens capable of displaying programmed content in the same manner as any monitor, with the stunning inclusion of touch screen navigation. And all mounted on a pane of glass.
The clear screen technology needs only a transparent surface — ordinary window glass is fine — for mounting. The real magic comes when a touch screen's used in proximity to the hard products, showing off alternate color/size/design choices that may not be stocked, new versions just introduced or on backorder, or suggesting applications that may not be intuitive, all leading to the perfect on-demand delivery system.
Seeing Is Believing — Right? Yet another fascinating approach to making your product or service pop is the 3D media offered by Azuna. Their innovative approach to 3D was seen incorporated into several award winning displays. Versatile, and with a broad library of shapes and textures to draw on, Azuna is a guaranteed conversation starter.
When it comes to surfaces, there's no end to the variations possible with media that ranges from powder-coated mdf to anodized aluminum to molded plastics. Yet there's one company that consistently has everyone scratching their heads. Interlam developed their own proprietary software which is used to produce a variety of patterns that are interpreted through their mill CNC.
In addition they've perfected a process that — impossible as it may seem — bonds stone and mineral to a flexible, semi-transparent substrate, resulting in a genuine stone veneer that can be recut for virtually any application, from wall covering to display wrapping.
The point is simply that today's technology makes possible a vastly different approach towards interpreting the retail environment than was possible just ten years ago.
Globalshop came directly on the heels of V-Twin Expo in Cincy four weeks prior, and Dealer Expo in Indy two weeks previously. The relevance and context to the powersports and motorcycle community couldn't be ignored.
There's a huge chasm between potential and realized gain in our marketplace, which outside of the top tier OEMs has managed to avoid getting caught up in the contemporary techniques that power more mature markets. Put another way, there's an awful lot of cash getting left on the table by sellers hoping to engage buyers.
For our industry, traditionally a sole proprietorship single store/brand model, it's more than possible for individuals to draw on the same marketing savvy that powers retailers like Saks, Neimann's and Macy's and manufacturers like Proctor and Gamble, Porsche and Coke. And this access to these products and services may be as close as you can get to free money — all you have to do is pick it up.