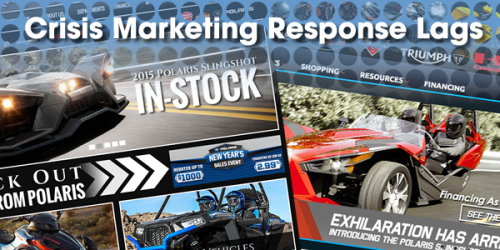 still selling – just unsafe to ride
When Dealernews published Polaris' "DO NOT SELL – DO NOT RIDE" bulletin concerning the Slingshot's steering mechanism (defective ball bearings) and roll bar assembly to dealers in late January, you'd be correct in thinking dealer print and online promos and ads would be pulled until the situation was resolved.
The first public inkling that something was amiss came when the company's letter to dealers popped up on the brand's product online forum. That was January 16, less than a year out from the 2014 official public launch and just a few months into production of the reverse sit-in trike designed to take on BRM's sit-on Spyder.
slingshot parked for safety repairs
Considering the then daily barrage of global publicity concerning GM's failure to address their otherwise miniscule ignition switch fatal defect or the ongoing problems of Japan's Takata Corporation, supplier of proven lethal airbags to the autmotive industry, the approach taken by at least two of powersports dealer website management firms to allow Polaris' Slingshot to remain in their dealer client's main banner rotator is puzzling to say the least.
Taken together with the lack of transparency by the manufacturer and it's a perfect example of a communications misfire that's disappointing at the very least. Consumers deserve better for a product that tops out at nearly $30,000.
crisis management – crucial for credibility
There's been no further word on the progress of this remarkable dealer notification that affected nearly 2,000 already shipped units, so consumers might assume that repairs to the steering rack and rollbar that began in late January have apparently been completed.