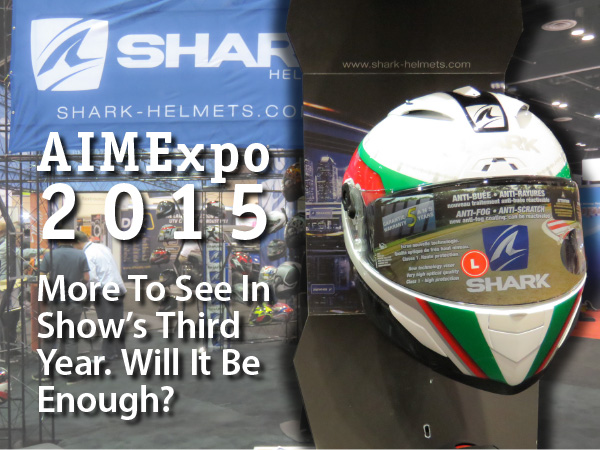 More Exhibitors Including OEMs Highlight 2015 Show
October, 2015 | by John Siebenthaler: photos©john siebenthaler

connecting business to market
AIME 2013 premiere
AIME 2014 year two
expo performance links
MIC acquires AIMExpo
AMD custom bike show
Kawasaki brought their A game
Bates Footwear new brand, same name
signup now for 2016
American International Motorcycle Expo
Twitter @aimexpo
top five
still no sign of sleet or snow
even more OEMs flying their flag
helmets? anybody seen one?
customs everywhere
find a lake, test a boat

more event coverage
(ORLANDO) In just its third year, the American International Motorcycle Expo proved it's in it to win it, with an exhibitor's list topping 560, a shortened format making it easier for manufacturers to massage the combined trade plus public components, more OEMs, the revival of the MIA V-twin Made In America® contingent, and another successful round of cross your fingers and hope for yes! the best! weather Central Florida can muster in what we casually refer to as "fall".
Throw in a who-could-have-seen-this-coming September show purchase by the Motorcycle Industry Council trade group from original owner Canadian promoter Marketplace Events just weeks before the October 15 open, and it's hard to imagine a more energy driven marketing opportunity for the powersports segment than the successor to, and conqueror of, Advanstar's long running and now defunct Dealer Expo brand.
And yet.
For anyone familiar with the constant scrum of cheek-to-jowl excitement during the powersport industry's salad days in mid-2000s Indy, before the bubble broke and countless dreams washed up on the economic rocks of the recession, the cavernous hall of the Orange County Convention Center's West Building didn't just seem subdued, it was. Think library, not midway.
Then, timing was not left to chance – the golden window of opportunity came after year's end and the holiday season, during the downtime right before Spring's arrival and a new cycle of selling. That marketing model can now be viewed alongside "It's A Wonderful Life" during the holidays.
AIME's wide aisles easily accommodated leisurely traffic by the 3,300-plus trade only (dealers and friends) attendees on Thursday and Friday. The draw of the adapted EICMA slash INTERMOT European format, combining trade only admission for the two-day show opening followed by two days of ticketed public admission from Saturday to Sunday's closing bell, undoubtedly contributes to the sign-up response rate of exhibitors. Missing, though, was any sense of urgency by the more coveted depending on your goals dealer attendees.
Shouldn't Be A Case of Either Or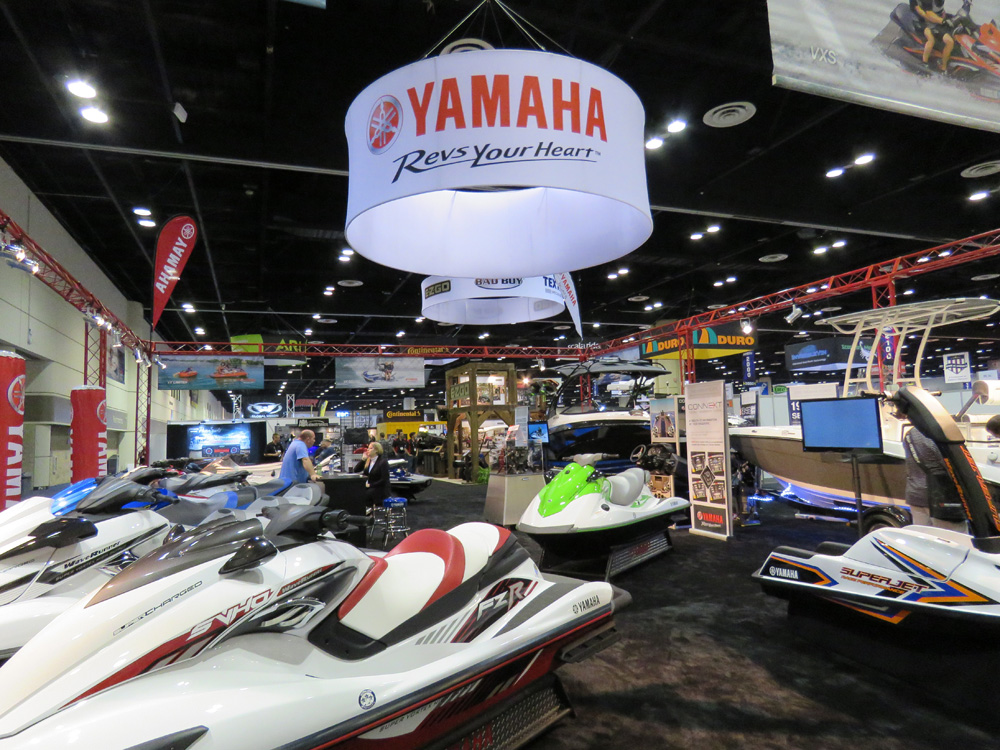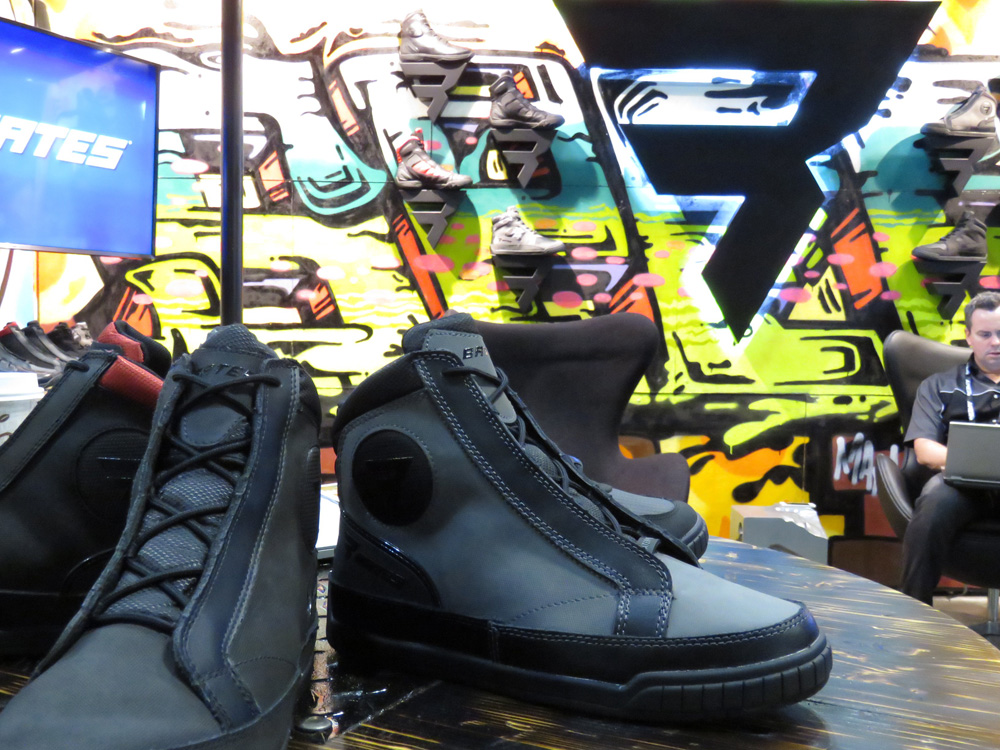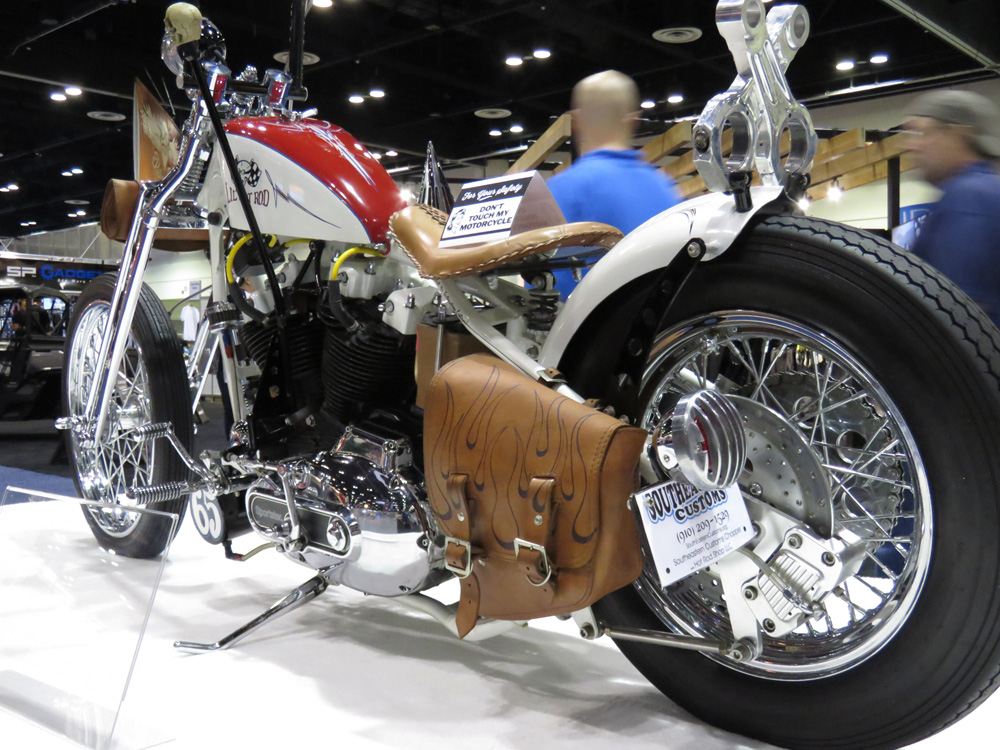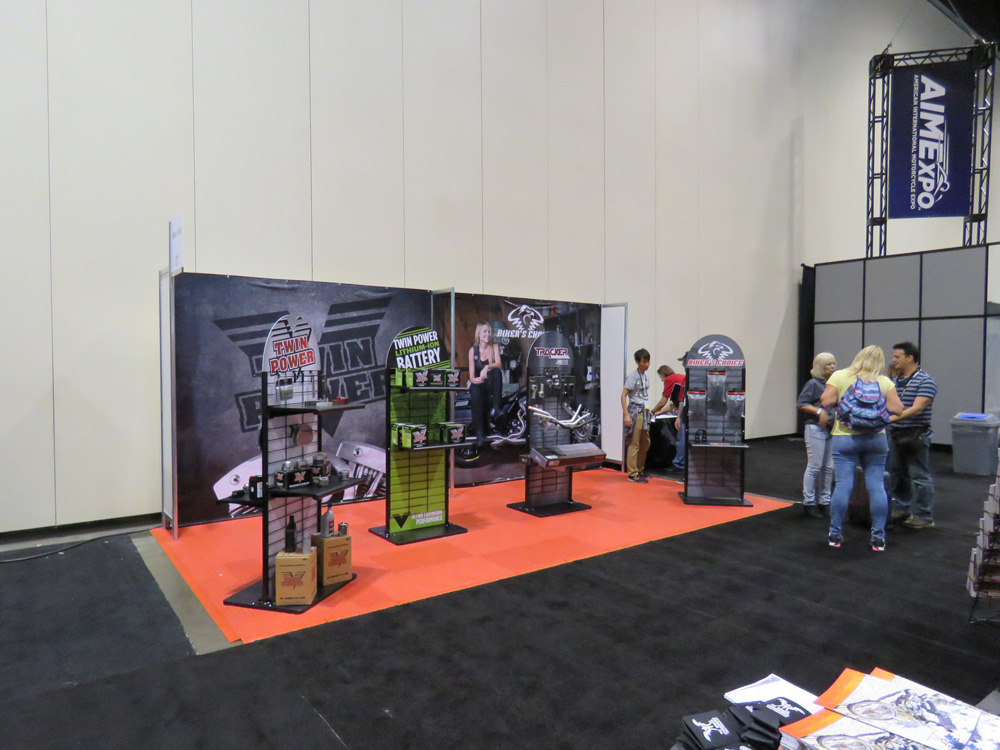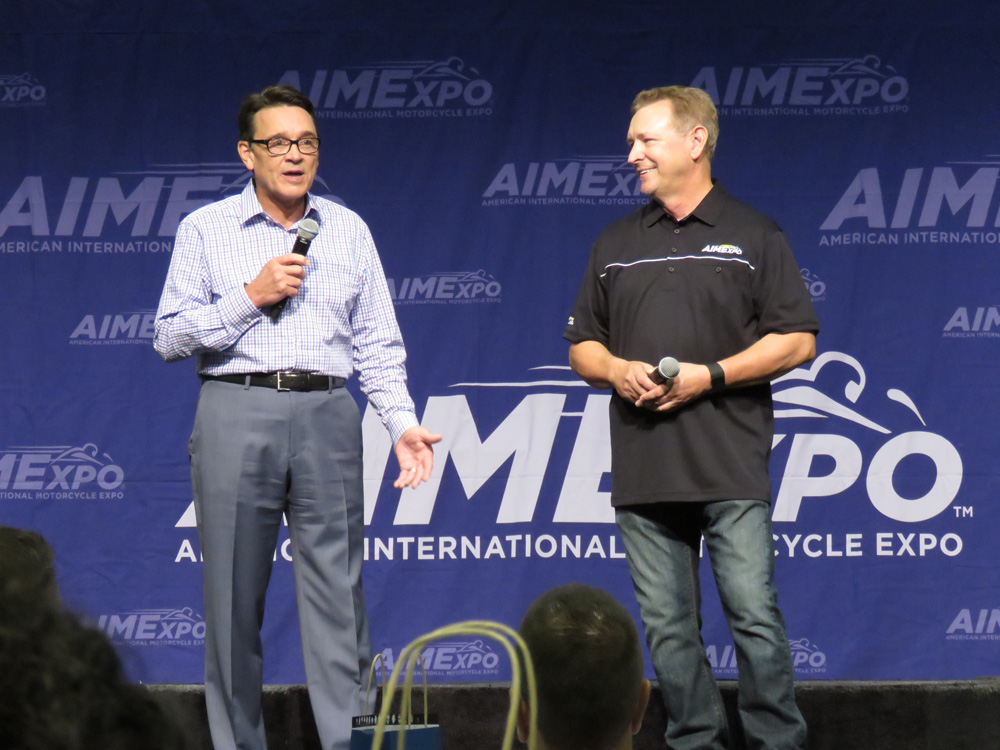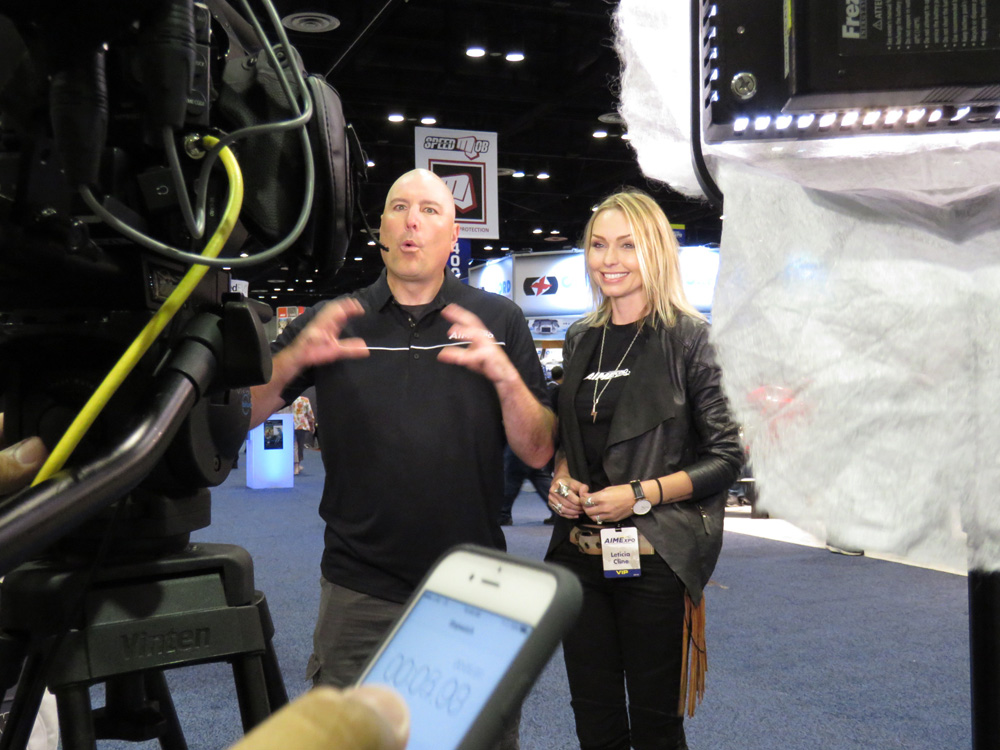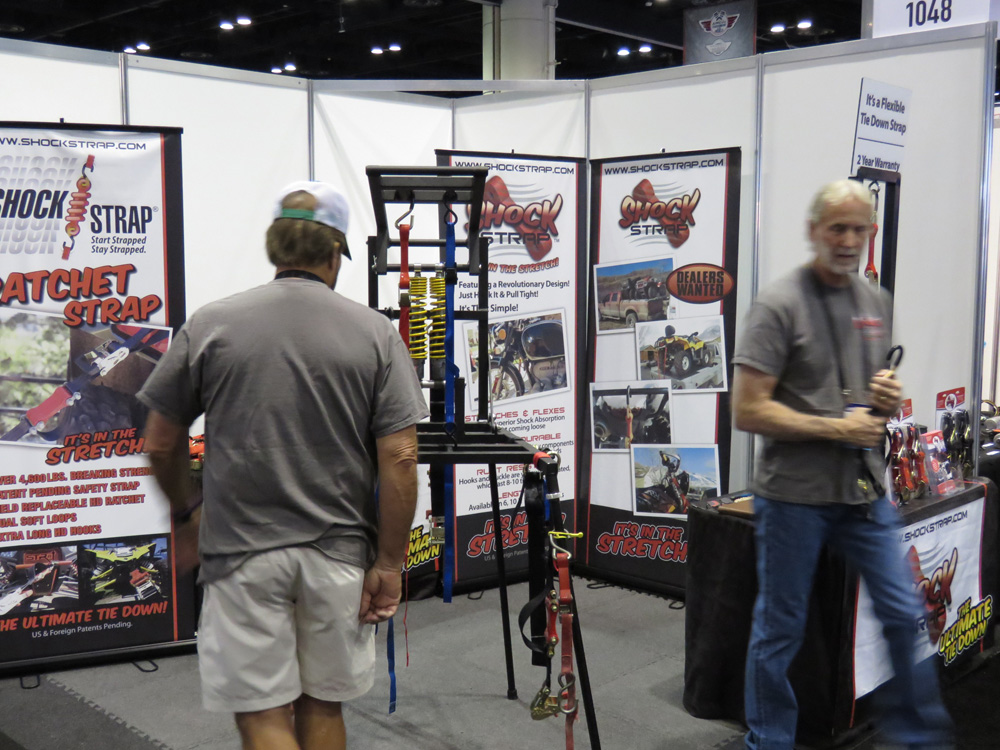 seen and observed
top Yamaha was one of several OEMs to exhibit personal watercraft.
2nd row Bates (left) Footwear extended their line to include powersports. Sportster chop (right) part of AMD custom show.
3rd row Tucker Rocky forgot their show semi.
4th row MIC, AIME leadership (left) Tim Buche, Larry Little. Show floor (right) live video production.
bottom though thankfully rare, this homemade booth display is better suited for a flea market than a professional trade event. #marketing #fail.
As of now, it's hard to gauge to what extent having an open-to-the-public component affects not just trade participation but product mix as well.
GoPro, one of the most recognized brands on the planet, was again on the floor drawing steady booth traffic. For this explosive marketer, access to retailers and consumers meant they could prospect for new outlets at the same time they evangelized the product to a public well aware of the tech innovator and perhaps just needing a nudge as to which model they'd prefer to document their lifestyle.
On the other hand, at least several of the more niche driven accessory manufacturers didn't see much upside to the Saturday and Sunday retail segment, instead attending primarily to support their distributors and dealer networks. Apples and oranges? More like chicken or egg.
After a big splash last year, Tucker-Rocky, who in 2014 came roaring in as the first distributor to park their full-on support semi on the floor, all but abandoned the show, opting instead for a minimal with a small "m" Sky Mall pop-up buried along the back wall on the outskirts of Orlando's area code.
And Ducati, who last year wowed an enthusiastic audience with their very well publicized and very well produced Scrambler reveal, was nowhere to be found. Disappointment all around.
Blame Biketoberfest. Sharing the same dates, the annual more relaxed red-headed stepchild to Daytona Bike Week's March ritual unquestionably siphoned off major powersports manufacturers unable or unwilling to split their marketing teams and who opted instead for one or the other.
Such was the case with MAG's significant stable of recognizable brands sailing their mobile fleet a few miles east and anchoring their efforts to reel in revenue in Daytona instead of Orlando.
The same might be said of dealers as well, at least some of whom made the decision to vacay in DB for the full four days rather than split their time under the sun commuting to and fro.
In some ways, the dilemma is reminiscent of V-Twin Expo's breakout when Dealer Expo's long vexed American iron component jumped ship for Cincinnati two weeks before the Indy show, which then began the unraveling of Advanstar's long held dominance.
Today, Daytona is to Orlando what Cincy was to Indy, only more so. It's very much part of the formula for success, and at the same time an unwanted distraction.
Trade Plus Consumer - It's Not That Simple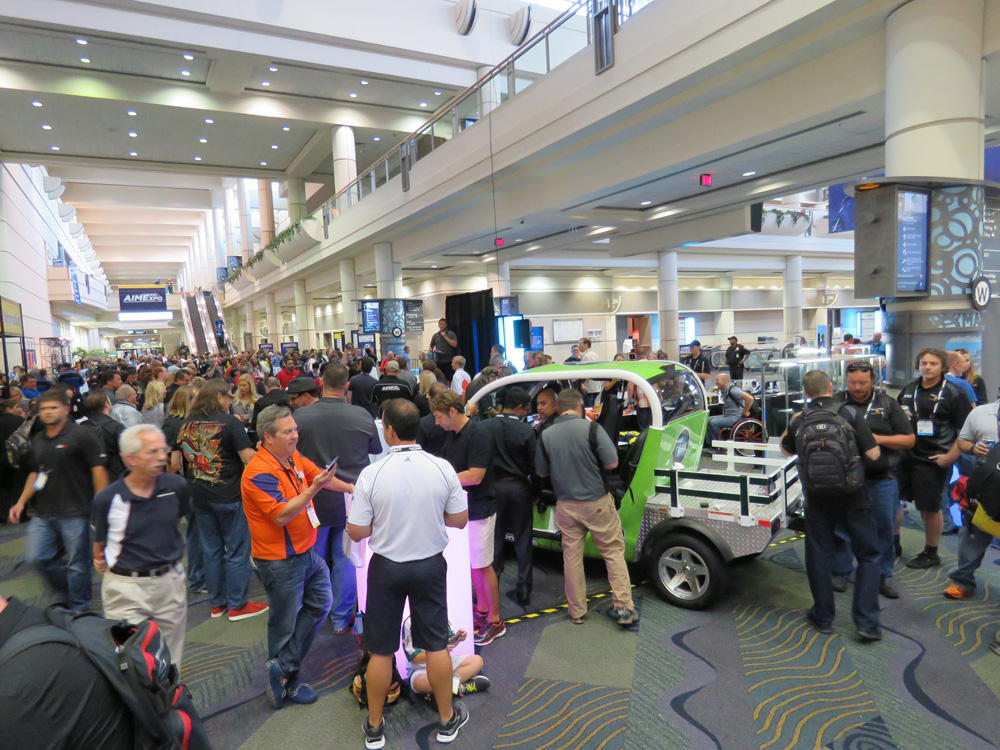 With this year's decision to include the V-twin segment in a themed Made in America category, AIME has effectively turned the tables on an increasingly soft domestic aftermarket.
Bolstered by American Motorcycle Dealer's debut offshoot one-off of their World Championship of Custom Bike Building contest coyly titled Championship of the Americas, or COTA – not to be confused with the other COTA acronym, the Circuit of the Americas big boy track facility in Austin, TX – the contest lent an air of authenticity to the effort.
Marketing AIMExpo is a daunting task, no doubt. Not only has the entire zeitgeist surrounding traditional trade events in general shifted dramatically – thank you, interwebs – but so has the raison d'être.
Not all that long ago, trade practice held that manufacturers prepped printed, hole-punched catalogs and closely guarded product pricing to be introduced exclusively to accredited dealers, jobbers, and press at a specified time and place. Orders were taken, manufacturing runs set up and, most importantly, delivery was scheduled.
Then, timing was not left to chance – the golden window of opportunity came after year's end and the holiday season, during the downtime right before Spring's arrival and a new cycle of selling. That marketing model can now be viewed alongside "It's A Wonderful Life" during the holidays.
Want to know what Acme Powersports is building these days? Visit the website, at your leisure. Google the gadget. To be blunt, for many the actual need to physically attend a trade show these days is pretty much want as opposed to need.
Go Ahead. Make My Case.

So that's challenge number one: convincing the dealer audience why they need to attend. And that's often where location and opportunity fit in.
Orlando is a global tourist destination that's perfectly prepared to welcome dealers from around the world. Easily accessible, mostly affordable, family friendly, and, unlike any previous venues, very tourist oriented. Like Daytona. Like Kissimmee. Like Tampa-St. Pete. Like Florida.
Much more difficult is the task of attracting a split audience separated by 65 miles of one of the planet's most miserable commutes. Survivors agree that I-4 through rush hour Orlando isn't quite the same as the PCH into Santa Barbara on a sunny Sunday morning.
In the end, seeing some if not most of the aftermarket industry up close and personal is still a good thing, and will remain so. Oculus Rift notwithstanding – hmmmm, wait for it – being able to see the OEM's lineups in all three dimensions is a big plus as well, at least for the brands not camped out exclusively in Daytona. There's plenty of marketing gold to be mined for those that can creatively cross-promote the two events.
There's still a lot of work to be done. This year's initial outing under MIC's flag provides a unique opportunity for that organization's members to participate, and for any company that values event marketing AIMExpo could be – and should be – a magnet for growing the trade group's membership and the trade event's participation rate simultaneously.
The show has a space contract through 2017. We should know sooner than that which way the balls will break.