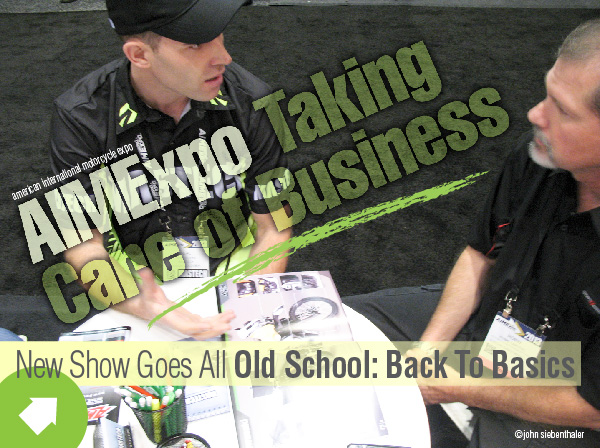 New Motorcycle Aftermarket Event Debuts In Orlando
October, 2013 | by John Siebenthaler: photos©john siebenthaler

taking business to market
expo performance links
MASTECH adventure touring accessories
Varta offers fresh battery performance
BrakeTech delivers Spanish performance
Racer X racing action online and in print

Hall of Fame legend Kenny Roberts slow rides Yamaha Bolt to Open Event (©Powersports Business)
signup now for 2014
American International Motorcycle Expo
Twitter @aimexpo
top five firsts
not one sign of sleet or snow
Segway as powersports? yep!
outstanding mobile device app
best ever after show happy hour
stickers are back

more event coverage
(ORLANDO) Here's what didn't happen when AIMExpo GM Larry Little helped cut the ribbon to open the show. Not one hint of flights cancelled or empty booths because of snow.
I know. Boo hoo.
After years of grumbling, months of planning and weeks of nervous anticipation, the very first edition of the American International Motorcycle Expo opened its doors less than 100 miles from where Americans first left for the moon.
Houston, we have liftoff.
The freshly minted show, with perennial powersports industry icon Dealer Expo firmly in its sights, seems to have landed a roundhouse right to the jaw, further staggering an already reeling former champ in need of a major transfusion in order to stay relevant.
Overheard not once: I can't wait to get to Chicago a week before Christmas.
Orlando's mammoth Orange County Convention Center West Concourse welcomed this brand new Florida show that combines trade and consumer functions in one convenient location.
Against the backdrop of a still sluggish economy and an industry devastated by the recession that continues to be pummeled by shifting consumer interests, AIMExpo launched to an up tempo beat supported by a fingers-crossed shortlist of pioneer exhibitors facing a curious mix of dealers and days three thru five retail buyers.
And it worked. What rolled out over those five days will go a long way towards determining the future of domestic powersports business marketing events.
Though exhibitors numbered fewer than 400, the feel was of a much larger show, thanks in large part to an insistence by the promoters on professional standards for booth appearance – no cheap and frankly disrespectful flea market vendor setups here, thank you very much – and a venue layout that was more Nordstroms, less warehouse in tone.
Result? A comfortable, streamlined experience that featured as another first an excellent event specific app – available on iTunes – that navigated your experience and scheduled your classes.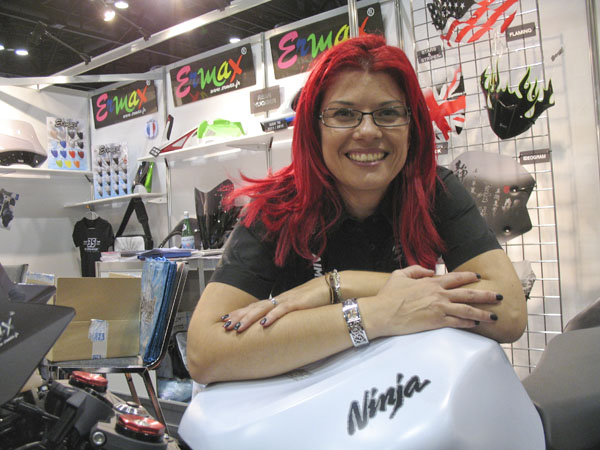 OEMs Turn Out For Aftermarket Show
Suzuki was fully vested with their sweeping in-depth display of make and model which in hindsight seemed well targeted to the three-day consumer show that followed the B2B rollout. Hands on and up close for '14 versions including a direct from EICMA total V-Strom overhaul in the gaining traction and interest adventure category.
"AIMExpo was a very good show. Long hours and a long trip into Orlando but the quality of the vendors, dealers and consumers was well worth it. Consumer Research Solutions, CRS will be back next year." - Michael Blanchard, Owner
Yamaha, the other Big Five OEM on hand, chose a slightly smaller footprint that directed attention to their Bolt custom build promotion as a credible challenger to the Other V-Twin Rhymes With Hipster sort-of entry sport bike. Their expo cause was helped out by having living legend Kenny Roberts headline activities, including a ride down the red carpet to open the show.
Also stealing thunder, Erik Buell Racing picked the event to introduce his much-heralded return to the high end sport bike marketplace with a sub-$20,000 factory hot rod that drew applause from the journalists on hand to welcome its arrival.
One word: 185 h.p. Boom.
Fresh Faces From Central, South America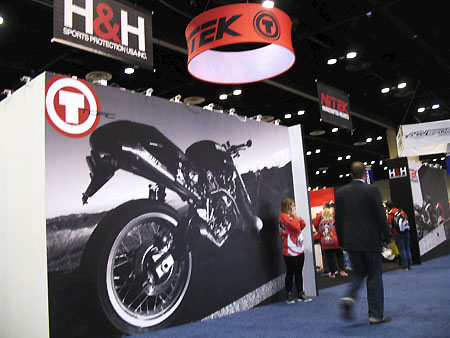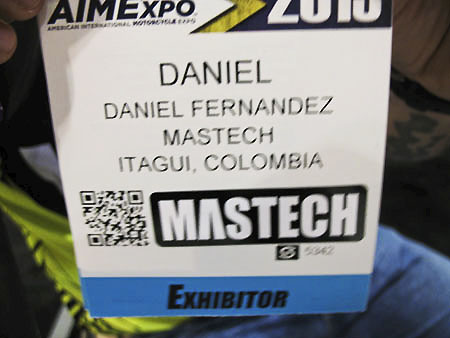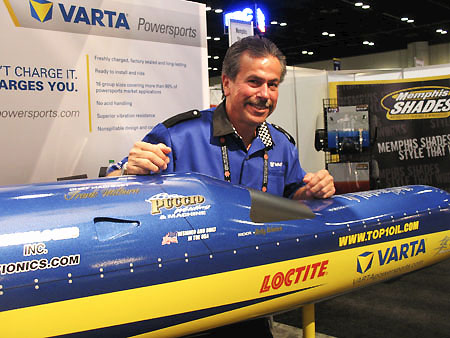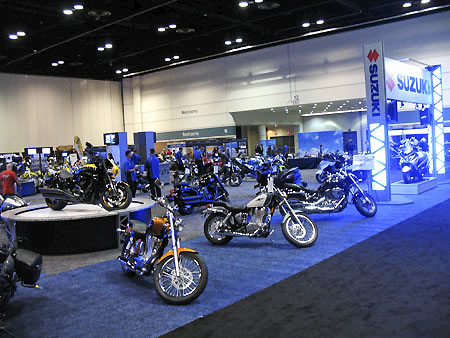 powersports new marketing show
top H&H Sports Protection had standout helmets for every market.
2nd row International flavor (left) was evident, especially from S. and Central America. Joel Martin (right) was the official foreign brand ambassador for the show.
3rd row Fastest man on two wheels Rocky Robinson represents for Ack Attack in the Varta Powersports battery booth.
4th row Suzuki (left) brought their dealer show to AIMExpo to rollout next year's line. Happy hour (right) had everyone talking – and no one hurrying to leave.
For international flavor (literally) there was the familiar and expansive Italian Trade Zone, supporting the best of that country's well known powersports brands.
And in the opposite corner, organized by S. Florida scooter performance aftermarket parts distributor Joel Martin, was the first ever Spanish Trade Zone.
The mission picked AIM to introduce the powersports community to the Iberian collection of brands, primarily in support of the smaller displacement (i.e. scooter) market with an interesting assortment of high-quality performance hardware.
Competing for attention with carbs, brake pads and controls was a serrono ham carving station, slicing tasty samples of the country's much-vaunted answer to the better known Italian prosciutto and paired, naturally, with manchego cheese bites. The only thing missing was sangria – maybe next year.
Along with a host of newcomers there were familiar faces scattered throughout.
GoPro again overlooked how much I coveted one of their hugely popular Hero booth giveaways, while the Bonnier-flagged crew from Cycle World, along with their new roommates from former Source-Interlink books including Hot Rod, Hot Rod Baggers, and Street Chopper, navigated the hall looking for copy.
Chris Wall tended Metzler's booth duties, two streets over from perpetually sunny LSR record holder Rocky Robinson who stayed busy anchoring the nifty Ack Attack scale model in Varta battery's new to market powersports event display.
Trade pub and media sponsor Motorcycle Powersports News was in charge of real time event coverage, putting out a comprehensive show daily that took advantage of the excellent media center facilities as part of the reporting and production workflow. One request: add a signature if that's what it takes to bump the exhibitor type size from invisible to legible.
Powersports Business sponsored a two-day, four-track dealer education block of 40 seminars and roundtables, including a digital media session in which I participated along with industry vets Robin Hartfiel, Eric Anderson and Heather Blessington, for the benefit of dealers and their teams on hand to pick up the latest in marketing tips, tricks and trends.
All In Favor Of Same Place Next Year Say Aye. Ayes Win.
GE Finance is back serving the marketplace, albeit with a much lower pain threshold than was seen before the bubble burst. Their forecasters see stability and slow growth ahead, with a qualifier that basically says markets will not soon as in decades, if ever, return to the pre-recession levels many mistook as permanent.
In sum, AIMExpo was a solid success, at least from the production perspective. How well exhibitors made out is yet to be sorted, but there's no doubt that any disappointment in the domestic turnout was more than compensated by a strong international contingent of dealers who showed up based entirely on location location location.
Too soon to say all the original obstacles have been overcome, mainly the dealer and manufacturer segmentation that comes from having three separate shows in a two at the very most industry. And while it certainly looks now like the event can survive on a trade segment alone, should the consumer side really catch hold it's reasonable to think AIMExpo isn't just another venue, but would become the only game for a market that's grown weary of being pawns to promoters blunders.
Welcome to Florida.