Not Too Hot. Not Too Cold. It's Juuust Right.
October, 2014 | by John Siebenthaler: photos©john siebenthaler

connecting business to market
view AIMExpo slideshow on Flickr
AIME 2013 premiere
AIME 2014 report card
expo performance links
iXS fresh line of fashionable apparel
Schuberth NA helmets offer style, protection
Held USA under new management
Zero Motorcycles electrifying performance

Cycle World tech editor Kevin Cameron wonders how Kawasaki gets their H2R turbo turning (©Cycle World)
signup now for 2015
American International Motorcycle Expo
Twitter @aimexpo
top five
still no sign of sleet or snow
more OEMs flying their flag
Tucker Rocky parks show trailer
still best ever after show happy hour
even more booth girls!

more event coverage
(ORLANDO) Welcome back to Florida! With BiketOberfest going on just up I-4, bright blue skies overhead, and a cool, refreshing first day of Fall after weeks of staggering humidity in the air, the idea of anyone spending a weekend in Chicago just before Christmas seemed like a Tim Burton movie plot. I was anxious to see what changes, if any, had occured in the American International Motorcycle Expo since last year's successful show debut.
I definitely heard the Fat Lady warming up after seeing the parking lot closing behind me in the rear view mirror, just after the 2014 edition officially opened for business. Last year you could fire a cannon in the lot and not hit anything.
Hopping on a show shuttle for the short lap from the back to the front of the massive Orange County Convention Center's West building saved me a quarter mile hike to check-in.
A few minutes at media registration to pick up credentials and it was on to the show floor, where a couple of last minute walk-ups just before Thursday's 10 a.m. opening grew last year's trailblazing class of just under 400 booths to an even 500.
A combination of Florida's sometimes cantankerous weather gods smiling broadly, a successful adaptation of the European trade and public combined event approach, and the enthusiastic cooperation of their main rival pitching in to help all conspired to firmly establish AIMExpo as the frontrunner industry show in only its second year.
In 2012 AIME announced a brand new industry show, scheduled for an October, 2013 launch in Orlando, as a challenge to powersports' long running and clearly struggling Dealer Expo. Dealer Expo responded by floating an improbable trial balloon of two shows in one year.
In addition to 2013's February Dealer Expo in Indy, an ad hoc Fall event somewhere would be the bridge to a permanent October event in 2014. That idea was quickly scrapped.
What A Difference A Year Makes
Then it was announced that Dealer Expo would find a new home in Chicago for a December date in 2014, abruptly cancelling February's traditional show in the process. By now the industry was weary of the drama, and that left an opening wide enough for AIMExpo to float an aircraft carrier through.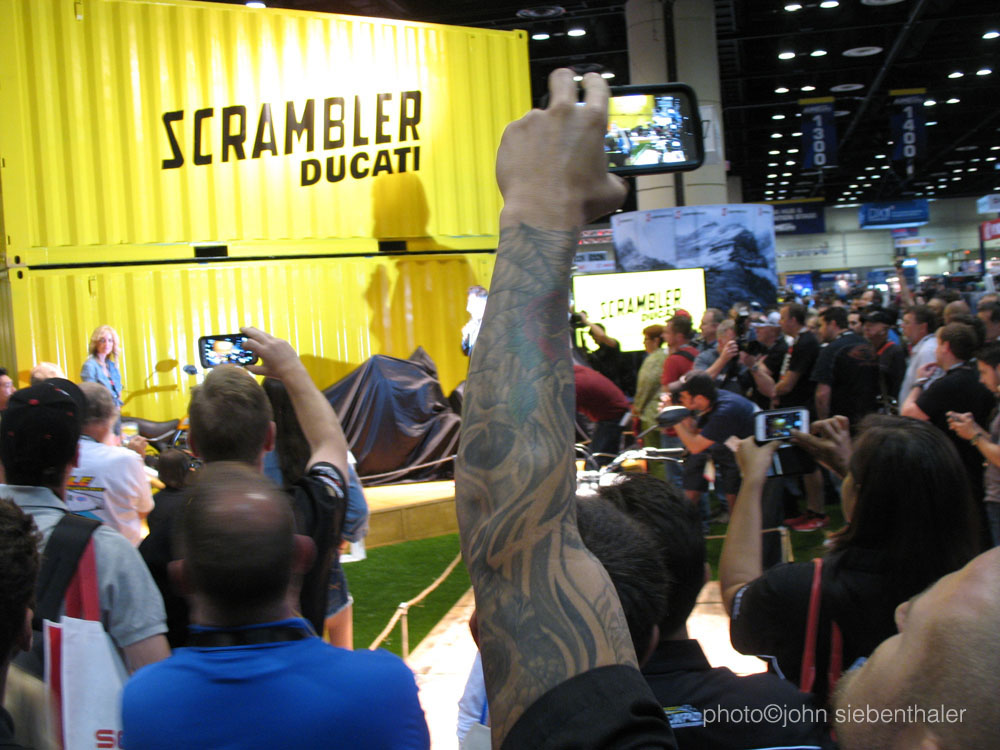 Trade shows got their start as an opportunity for manufacturers to introduce new product, distribute an annual catalog, and book orders on the spot. Catalogs will always be a time intensive creative process, only now production is all digital and distribution is mainly online web pages, untethered from a seasonal timetable and negating one of the main reasons for a traditional fall intro.
That's the back story for this new show that has all the signs of becoming the defacto industry event based on comments, atmosphere, quality of exhibitors, appearance, location, attendance, and enthusiasm. Above all, in just its second year, AIMExpo demonstrated the stability and reach exhibitors want in return for their participation.
Then it was announced that Dealer Expo would find a new home in Chicago for a December date in 2014, abruptly cancelling February's traditional show in the process. By now the industry was weary of the drama, and that left an opening wide enough for AIMExpo to float an aircraft carrier through.
The overall look and feel built on last years successful launch. Booth design and product displays projected a corporate marketing approach that made walking the wide aisles a visual experience more akin to an window shopping in a mall than the boring lineup of cheap popups that's often the norm elsewhere.
Ducati, Kawasaki Join Suzuki And Yamaha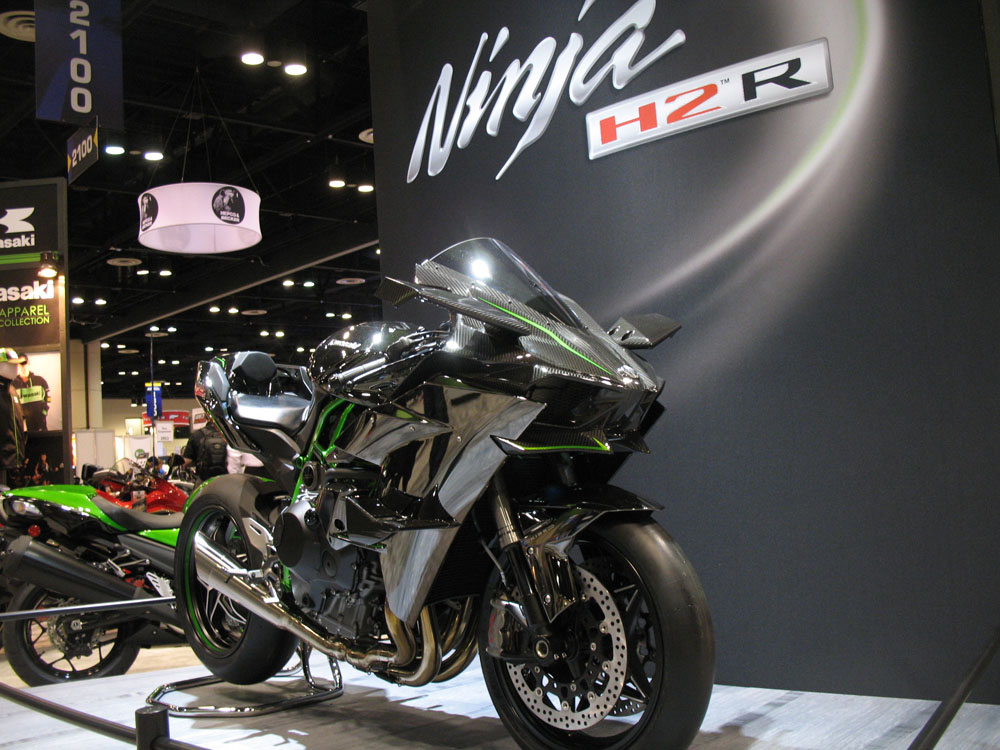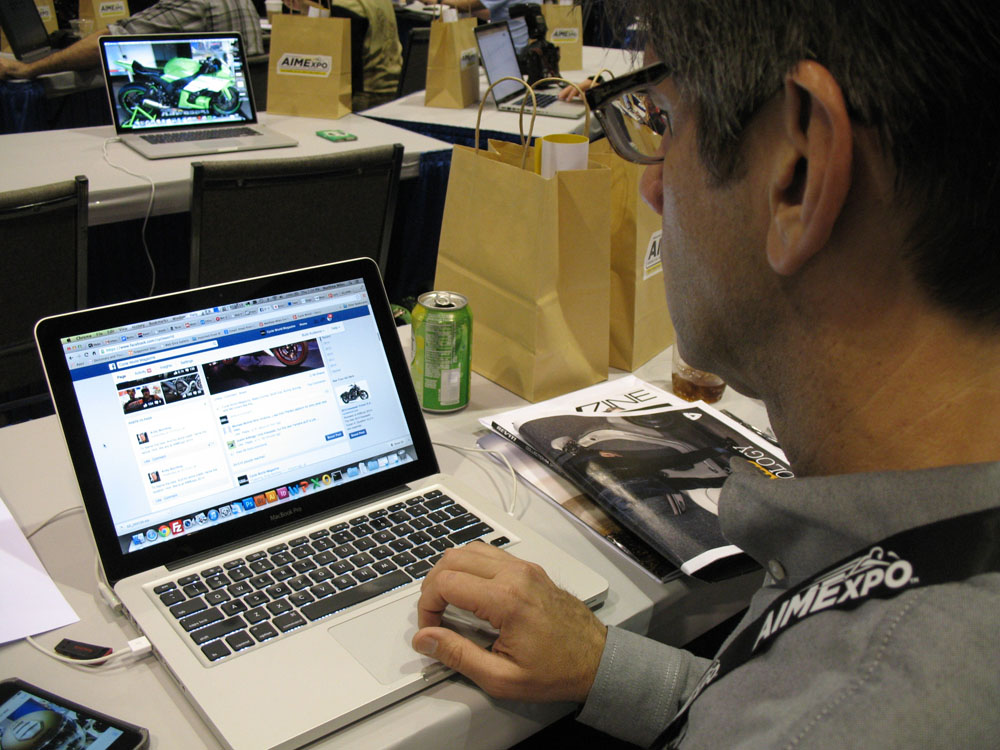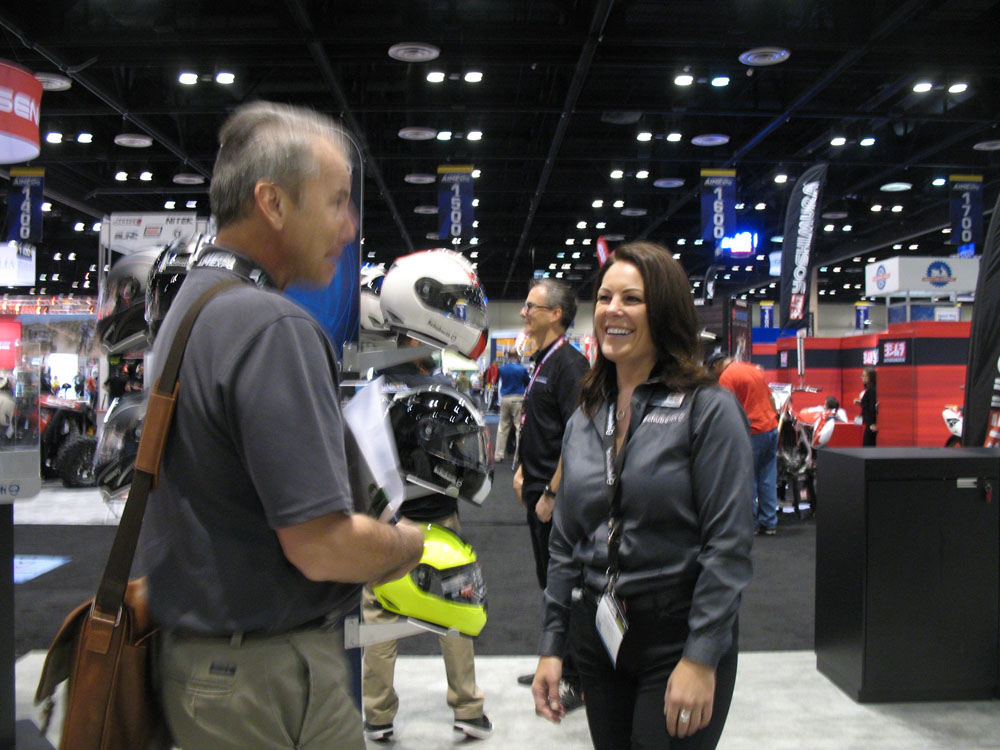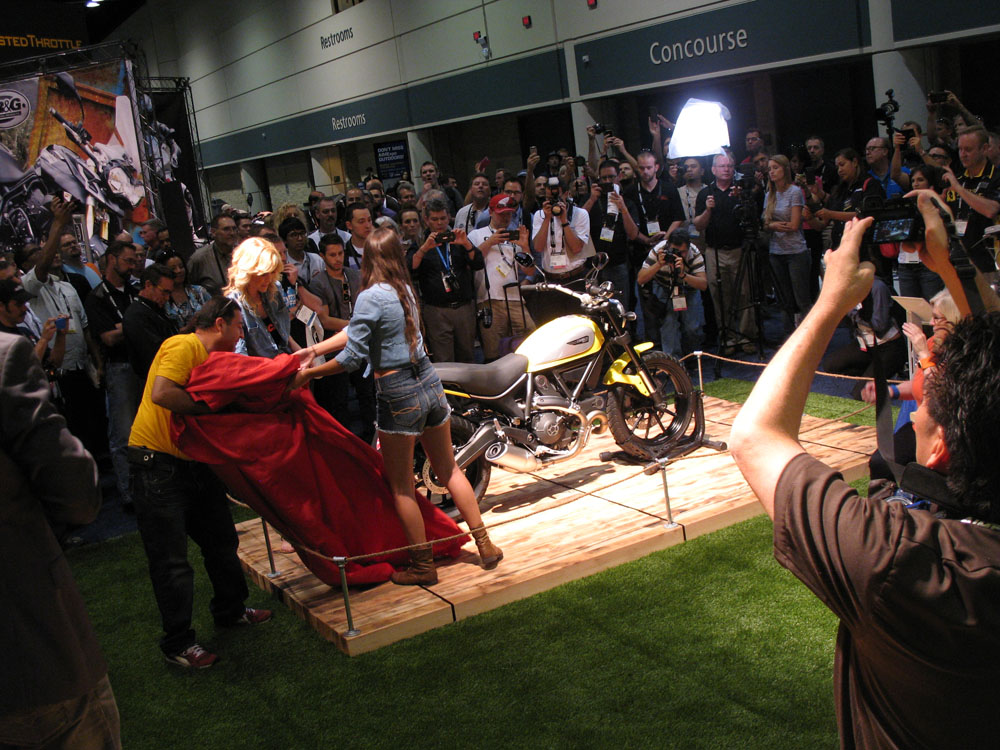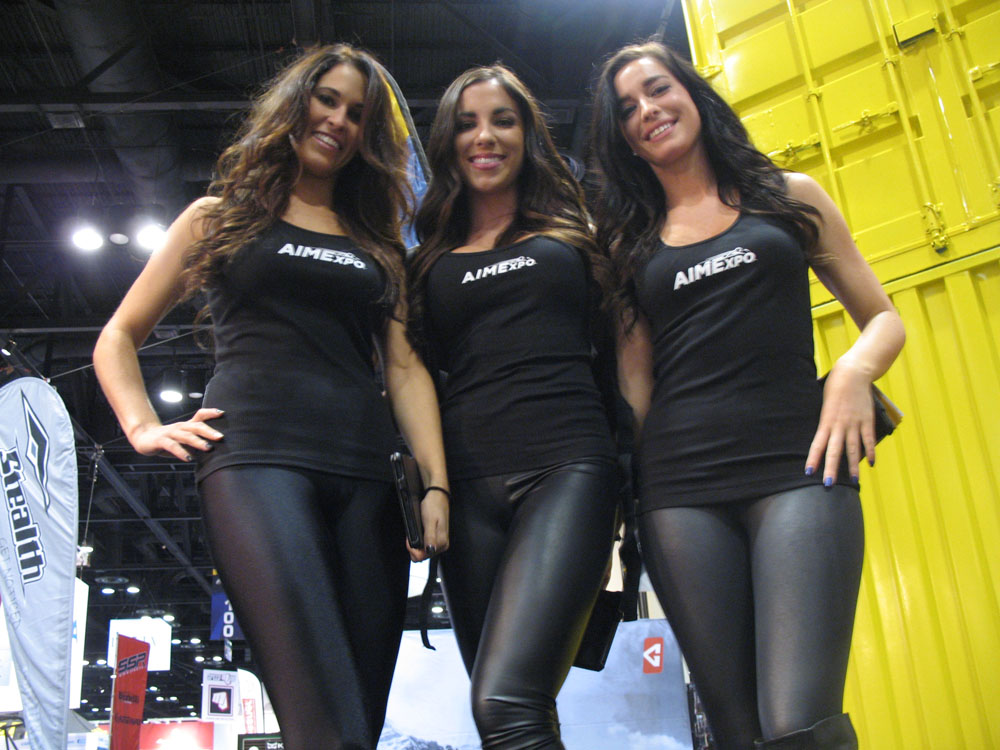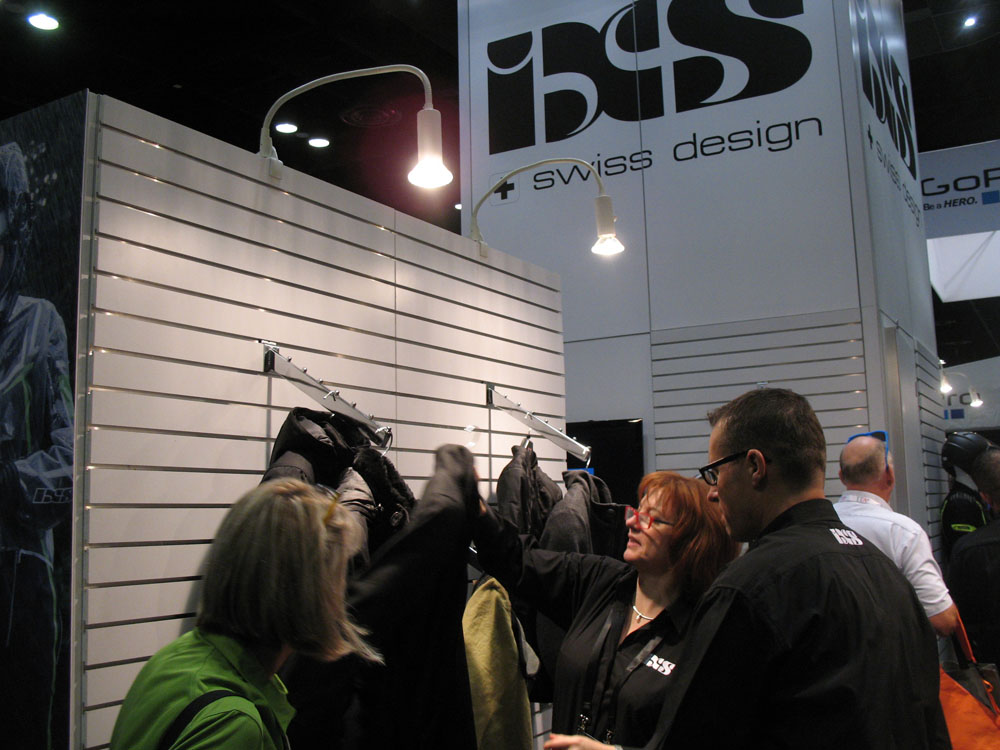 powersports new marketing show
top Kawasaki H2R 300 h.p. track only hot rod seen for first time in North America.
2nd row Cycle World Sr. Editor Matthew Miles (left) works from comfortable, convenient media center. Sarah Schilke (right) reps Schuberth NA booth.
3rd row Ducati's much anticipated Scrambler reveal drew crowd anxious for details.
4th row AIMExpo girls (left) turned heads. Swiss apparel manufacturer iXS (right) had dealers talking about fresh line of fashionable protection.
It also didn't hurt one bit when Ducati and Kawasaki joined Suzuki and Yamaha as OEMs, adding more style points and street cred to the second-year edition. Even Harley-Davidson showed up, repped by the local dealer who also offered a ride experience at the outdoor venue across the street.
Ducati's North American introduction of a reimagined Scrambler to the lineup featured four variations on the theme, each powered by the same L-twin, 803cc Monster derived Desmodue and a far cry from the single cylinder '60s version.
Zero, one of two EV manufacturers displaying for the first time, previewed what they hope will become a major part of their production – the FXP line of police bikes that are perfectly suited to urban environments where shifts are measured in hours rather than miles.
According to brand spokesman Scott Harden the power train is now available for licensing, a move that could draw revenue from unexpected sources.
While the Italian Pavilion's familiar vendors seem to have settled in for a comfortable stay, last year's attempt to lure the lucrative Central and South American Latino market on a recurring basis came up short.
Considering Florida's looming trade superhighway set to develop over the next few years, it's a distinct market that shouldn't be overlooked by industry promoters or manufacturers.
Utility Merges With Fashion – New Jackets Look Great
Apparel is one of the few remaining segments that continues to justify a paper companion to their web reference. REVit and iXS both debuted coats that can be worn in the boardroom as well as on the daily commute, complete with body armor for deflecting corporate sharp elbows.
iXS introduced an interesting line they're calling City Wear. The waterproof, customizable coat/jackets are targeted for urban professionals who tend to ride larger (500cc+) scooters, yet need the same armored protection found on conventional jackets.
Long time glove manufacturer Held debuted their new line of outerwear as part of a reorganization that now has the brand under the leadership of Schuberth NA's product lineup. Hot for '14 are cafe racer influenced styles featuring convertible waterproof linings and plenty of inner pocket storage for electronics.
My crystal ball says look for a 95 percent booth renewal rate, with a 15-25 percent increase in new signups as word of mouth spreads about the opportunities of exhibiting in Orlando. Will industry shows ever achieve the same participation levels as they did in 2006, '07, or '08? Doubtful. Too much change, cultural and digital, to dial back. But for the first time in a long while, powersports definitely has something to smile about.