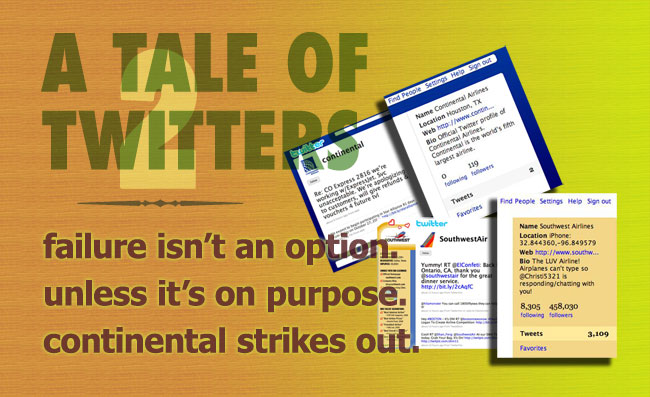 When Brands Don't Pay Attention, Bad Things Happen
August, 2009 | by John Siebenthaler

taking business to market
august, 2009
The story. "This was a sardine can, with a single row of seats on one side of the plane and two rows of seats on the other. ... It was a nightmare," Flight 2816 passenger Link Christian told the
Star Tribune
in just one of dozens of accounts, this one fielded by
USA Today
. Here are the basics.
On August 7, 47 unsuspecting passengers shuffled down the jetway at Houston's Intercontinental Airport, ducking their heads as they boarded Continental Express' 50-seat non-stop bound for the Twin Cities. It was a Friday night, the end of a work week. Some were headed home for the weekend, others out of town to visit family and friends, maybe visit the zoo, maybe take in a ball game, maybe escape the heat and humidity of a typically saturated Houston summer. Whatever.
sanitation takes a holiday
As they flew off into the twilight of a late summer evening, the passengers on Flight 2816 (go ahead, Google it) had no idea they would wind up being the latest in a series of industry in general and Continental in particular public relations blunders certain to play out later this fall, when Congress somewhat reluctantly considers lagging legislation to deal with a long overdue passengers' bill of rights.
"The passengers were sent back on the same plane they had spent the night in -- which by this time had no functioning restroom."
Two hours into the 9:30 flight, just about the time they expected to touch down in Minneapolis/St. Paul, a storm diverted them to Rochester, Minnesota, 80 miles away. Which is where they sat imprisoned in a cramped aluminum tube for the next six hours, bent over in seats generously padded with plywood and just 150 feet away from sanitary facilities, food, water and fresh air until the terminal's morning shift showed up to release them.
Their sad tale ends with the passengers reboarding what by now is a beyond capacity toilet capable of jet powered flight for the final short hop to MSP an hour later.
twitter + dataphone = crisis management My story starts with one more look at twitter, (talked about here and here), the sometimes maligned for lack of stickiness yet incredibly powerful in the right circumstances online tool that seems perfect for an airline industry interested in nuturing brand loyalty. A concept apparantly not high on Continental's to-do list, but that could change.
Four days after the latest incident of passenger incarceration, news of the event was still highlighted on Yahoo, featured on network evening news, and, as a result of the toilet (singular) overflow, putting a spring in the step of comedic headline writers across the land.
I wondered if Continental had anything near as robust a twitter customer interaction as Southwest Air. Here's what searching on twitter turned up: "RE: CO Express 2816 we're working w/Expressjet. Svc. unacceptable. We're apologizing to customers, will give refunds & vouchers 4 future trvl."
in order to be there, you've got to be there That was Continental twitter tweet number two of two, beamed directly to 119 followers — I hesitate to guess how many of those were engaged in spinning this latest adventure in consumer misery. The freshly minted account containing a measured amount of terseness didn't just miss the boat. They missed the dock, the port, the entire ocean the boat sails in.
By contrast Southwest Air, at the same time, had already passed the 3,000 tweet mark to an audience of over 450,000 followers. What then to make of the country's fifth largest airline's openly disdainful concern for consumer public relations in an industry distinguished primarily by a dismal experiential reputation?
For every CEO who only thinks of the web service as a handy way to tell the planet what you just had for breakfast, consider the possibility that the trapped passengers on 2816 were frantically texting, calling and downloading for help until the batteries wore out. Kept their minds off hunger, thirst and bodily functions, though.
Meanwhile Continental blamed Express, which blamed the terminal's lack of security, who said they could have deplaned, but maybe Delta had a hand in it. And when in doubt bring up TSA, which doesn't operate a midnight shift there, or at many other airports for that matter. Oh look everyone, there he is now, out on the runway; the dog that ate the homework.
yes, it really is that simple Could a program like SWA's pro-consumer twitter outreach have saved the day? By all indications, yes, to a substantial degree. At the very least it could have kicked the ball directly up to the C-suite for action and then relayed results directly into the plane. Help's coming. It's on the way. Make a friend. We'll stay in touch. We really do feel your pain and we're buying boat drinks all around as soon as they pry the bar open.
Twitter's an enormously efficient method for conveying the necessaries with plenty of room to slingshot to an html web crisis page. If nothing else, think of it as a corporate first aid kit, ready in an emergency as needed. And hopefully with somebody that knows a little CPR standing by.
It's about connectivity when it counts: simply knowing that they're not abandoned is the number one concern of inconvenienced travelers everywhere. The price for this miracle service is astonishingly miniscule, which makes Continental — and other public carriers that don't fully embrace the concept of near real time push customer service — astonishingly backwards.