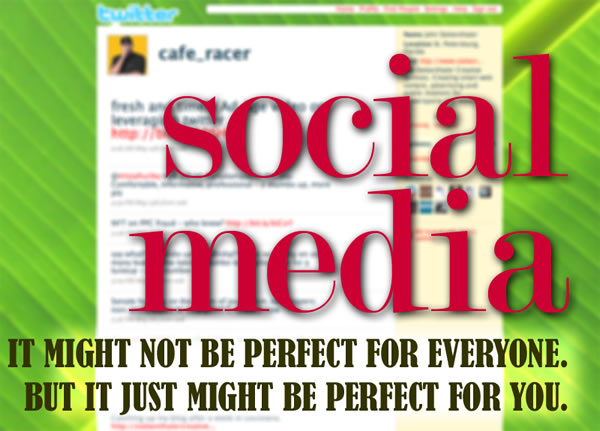 It's Not Just About What You Had For Lunch
June, 2009 | by John Siebenthaler @cafe_racer

taking business to market
branding basics september, 2005
web 2.0 august, 2006
branding closeup february, 2008
resources
Tweet Later — accessorize your tweets
Tinker.com — what they're saying
TweetDeck — feel the force, Luke
(TAMPA, FL) "I'm addicted to Twitter! I love it!" That was Christi Day, evangalista for the hot new web site must have, in Tampa last month as one of three PRSA-Tampa Bay Professional Development Day presenters. I was in the audience six rows back, listening to this barely constrained GenNexter rave about the shorthand web communications tool and how she uses it.
Christi's pitch, Nuts About Online Communications, came from an informed perspective. As the online spokesperson and emerging media specialist for Southwest Airlines, she leads a team of six that's spearheading the airline's efforts as they navigate the tricky waters of online social communications.
It was the last of three meetings, three weeks and two states apart, each exploring different marketing aspects of the fresh fabric that's defining contemporary corporate identity: new and emerging media; press release key word optimization; and a new respect for branding, promotion and publicity.
Whether it's a twitter #hashtag or optimizing a press release with loaded keywords, emerging media's ability to leverage the complex process of search engine metrics has turned the traditional landscape of social and commercial communications upside down. What I learned could fill a book — or at least the first 140 characters.
twitter: bff or haiku porn? Online research firm Knowledge Networks, in their How People Use Social Media study just out, says that while social network sites have reached critical mass — 83 percent of the internet uses some form of social media — social networking is not now and may never be a successful marketing medium. Of course, that assumes no new innovation. Who saw the Facebook coup coming when MySpace was the rage?
Guesstimates are that only 10-11 percent of the web population tweets at any given time. So Ashton Kutcher notwithstanding, you'll be forgiven if you're not yet twittering, an online activity that's arbitrarily short, very public (but with Direct Message as a privacy option) and as of right this minute totally red hot.
Nielson Research dumps more cold water on the trend by pointing out twitter's base retention rate is much lower — around 40 percent — than other online social sites and predicts they won't rise to the status of a Facebook. But of course twitter's not Facebook and that metric will change, as 1) twitter's slightly whacky interface evolves and 2) marketing uses for it's unique style are perfected.
In a recent Ad Age Digital video, Sawhorse Media founder Gregory Galant makes a compelling case for the commercial potential of the seemingly innocuous site. Galant formed his company two years ago to exploit twitter's symbiotic need for online apps, trendspotting that's paid off.
He concedes there's currently no user's manual for the quirky service, but we'll point out ownership of a quickly becoming universally recognized brand is a great start, recall driven by the number of twitter apps that's growing daily. If you want to learn more, it'll cost you $795 to get your hands on his Shorty Report, 160 pages chock full of the names and addresses of twitter's growing legion of corporate players.
something for nothing? depends Don't focus on the tweets sent by wing standing passengers onboard US Air's Hudson River miracle. Customer service/relations, direct sales and crisis management are the top three business functions to emerge so far, used by among others Jet Blue, Kodak, Comcast, Ford Motor, Starbucks (192,000-plus followers — take that, McCafe), Whole Foods and Dell, all part of a growing list that also includes Ms. Day and her work on behalf of Southwest. That work, by the way, has produced a measurable $500,000 return, despite the fact that the airline's twitter mission is consumer pr.
Another winner in the tweet-based revenue generation sweepstakes is West Coast food truck vendor Kogi. They hit the marketing mother lode simply by figuring out that tweeting times and locations for its stable of mobile vendors produced a flash mob parade of hungry devotees. Ex: this just in from Moomento; "woo, Kogi BBQ truck is gonna be in Mid-wilshire today: 6PM-9PM@Miracle Mile - Wilshire & Cloverdale, should I go try it?" Go for it, girl. Not bad for zero site presence capitalization.
phone friendly targeted content Both Southwest and Kogi demonstrate the feature that sets twitter apart from other online social fare: real time porting to a user's cell phone for one-to-many distribution of commonly sought information.
Lets say that most days you're really not into what this person had for breakfast or which politician said what. But you're suddenly very interested in options after getting bumped from your red eye to Vegas. That might lead to following your carrier's twitter profile for real time choices. Does it work? "Kudos to @jetblue for helping solve a seating problem last week!", on twitter from a very satisfied customer.
Or your needs might be a little less dramatic but essential nonetheless. If you live in New Roads and need to get to St. Francisville, two small Louisiana towns separated by the Mississippi, it's either a 15-minute, seven mile errand or a 140-mile round trip, depending on whether or not the ferry between the two is running. Handily, you can follow the Louisiana Dept. of Transportation's twitter feed (StFran_Ferry) for up to the minute text info on your commute.
Cost to tweet? There isn't any — no advertising allowed. But there's a catch if you're planting a corporate profile. "You need human beings to be on Twitter, and no one really knows how to box (it) up," said Galant. In other words, the commitment is time, a sentiment shared by Ms. Day as well. Time. And an appreciation for the newest of the online cultures.