Who Decides What You'll Buy? It's Not You
February, 2008 | by John Siebenthaler

connecting business to market
Find more brand insight here and here

How Cat Extended Their Brand
Caterpillar's the latest example of what it means — and what it takes — to extend the brand. Consumer awareness? The heavy equipment manufacturer is now well known for parkas, footwear, toys, watches — all flying the trendy Cat mark.
Hampton Inn Brand
Read how
Hilton supports their Hampton Inn brand
with creative strategy.
The Branded Universe We Shop In
The sucess or failure of a product is all about variables. Timing, pricing, utility. But before any of those can be evaluated by the marketplace, first comes The Brand.
The marketing buzz of the moment revolves around branding: brand building, brand extension, brand management. Previously known as positioning, branding can sometimes fail to take into account the abstract creative elements that are critical to a winning strategy, not just the mostly visual content that's the main component of a branded product or service.
In our trickle-down marketing world, sooner or later the corner deli ends up extending it's brand simply by changing the hand-printed sign in the window to include cold beer. While it may technically fit the definition, that kind of make-work activity does little for the bottom line.
It Can't Work Without Support
Alexander Isley, creative director of Connecticut-based Alexander Isley, Inc., makes the point about paying lip service to the process when he says that, "It's (branding) more than just a name. At a certain point, it's what you do with it in terms of the packaging, marketing and public persona. When people think of Nike, they maybe think of the swoosh. They think of the shoes; they think of Phil Knight. They really don't think of the Greek goddess (Nike). Magical things happen when you put $220 million a year behind marketing something." Magical things indeed. But if nine-figure check writing isn't in your product's promotional future, there's still plenty of hope. Lets look at a basic branding checklist to see what's involved.
Design First, Then Extend
Branding is the process of identifying your product to anyone who might be riding by. If there are 10 different widgets the consumer might buy and you make one flavor, successful branding means that when a widget is needed yours is the one they'll pick based on recognition. Achieving that recognition requires a basic first step: graphic design that works in print, on the web and increasingly as a mobile design element.
Brand Extension? Or Extinction?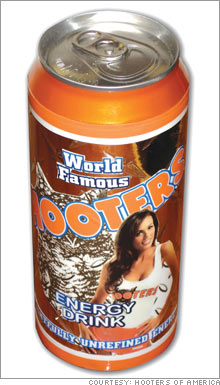 What seems brilliant at the time, ain't always so. Consider this short list of flops: Precious Moments caskets. (The Donald) Trump Steaks. Bumble Bee Chicken. Ferrari's Segway. And this one's home-grown: Hooters Energy Drink. Uh, yummm? You'll need it, after a bucket of greasy wings and a pitcher of beer right before the marathon. The chain's also known for Hooters Air.
While anyone can come up with a logo, a qualified design stands out on the page, screen or billboard because it's unique. The task is to be memorable, acceptable and versatile, a task involving a little left brain and a lot of right. Once the design is fixed and finalized, application to products and then to promotion come next. A short list of target marketing channels includes retail, direct, print, event, mobile and web.
Products and the companies that make them may look interchangeable, but strategy will determine approach. For example, Proctor & Gamble, the planet's most prolific marketer, promotes countless brands, from Tide to Charmin to Duracell to Crest.
Or like the example above, Nike's swoosh leaves no room for confusion. It's both corporate and product, so it doesn't matter if you're after basketball shoes or a warm-up jacket — just look for the swoosh. In both examples you're fulfilling a number of abstract motivators involving style, value, self-image, utility, etc. You recognize the brand and accept its implicit promise to fulfill your product need.
Evolving Market, Meet Today's Target
It wasn't all that long ago when retailer Target was just another discounter selling in the shadow of Sears and K-Mart. But then a funny thing happened on the way to the cash register — Target got style and became Tar-Jay. Now their highly successful red and white brand epitomizes the sheer power properly promoted design elements have to sway consumers.
Behind the scenes, though, is a strict reseller discipline that rewards manufacturers' individual brand efforts with front of the store push. At the same time Target makes it clear that their job isn't to build your brand, just offer it to the shopper. Ignore their direction and you're no longer on their shelves.
For the powersports market, there's no brand more ubiquitous than Harley-Davidson. From the corporate colors (orange and black) to the various visual elements beginning with the bar and shield, Harley's profited mightily from brand extension and in so doing was a Wall Street darling for a good while. But in marketing there are no guarantees, and as H-D's demos age and sag, the challenge for sustaining the brand is getting a lot tougher. As the current crop of Viagra ads show, linking "Viva, Viagra" to a Softail may not be the image that'll sell in tomorrow's dealership.