Three PR Blunders That Can't Be Allowed

connecting business to market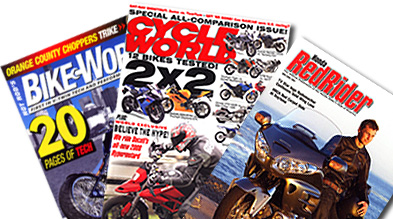 Publicity vs Public Relations
Each of these covers contains an editorial mention or feature for one of my clients. Combined circulation's just shy of 1 million readers — that's a lot of impressions.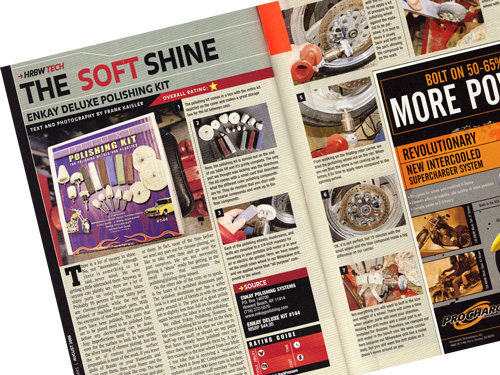 Multi-Page Feature Impact
Editorial features are always a prized result of a successful public relations project, like this Bike Works placement for client Enkay Polishing.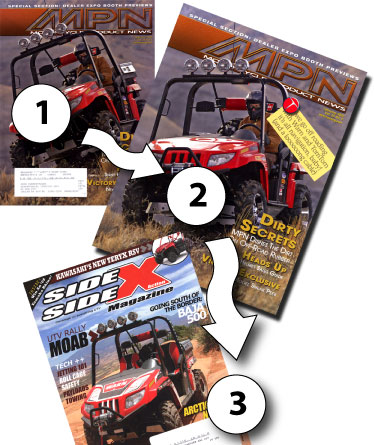 Spin Off Publicity Piggy backing exposure is the gift that keeps on giving.
When Motorcycle Product News invited my client's participation on their Warn Winch sponsored build for the 2007 Indy show, I worked closely with the editor to create a memorable media experience.
The campaign included a product handout (2) based on their February issue that synched with the magazine's cover date release (1) at Dealer Expo for maximum punch.
As the sXs vehicle toured offroad events around the country (3) consumer media picked up the coverage and featured the build.
Your Market Is Global When it comes to distributing product info or special event publicity, today's retail dealers, distributors, and manufacturers have to contend with multiple outlets serving multiple audiences in multiple markets. Hitting the bullseye isn't the slam dunk it once was, even though more and more publications are actively soliciting user-generated content.
Not every publicity release requires the skill and capability of a New York pr shop. But there are a couple of basics that, when followed, should improve the chances of a successful — meaning an article that not only gets printed but read — submission for publication, whether in print or on a social channel.
Any well prepared release is built on a foundation of just a few key concepts. Keeping in mind that the editor's job isn't rewriting your material but considering it for inclusion, here's my Top 3 list of must do directives.
1) Copy Who's writing your material? Too many self-generated releases go out with an unnaturally stiff formality that makes for deadly non-readership while overlooking fundamental rules of spelling, grammar, and punctuation.
Nobody Likes A Pedantic PR professionals know the best tip is to lighten up a ton and write in a normal conversational style. An informal style usually conveys more credibility and just plain friendliness than a weighty monument to Edwardian English in third person tense, and that can make a big difference when it comes to credibility and retention.
Even though a press release seems like a simple writing exercise, the actual construction requires several professional skills - talent, technique, and timing - acting in unison.
The typical product release might see 30 words published. A good approach might be to provide four times that, broken up into bite size paragraphs that an editor can easily use. Description. Benefit. Pricing. Availability. Short bursts of targeted info work best.
Write Naturally Write like you talk. (If your linguistic skills are challenged, definitely hire a pro.) A natural writing style is easier on the reader's brain and a lot more likely to attract favorable attention from the editorial department.
Lead With A Strong Headline Without one your product will limp along with all the rest of the shipwreck survivors. Be first off the island with a head that jumps off the page, garnering you the attention you crave.
Be Ruthless Use the tough love approach to editing. It helps to visualize those Academy Award recipients for Best 15-minute Industrial Documentary as they begin their shout outs with a remembrance of their third grade art teacher. As you imagine the orchestra beginning to drown out their droning, use your red marker liberally and often.
2) Art & Illustration What about art? Including professional illustration and photography is money in the bank. Sending out a release without eye candy cuts your chances for positive exposure. A well crafted chunk of art can carry a so-so release to prominence, but forget the visuals – or worse, including boring, uninteresting, unattractive DIY pics – and you've just handicapped a successful placement.
Use an ftp site or web link to distribute files. Trying to cram a 20-meg file through the e-mail pipeline is a disaster. Ftp transfers are smooth, quick, efficient, don't clog up the editor's in-box and provide a convenient route for assistant editors and art directors to follow for their own needs. You can also link to art stored on a web page for essentially the same result.
3) The Newsroom Connection Connect the dots! Make sure that new widget has a prominent position on your web site. Don't send out publicity and forget to provide a way for your audience to follow up online. More info — and here you can get as creative as you want with supporting tech tables, PDFs crammed with more art, newsletter signups, etc. — is always welcomed by readers curious enough to light up your URL.
These are just a few of the many steps that go into imaging, creating, and distributing a successful release. Whether it's a full on public relations campaign or the latest sequential product release, all the elements have to mesh for publicity to be effective. Half-measures, on the other hand, can have a negative impact on not only your product but your brand's reputation and credibility. You can view more communication tips in my columns archives.