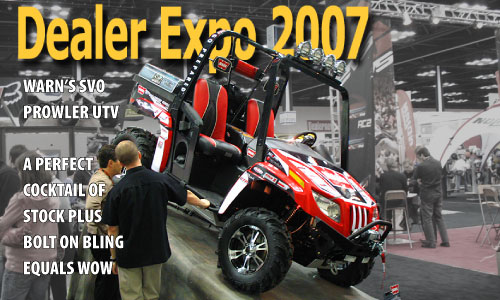 Warn's Special Project Arctic Cat Prowler SxS navigates with a state of the art GPS system after we hooked them up with TomTom's Rider gps and High Gear's accessory mounting system.
Signs Of Strain: Indy Tries To Broaden Appeal
February, 2007 | by John Siebenthaler: photos©john siebenthaler

taking business to market


more event coverage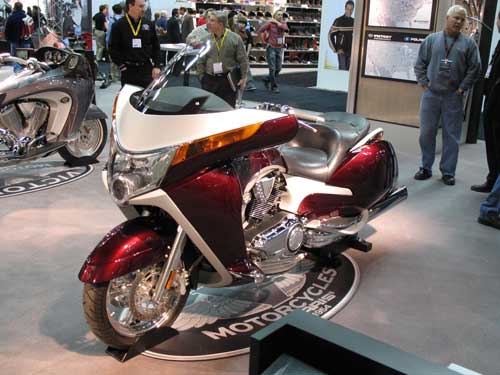 Victory's Hot New "Vision"
New Victory "Vision" was just that, drawing a lot of lookers and plenty of opinions at the Polaris exhibit.
Two versions — Tour and Street — offer plenty of selectable options in a bold, well executed styling exercise. Boomer appeal? Bullseye. The logical next step for mature riders who aren't quite ready to accept life from a front porch rocker.
(INDIANAPOLIS) Lets start with a weather review. Compared to the negative 18 degrees in Cincinnati two weeks prior, Indy's sunny minus 10 was a Chamber of Commerce beach holiday. Whiteout conditions two days previous brought traffic to a total halt throughout the county, which meant last minute express shipments weren't back on track until Friday afternoon. Still, the lack of wind driven pelting snow made the two-foot drifts that blanketed downtown sidewalks a welcome swap.
Weather aside, the real story seemed to be the continuing explosion of Asian manufacturers of bikes, components and services. Lets put this in the best possible light: if opportunity knocks, the shops and factories of China are answering the door.
There's little original, but a lot that's much less expensive than their Euro-USA inspirations. Quality, which we'll get back to, is another issue. In the meantime Indy's more and more becoming a venue for alternative transportation — a trend that will require watching.
CSI: Indy? The coffee driven buzz over Sunday morning pastry concerned the customs raid initiated to crack down on patent/copyright infringements. High fives all around as numbers of seizures, agents involved and foreigners detained escalated with each repetition.
Accurate or not, the rumor mill did reflect a lot of what's been on people's minds the past few years — the major threat posed to domestic manufacturers by a giant economy that's finishing the transition from an agrarian culture to an industrial machine. And because the concept of intellectual property is as foreign to the Far East as air conditioning in Alaska, the cost to manufacture's sinking like a stone once you eliminate the original idea and cost to market.
On every isle the Asian influence was profound. Scooters. Check. ATVs. Check. Cruisers. Check. Sport bikes. Touring. Off road. Check, check, check. And in any color of the rainbow, as long as it's already in use by an established brand whose identity can be leveraged.
If you're into comparisons, don't look too closely at welds, finish, castings or fitment. (Keep in mind, though, that iPods are manufactured in China — no griping about that product's content integrity.) And don't even think about how the marketing mantra of brand, brand, brand can even begin to be practiced by this upstart crowd: sound alike names, indistinguishable logos, duplicity of product. But they're here, now. And they're not going away.
Seat of the pants reckoning indicates that while mainline dealers are a professed distribution objective, market poaching is mainly enabled by a network of orphan resellers barely one step removed from eBay. And although margins may be greater percentage wise, the dollar net's smaller. The savvy consumer should be able to leverage a better deal on an existing brand, but the first time newcomer will probably be all about price over content. Stay tuned for interesting sailing ahead.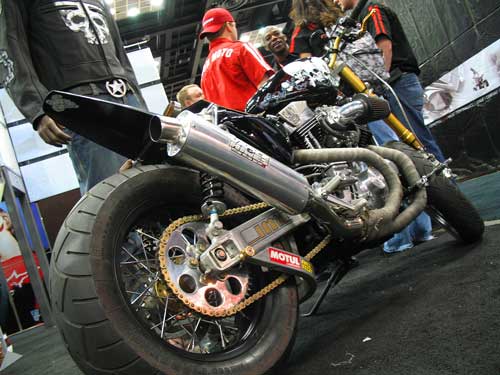 Filling The V-Twin Vacuum With the V-Twin exodus from Indy now nearly complete — one surprising holdout continues to be Tedd Cycle, this year situated within arm's reach of Troy Lee Designs — the vacuum, if ever there was one, seems handily filled by a smorgasborg of two, three and four-wheeled products.
The big buzz was the unveiling of Victory's new Vision touring/bagger line. Introduced while still in the prototype stage, the models on display were impressive from both the marketing perspective and in terms of a well thought out design approach reinterpreting a form that certainly has plenty of established company.
V-twin touring, with styling clues that seem familiar yet not so derivitive that rip-off comes to mind, the two models — one with, the other sans backrest/tourpak — offer a very upscale migration path for the by now legendary "baby boomer" generation that seems finished with fooling around on fat-skinned, big-inch single seater clones that are destined for the same closet used to store the old lesiure suit and disco ball.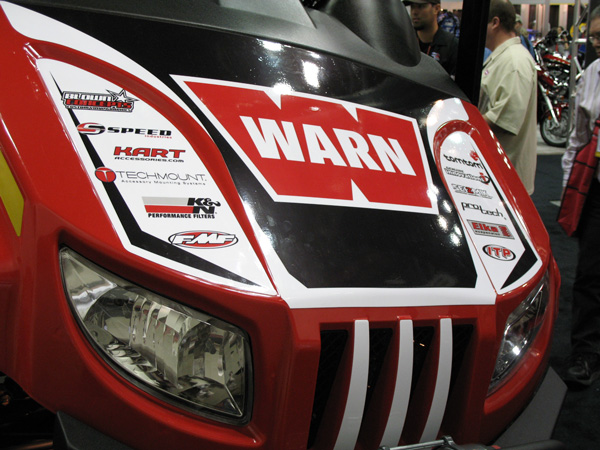 Warn's Prowler Project Knockout Warn Winch again fielded their unique SVO, this year in the form of a quite handsome side-by-side Artic Cat Prowler. In a departure from last year's inaugural tricked Ricon, the focus in '07 was on maximum impact via catalog customizing.
Bottom skid plates, GPS navigation — which we facilitated by bringing in TomTom's Rider and High Gear's mounting system — ITP rims and wheels, enough lighting to whack a tribe of vampires and full body graphics all contributed to an easily replicated one-off impression that drew crowds throughout the show.
Read more about the PR aspects of Warn's SVO projects and our role in this year's approach in our how-to tips column, "3 Common PR Mistakes".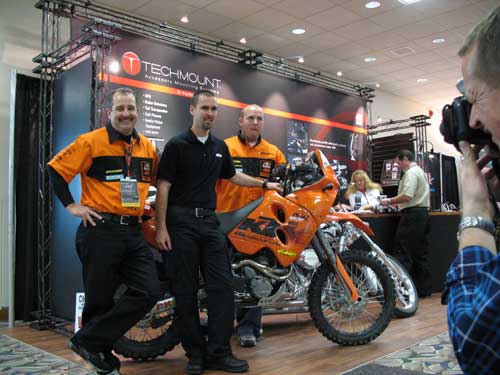 Stars of Off Road Shine

KTM's Chris Blais
, fresh from a solid third on this year's Dakar podium, was on hand at National Powersports Auction booth throughout the weekend when not hanging with mentor and legendary off-roader Scot Harden — quite a contrast in personalities, but together a most impressive deep well of riding talent.
We were able to place a KTM from Harden Off Road in the Techmount booth, showing off the manufacturer's line of accessory mounts in use and drawing a steady stream of dealers who recognized the other orange and black livery. Very cool bike, very cool people — (l to r) Scot Harden, KTM riders Chris Blais and Mike Lafferty.