products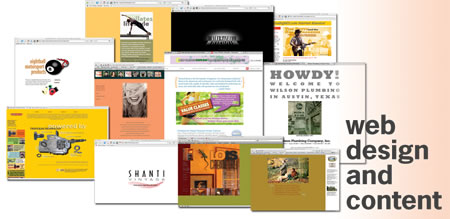 content creation and management
my affordable web development combines graphic design, marketing, and brand elements in a way viewers find enjoyable and clients find sustainable.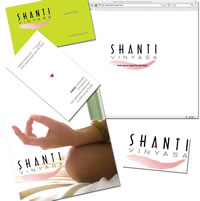 shanti vinyasa needed an economical way to reach a local audience and build an internet following. I designed a micro-site to achieve those objectives using client-managed content.
basic brand concept
naming strategy
mini-site architecture
logo development
original art direction
tasteful Flash splash page
social media coaching
collateral print design
blog setup
The goal is to deliver a clean, sustainable interface featuring content users find rewarding.
Development includes SEO, professional design, and user friendly layouts for maximum consumer satisfaction and efficient web performance.
I like a magazine style feel whenever possible, which allows for a flexible structure that can accommodate varied content and future expansion.
The design also takes into account how various social channels will be integrated, depending on the client's activity level.
When a Content Management System is needed a client hosted WordPress blog is installed for ease of use, reliability, performance, and maintenance.
Get the look and feel of a coordinated print, brand, and online design approach to marketing. Contact Siebenthaler Creative to start the discussion.