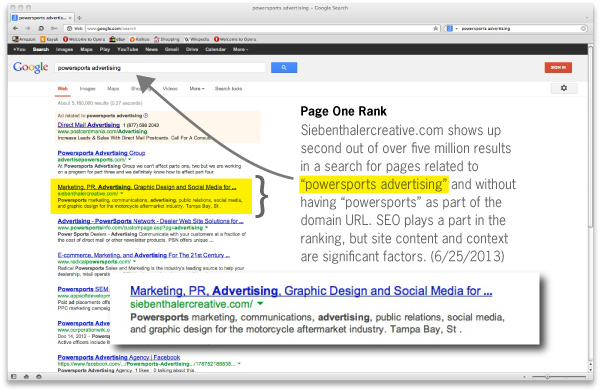 Want Better Search Results? Create Better Search Content.
August, 2013 | by John Siebenthaler
May, 2014 update: Google's latest Panda update that focuses on links has radically altered SERP results, leaving companies scrambling trying to overhaul strategy. Everyone is affected, small business more so than large. Google continues to assure marketers that now more than ever great content is the key to search marketing success.

taking business to market
This is content. An original story told with text and graphics about what goes into web site content and how I think Google treats my digital information. This story and the rest of my site content is parked on my California host's server which is actually located in Texas, inside a directory with my URL on it. That's what content is.
This two-dimensional page is nothing more than HTML code surrounding my words and whatever images, audio and/or video I care to include. Because Google tends to reward originality, sites with higher quality content can expect better ranking results. What makes it unique are the editorial copy stylings written for humans to read.
Searches for powersports and marketing, advertising, public relations or social media consistently rank siebenthalercreative.com on page one or very close to it, and usually in the top five.
Web content at its most basic begins with a <body> tag and should include a <head> tag named something other than "home" or "untitled". How it looks, sounds and reads inbetween depends on inspiration, creative value and SEO cleverness. It's storytelling that's all about copy, art and judgement. Neglect one, and it's like trying to sit on a two-legged stool.
Why I Think Google Thinks Content Is Critical

For a unique look at how Google search works, their 3-part infographic explains the main components: indexing, algorithms and spamming.
How much effect does social media have on marketing and communications? You might be surprised.
Lets put Google in perspective. Their consumer is one single person who enters a search term and expects to find a quality site displayed in an efficient, accurate manner in return.
Google invests enormous amounts of time, money and resources into building a better search engine. Their goal is straightforward: to deliver the most appropriate results to the person on the other side of the monitor.
Their algorithms, sporting cute zoo names like Panda and Penguin, have become very smart. And that's great news for small site narrow niche businesses like mine that need to be found organically without trying to cheat by using unethical and potentially terminal "black hat" shortcuts.
For Google, it's all about how well the search result matches the consumer's anticipated result. That's a trusted task that's invited manipulation since search engines first arose to guide web navigation. Violate that trust and it could become very lonely very quickly, as J.C. Penney was surprised to learn when they got kicked to the curb during the height of the 2010-11 Christmas shopping season.
Altruistic? Hardly. That's how adwords are best served, freshly baked right out of the oven. The trick for Google is to constantly improve the methods they use to evaluate the quality of each and every site they crawl.
Simple Formula For SEO Results: Make It Human
My site, siebenthalercreative.com, launched in 2002 with a print derived magazine style format and powersports marketing in mind at a time when AOL dialup was still king of the hill and Facebook had yet to be conceived.
As a writer, photographer and graphic designer, creating original content to fill that space was a choice that's continued to this day. What little I know about Google now is dwarfed by the fact that in 2002 I knew absolutely nothing.
The site's been well treated by Google in the decade plus since. Search results for powersports marketing, advertising, public relations or social media consistently place siebenthalercreative.com on page one or very close to it, usually in the top five.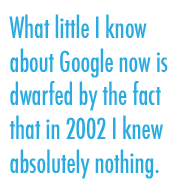 Those SERP results over time seem to support the notion that original content for human consumption is recognized and may be rewarded by Google.
For years search could be manipulated using cheap tactics like coding text to match a background color, e.g. white on white, making it invisible to the human eye. Or larding a site with miniature images tagged with keyword fakery. Or keyword stuffing, a practice that continues.
What typically happens is that searching for baby diapers or Thai restaurants may land you on a porn site or a page selling bogus health insurance. Or you would be presented with an endless list of different pages, all springing from the same domain that put everyone else on the moons of Jupiter.
And that reflects badly on the Google experience.
Recently Google has gotten much, much better at not only giving search consumers the results they're seeking but doing so in a highly contextual manner. The result is the rise of a new trade craft known as content marketing.
Consumers Prefer Unique Content
The need for original content marketing is supported by a wide ranging number of trends, including the fact that 68% of consumers will spend time reading content from a brand they're interested in.
My marketing and communications site is nowhere near the largest nor the most active within the power and motorsports community, and neither does it benefit from having a sought after search term – in this case, "powersports" – in the domain or page URLs, or in site directories.
In spite of those shortcomings, the result, after paying attention to the hints and suggestions Google shares with their audience of webmasters, is that siebenthalercreative.com consistently ranks on page one for searches involving the main marketing functions within the powersports community, including social media.
In a PRSA interview with Gap's Director of Social Media, Rachel Tipograph said, "The Internet requires every brand, business and individual to become a publisher." This is right in step with one metric that finds 78% of consumers believe that companies who publish custom content are interested in building a trust relationship.
Connecting those dots means quality over quantity, structure over shapelessness, and taking advantage of the W3C's tagging opportunities to include page and object metadata for additional parsing. This approach is especially beneficial if resources are otherwise limited.
There's not a week that goes by that I don't gain fresh insight into how to improve the site and those of my clients. Google makes it as easy as they can considering the complexity of the task, and seem to genuinely have the small site operator at heart.
Distributing Content Means Social Media Engagement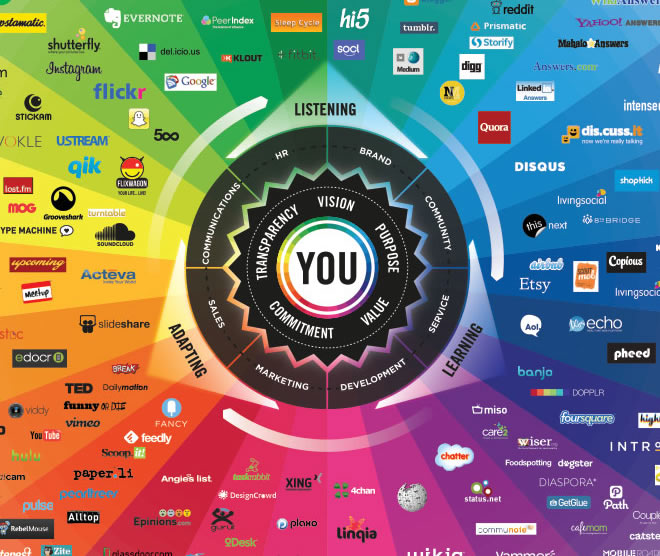 Finally, using social media to distribute content creates additional avenues Google can crawl to add gravitas to your score.
Brian Solis recently updated his hugely popular Conversation Social Prism which charts the best known channels in the social media galaxy.
It's an experience trying to imagine the infinite opportunities he presents while deciding on priorities. To get an idea of how far the digital media has come, you might compare it to my web universe sketched only four years ago.
I publish the bulk of my original content to two platforms: HTML material to my site, and short updates to my self-hosted WordPress blog. The web site is more contextual, the blog faster and quicker. Both are indexed by Google.
If I had to choose only one format for my content, it would be a blog. Most small businesses should find blogging very well suited to establishing a reputation for customized content, especially if that blog is self-hosted, i.e. on your own domain.
In the chart, orbiting social channels are categorized according to function. Dozens of major social channels have been categorized under 26 distinct headings that represent the broad range of interests. It is a list that focuses on the best known social venues, not every social channel on the web.
Create. Publish. Promote. Repeat. Analyze your options, think about using links strategically, time the release sequence and match content to channel. There are no easy shortcuts, but with practice and over time Google will recognize your efforts.