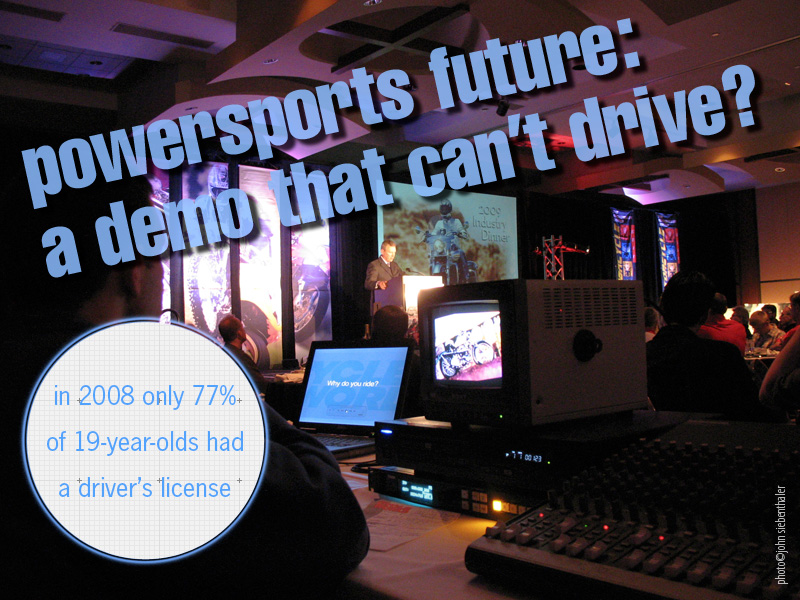 Lack Of Gen Y Interest In Driving Causing Big Problem
April, 2013 | by John Siebenthaler photo©john siebenthaler

taking business to market
Though today it would likely be a backmarker on Kabletown channel 457, the hit network t.v. series "Then Came Bronson" (NBC, 1969-70) yielded a mighty influence on the millions of male viewers who would come to make up the Baby Boomer Rich Urban Biker segment of the 1990s American motorcycle success story.
Every week Michael Parks would mumble his way across the country, silhouetted against the sunset aboard his trusty XLCH, making friends everywhere while riding the open roads with nothing but a bedroll and blue skies overhead. Powerful and effective – the interstate was still new, gas was 25¢ a gallon, and letters were still sent by air mail.
Contrast that with the growing realization among the major automotive OEMs that today the trend line for their future sweet spot – Gen Y, aka millennials – seems to be cooling on the need for a driver's license.
What Do You Mean You Don't Want A License?
Department of Transportation stats show that in 1978, 92% of 19-year-olds held the coveted passport to mobility. By 2008 – three decades later – that percentage had shrunk to only 77% among the same age group, says AdAge. And those who are driving are doing less of it.
The New York Times reports that Audi blames the digital culture (see below) while Toyota says it's the economy. There's plenty of evidence to go around on both counts: according to the Bureau of Labor Statistics (summer) unemployment among teens is over 60% and growing.
While off-roaders are technically free of the need for an operator's license, the reality is that for most powersports enthusiasts the path to ownership begins with successfully passing an automotive driving test, a feat usually followed by a secondary motorcycle endorsement later, but that only after completing a compulsory safety course.
And then there's the expense. Somebody's got to float that loan for insurance coverage.
The implications are clear. Whether licenses or income or culture shift, for powersports to regain the high water sales euphoria of the mid-2000s seems a remote possibility.
The Case Of The Disappearing Dealers
Obviously, lack of sales is affecting the retail side of the ledger in a way few would have predicted. Motorcycle Industry Council stats for 2012 are sobering. Dealerships – franchises and independents – are down nearly 40 percent from a one-time peak of over 14,000. New sales? Off over 50 percent from 2007.
What was seen by many in the industry as a perpetual growth curve now looks like a momentary bell curve fueled by boomers for a lifestyle-hobby that has little in common for the latest generations.
The continuing decline in aftermarket trade show attendance underscores the effect lifestyle teen trends are having on dealers. While the brave voices trying to cast a positive light on the most recent Dealernews Dealer Expo are sincere, the fact that exhibitors outnumbered buyers by nearly 25% leaves little doubt about the need for a different path forward.
The Trade Show News Network characterized the event with this headline – "Dealernews International Powersports Dealer Expo Sees 30-percent Attendance Drop." Ouch. The B2B trade publication explained that, "A decrease in dealers across the United States directly impacted the showfloor at Advanstar Communications' Dealernews International Powersports Dealer Expo, with a 30-percent drop in attendance to 10,904, compared with last year's show, and a 27 percent drop from the 2011 event."
Is This Adding Up To A Sea Change Culture Shift?
While most conventional attention has been focused on the recession and a slow, stubborn recovery, the unrecognized signs of weakness indicate a change in culture. If that's true, money won't solve the problem.
Boomers grew up with a sense of wanderlust and adventure, spurred by guidebooks like "On The Road". Today, no one's ever really alone. Instead we're tethered 24-7, updating our Facebook page from the middle of nowhere. Who's got the time?
In a recent email exchange with a Canadian multi-line dealership owner, the question I was asked was what might the future hold. My contribution included the notion that the culture's shifting: escape for Gen Y is likely as not a mobile device that's recharged in their permanent apartment at Mom and Dad's B&B.
William Draves is president of Lern (lern.org), a consulting firm that tracks issues affecting higher education. He maintains that in much the same way the automobile reshaped American life in the last century, the digital age is redefining our culture in this century. Okay, but what's that got to do with driving?
He thinks digital technology is a much better fit for public transportation – see don't text and drive – and that as the nation's wireless infrastructure continues to improve, it's inevitable the downward pressure on new (auto) sales will increase as general transportation is viewed more as a commodity than a lifestyle. A means to an end, not the other way 'round.
This theory is at least partially supported by findings from information gathered by J.D. Powers that tracks what Gen-Yers are commenting on socially. Instead of hot rods and bikes, interest in causes like the environment are top-of-mind.
With only so much time waking time available for hobbies and leisure pursuit, those pieces of the discretionary activities pie are getting sliced thinner while channels of engagement are becoming increasingly scrambled. It's time to start a new ball game.