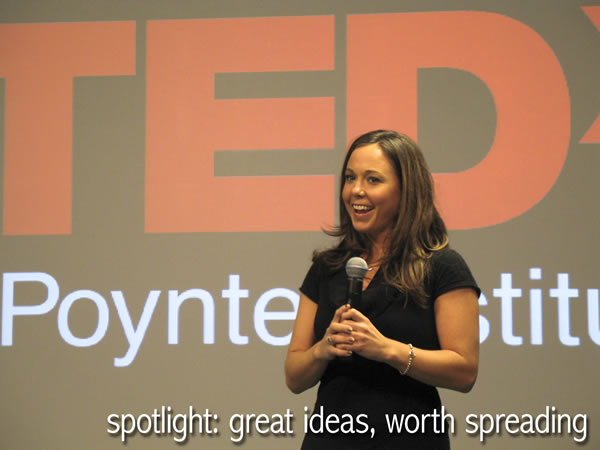 Poynter Institute Hosts Day Long Thoughtfest
October, 2011 | by John Siebenthaler: photos©john siebenthaler

taking business to market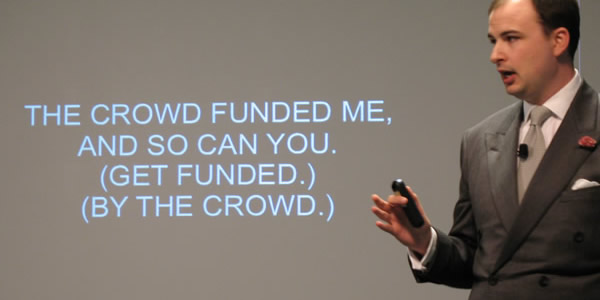 Impeccable and impeccably hilarious PRI radio personality Jessie Thorn, a Fast Company pick as a 2011 Top 100 Most Creative, described his success using kickstarter as a funding source.
The Future of Journalism Is…
(ST. PETERSBURG) Twelve speakers, seven hours, one topic, multiple viewpoints. The Poynter Institute brought TEDx (x = local) to their St. Petersburg campus for a day-long provocative inaugural event whose hashtag, tracked by Head of Lettuce Media's proprietary software, reached over half a million touch points on twitter alone.
Part theater, part lecture, part anecdote, TEDx Poynter was attended by just under 100 participants, watched via live stream by hundreds more, and followed on twitter @ #tedxpoynter by the thousands.
The conference began with St. Petersburg Times media critic Eric Deggans supporting his forecast of journalism's need to adapt with a first-person example of how mainstream media's authority is challenged daily by anyone with a smart phone and a social channel outlet.
Go Mobile: Put A Printing Press In Your Pocket
The example used by the veteran reporter was a local shootout during which two St. Petersburg police officers were gunned down trying to arrest a fugitive, who also died in the battle. At no time was print or broadcast able to penetrate the police lines, leaving only a controversial talk-jock, "Bubba the Love Sponge," to provide inside the bubble on-air narrative courtesy of his smart phone.
The result was a raw, unfiltered message beyond the control of authorities or the moderating influence of editorial oversight. It's how the world followed the Arab Spring, and it's the process mainstream media will adapt to their reportorial workflow.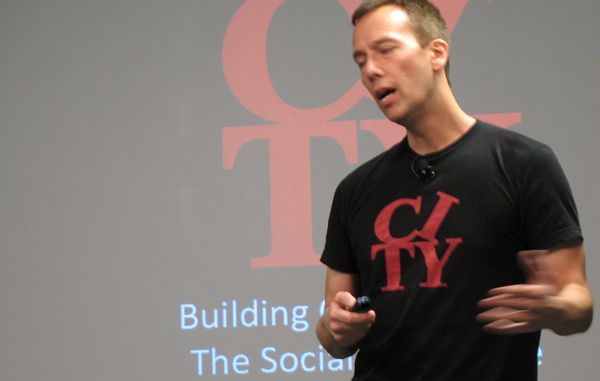 Activist Peter Kageyama talked about his work with municipalities in developing workable, practical social media guidelines.
Viral is not sustainable. jason sadler, iwearyourshirt.com
Other presenters included life coach Tisse Mallon, I Wear Your Shirt's Jason Sadler, renowned doodler Jessica Hagy, Canadian attorney turned Mediaite.com founder/social blogger Rachel Sklar, and Canadian Graham Sharpe who offered a peek inside his richly adaptive tech startup xtranormal.
Seven hours later NPR Editorial Project Manager Matt Thompson and Twitter Media Partnerships Manager Robin Sloan wrapped everything up with a captivatingly clever snarkmarket.com Blade Runner-esque view of communications' future.

A running time-line graphic summarized each speaker along with audience reaction. Popular blogger Rachel Sklar delivers an impassioned plea for net equality. Lunch break gave attendees an opportunity to visit with the speakers. Graham Sharpe's xtranormal cloud-based animation app was a hit.
The Goal: Shareable Journalism
Jason Sadler summarized the point of TEDx. His message, culled from "…maybe a thousand YouTube videos" produced as part of his original I Wear Your Shirt marketing, was that chasing a goal of viral popularity – virality? – obscures the real advantage of being shareable as an operational playbook.
Shareable was also part of Ms. Mallon's message, when she asked attendees to identify "what makes us happy," of Graham Sharpe, as he described the intent of interactive animation synched to a submitted script, and of Rachel Sklar's shining the spotlight on a medium that espouses equality yet regularly overlooks it in the course of playing beat the clock.
Shareability. Making your message the one that other people like to pass along. Like to bookmark. Like to download. Animated in his disapproval of anything viral, Mr. Sadler was equally passionate in his case for making content shareable.