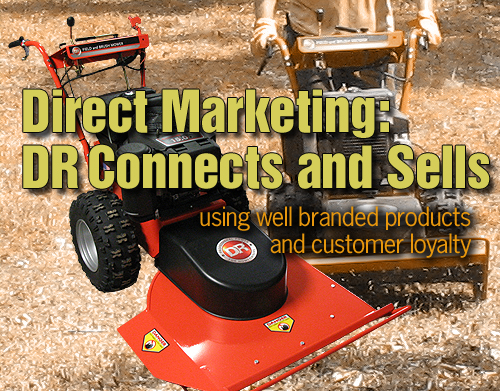 DR's Formula For Marketing Success: Quality, Function, Service
by John Siebenthaler

connecting business to market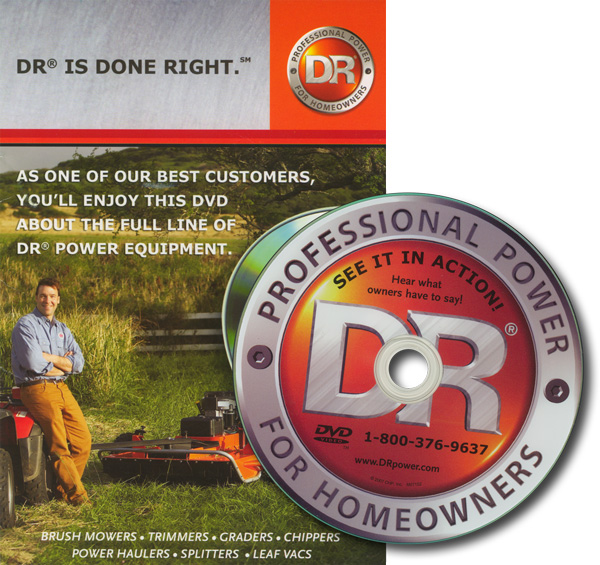 DR Direct
DR (Done Right) is a trademark of Country Home Products that's blazing new territory in the direct marketing channels.
DR Power: America's Suburban Woods Brand
While much of the buzz among manufacturers these days is over dealer direct marketing, there's a tried and true model that's still effective — direct to consumer.
Now emerging as one of the more powerful brands in the personal agricultural power equipment category, DR Power Equipment was created by corporate parent Country Home with the goal of empowering the homeowner with heavy duty machinery.
Headquartered in Vergennes, Vermont — population 2,800 — Country Home has quietly moved the flagship brand to the background and let their DR trademark become the public face of a growing product mix.
That's where, if you believe the testimonials and accolades that populate the web video, dvds and catalog mailers, Country Home works their magic in an efficient manner that marries hi-tech marketing with old-fashioned analog work ethic.
Professional Power for Homeowners
Their mission statement: "Professional Power for Homeowners". The brand image they've created is one of sturdy, reliable, designed-to-work and built-to-last tools for leveling, cutting, mulching and moving loads, weeds, grass, and trees so easily it's almost like, well, fun. It's sure not work — just ask the retired endorser grandmas who nickname their field mowers and can't wait to spend all day whacking away at the undergrowth.
Country Home, or DR — Done Right, as they've positioned the company, is well into the process of honing to absolute perfection a marketing model that isn't for everyone but sure is attractive for the right products.
Every aspect of the consumer experience, from phone support to warranty issues to starting problems, is dealt with efficiently and professionally. You get in-person company employees who understand the products because they use the same items themselves, and if there is a known problem they won't waste your time trying to convince you the problem might be with the user.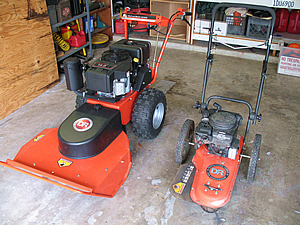 Two Down, More to Follow
As the DR catalog grows, so to do the needs — or wants — of the consumer for the tools offered. Power wagons and scrapers, a towable back hoe or a pull behind rototiller. Regardless of the terrain, they've got a machine to tow, walk behind, push or ride.
Watching brush and trees up to 3" bend and disappear under the mowing deck equipped with a heavy duty blade and then emerge as chopped to bits mulch is one of life's small enjoyments.
Marketing DR (Done Right)
Today's marketers face challenges no one foresaw a decade ago. As the web waxes and print wanes, it's no longer enough to just dump budgets into the nearest media outlet and wait for the phone to ring. DR's solution is a well seasoned combo of old and new that uses the strengths of each to build and track their demos.
The traditional part of the program is to keep your mailbox supplied with a steady stream of targeted catalogs and promos built around price: Spring Specials, Fall Discounts, Winter Reconditioned At Big Savings, Save NOW! With Free Shipping. This works because they know their customers can't get enough DR Power Equipment.
Once you've bought the first modest addition for your outdoor maintainance collection, you'll find a way to rationalize the entire product line. Even if home is a top floor condo in South Beach, you're figuring the angles on the snow blower attachment.
The copy's perfect. A little county fair home economics lesson that's always about saving time-labor-money, plenty of bullet points listing advantage after advantage, and an ironclad, to good to believe guarantee following a no questions asked return policy.
By the time you're halfway through the latest issue, you're ready to mow the living room carpet just to see if it works as advertised.
Creating New Marketing Channels

DR didn't just take on the walk-behind brush mower competition — Ferris, Snapper, Kee, Swisher, Billy Goat and others. They extended their marketing channel horizontally to include a dizzying array of optional attachments for the central power unit. Wood chippers, snow blowers, power wagons — all capitalize on the core effeciancy of the original concept.
If your dealership carries off-road four-wheelers, hooking into DR's dealer program could pick up some of the slack from drop-off in other channels. Their tow behinds range from mowers to chippers to snow blowers, all at an attractive and focus tested price range for authentic Made in the USA quality products.
According to V-P Marketing Julia Gilbert, DR's success today began in 1985 with their first Sprint string mower — essentially the same machine pictured above, on the right. Country Home Products was founded by Lyman Wood, one of Troy-Bilt's original founders. His vision: to design and deliver professional power for homeowners.
Their industro-centric marketing model is a fine-tuned mixture of seasonal print, cable, web and direct mail that recalls famed ad man David Ogilvy's commandment, "...to make the product the hero" of the ad. The brand's also available at 400-plus dealers throughout the country — no "big box" discounters — but Ms. Gilbert is forthright when she says the bulk of their sales are consumer direct.
These days the company's R&D is heavy on developing crossover applications that rely on another vehicle, usually picturing a recreational off-roader, for propulsion. They've seized on the popularity of ATVs, UTVs and SXSs as a means to leverage their segmented towable product lineup, which includes a fully-featured backhoe along with tree chippers, stump grinders and a tidy tow behind deck mower.
Marketing with those vehicles allow them to avoid picturing the ubiquitous yard or garden tractor/mower that by the way competes for finish mower sales — no sense creating consumer confusion if you don't have to.
Media-Driven Direct Marketing
Ms. Gilbert says that while they continue to use traditional media — seasonal print, for example — to help attract new buyers, their cable, direct mail and increasingly web marketing programs drive the sales engine. And that marketing model depends heavily on user testimony coupled with nuts and bolts video of each and every model and their respective features. For DR, direct to video means direct to sales conversions.
Once they've signed you up to receive material, they know it's just a matter of time. DR's customers already knew what they needed when they saw their first ad, they just didn't know who made it before then.
We mentioned in another column the powerful role guarantees can have in converting interest into purchase. Whether it's Hampton Inns' 100% Satisfaction or DRs Six Month Risk Free Trial — they even pay the return freight if you're not satisfied — the guaranteed value offer is virtually impossible for a well targeted audience to ignore.
Surprisingly, DR's below the radar when it comes to web social content, unusual for a company that depends heavily on video for real life situational demos focusing on reality consumer endorsers.
Just the Basics A Winning Strategy
While the formula seems simple enough in this market, as in others, coming up with just the right design at just the right price and delivering that message to just the right audience is a challenging task. DR continues to hit a mix of home runs and triples as they build their distinctive brand with an effective blend of traditional and improvisational marketing.