Indy Flavor – International Chow, Hold The Mein
February, 2005 | by John Siebenthaler: photos©john siebenthaler

connecting business to market

more event coverage

(INDIANAPOLIS) February's Powersports Dealer Expo in Indianapolis lacked the pizzazz of the Cincinnati show's v-twin crowd two weeks previous, but the Umbrella Girls, a sassy passel of lava lamp lucious enhancements who've met with serious approval since their debut a few years back, added plenty of atmosphere with their ready smiles and infectious personalities.
The street level UG photo booth and it's steady line of customers waiting for their chance to take home a souvenir snapshot was a dependable barometer of their popularity. On the less curvey, more linear entertainment side, it seems the biggest crowds clustered around the growing number of extreme video producers. Jackass antics notwithstanding, it's apparantly true that human DNA contains a gene that commands us to watch train wrecks, especially when the survivors almost always walk away intact.
Nice Orange You're Wearing — Can I Pay Your Rent?
The three-day crowds seemed content, if not wildly enthusiastic, over the vast selection of merchandise. Scooters were everywhere, in every size, color, configuration, and level of quality. So anxious were manufacturers to show their wares that more than one model (left) was displayed in rough prototype form that was half focus group test, half get your orders in now. The populous Chinese contingent was a little unsettling. My left brain says get over it, because regardless of whether or not you know it's from China, chances are if it involves metal, wood, paper, or plastic, it probably migrated over either already put together or nearly so, and sporting some of our most familiar brand names in the process. But that pesky right brain wonders how in the world an American economy built on manufacturing wages transferred to durable goods can survive this massive erosion to the income of the nation's workforce.
Knuckster — Son of Shovester?
The fun stuff included perennial favorite Denny Berg's always anticipated theme bike for Cobra. This year's entry was the "Knuckster", a Buell powered 91-inch rigid springer kicker bobber combo that has to be seen to be appreciated. Denny returned to a Harley-based theme for the second time since his outrageously popular 2002 Big Twin "Trakker" softail board tracker take-off, as always with a nod to roots chops and an incredible eye for fantastic detail, the kind that makes you want to pull up a milk crate and spend some quality time getting your ass imprinted with a waffle iron pattern while you soak up the rich expressions of a master builder. "Knuckster's" mechanical heritage is more cosmetic than functional, but the form follows function philosophy that's nearly a Berg trademark isn't compromised. It's another real breath of fresh air from the laid back So-Cal native. Denny probably won't ever get to host a reality train wreck series - but if there were any sense of proportion, he'd own his own network, and we'd all be a lot smarter.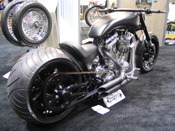 Two Extremes, Common Theme: Excellence
BC-based Fat Cat's wide (Avon) rear, right-side full-width belt build was a sinister concoction of detail and function that managed the right esthetic in establishing proportions between the massive rear and the less so front, a look further enhanced by the use of mid-mount controls that lend a more purpose built appearance. Understated paint and powdercoat unified the mass, resulting in an overall impression of projected power that's tough to achieve, unless your resume includes nitro experience. And their's does. Don Bennett took time to explain what went where and why the mid-mount approach was crucial to rider control and comfort. Just mind your butt if you're thinking burnout.

This year's silent auction benefiting the Joe Parkhurst Education Fund was chock full of memorabilia, centered around the Red Bull Dakar KTM team headed by Scot Harden. The bike itself, with enough leftover African dust and sand to set up an indoor moto, was on display, though not for sale. Other items were, including the pretty funky jacket worn throughout the event. If you'd seen this KTM plowing through the dunes on Outdoor Life Network's event broadcast, you'd wonder that there was any paint left at all. Getting to peek over the bars from the rider's perspective left an even bigger impression of just what it takes to survive a mind-bending event like Dakar.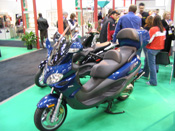 Scooters — The New Roller Blades
Scooters were the name of the game if numbers meant anything. It seemed like every hall, every room, had some kind of manufacturer or distributor offering their version of a Roman Holiday Vespa legacy. I don't think it's going way out on a limb to imagine, just a few years from now, when today's American other and HD riders will begin to migrate into the step-through marketplace.
There weren't too many exhibits that prompted a double take. Schwinn's did. The venerable brand is out with a full line of scooters, with more (bigger) designs on the drawing table. The marketing's slick, the paint engaging, and the styles cozy, comfortable and cozy as in home made chicken pot pie.
Other models took full advantage of modern components. Bodywork, chassis construction, electrical, powerplants, and running gear are a world apart from the smoky, sputtering, and clunky counterparts of a half-century ago. They look swoopy, full of futuristic touches and multiple contours that sometimes border on cartoonish. One common thread seems to be an acknowledgement of the need for onboard storage, while the demographics almost scream Loft Living. Live inside the loop? It's looking more and ore like a Segway and scooters world. (But I'd like to see some Target-ized urbanized dual-purpose make the scene.)
There was more. Kimpex set Shark loose in the waters, the Italians were set up in traditionally spiffy style, and what was left of the official V-Twin contingent was huddled over in the canyon, uh, dome, watching the Diamond Screen and talking about the weather. Lots of apparel, media, rubber. Not so much hard edged mechanical. The dueling trade venues continue to be a work in progress.
©john siebenthaler 2005