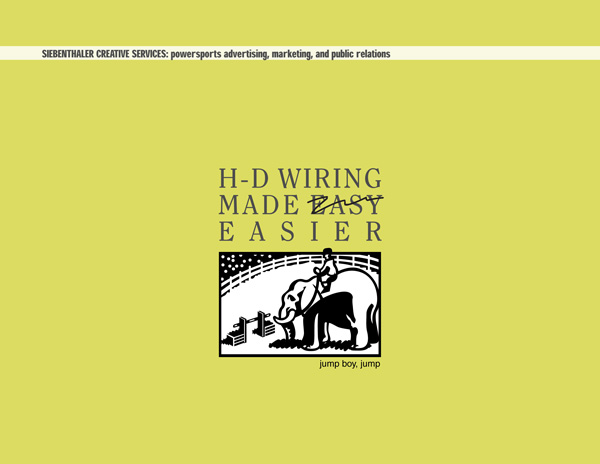 If Wiring Your Bike Has You Stumped, Try My EZ Guide
"This is absolutely the best and easiest information to use I have found yet. If you do a lot of customizing on your bike, no matter how much chrome you put on the bike a set of frayed or dirty wires can take away from everything you have done, this manual will help you replace the wiring with no fuss." Indiana Biker
That's how Indiana Biker described my HDFX wiring guide "Wiring Made Easy Easier" to their message board readers. When I started building my own bikes, the existing diagrams were nearly useless — the factory tech manuals' reproduction was a muddy mess.
If you find this guide useful, how 'bout
liking my Facebook page?
As a graphic designer, I knew there had to be a better solution, one that average guys with normal eyesight could make sense of without going blind or setting fire to the project. Inspired by the simplicity and clarity of the old Jammer hand-drawn illustrations, I designed this guide in July, 1999 – two years before launching my first web site.
Since then my six-page, ready to print wiring schematics booklet has been downloaded thousands of times and pops up now and then on Harley-related web sites around the 'net. If you are wiring your own project, I encourage the use of the best quality components and best building methods possible.

taking business to market