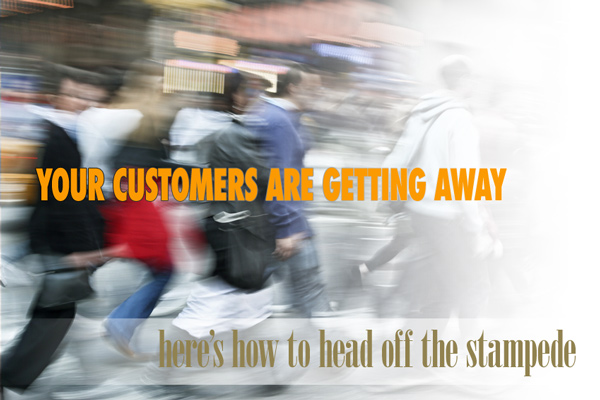 If Google Can't Find You Neither Can Your Market
May, 2012 | story / photo illustration by John Siebenthaler

taking business to market
October, 2012 update: Google has effectively designed a method for downplaying the use of "exact match domain" as a major component of SERP. No more stuffing the URL with keywords to gain rank.
Google Knowledge Graph: Rubik Meets 3D Chess, Laughs Out Loud
Only a few years ago online marketing meant a corporate web site run by tradition: mostly print advertising, a little direct mail, word of mouth, and somewhere in the mix a primitive search engine strategy that usually involved intentionally obvious keyword stuffing to drive hits. Not anymore.
"Search, a marketing method that didn't exist a decade ago, provides the most efficient and inexpensive way for businesses to find leads," according to Federated Media Publishing's John Battelle.
If you're a Small Business and your promotional efforts include internet marketing, the game just got a lot better – and likely a little more frustrating as well. This month Google rolls out Knowledge Graph and in the process ups the search strategy ante significantly.
"Search, a marketing method that didn't exist a decade ago, provides the most efficient and inexpensive way for businesses to find leads," according to John Battelle of Federated Media Publishing. According to a lpsos 2012 report for Reuter News titled Interconnected World: Shopping and Personal Finance, 44% of online shoppers start their experience by firing up their favorite search engine, which overwelmingly (65% of the time) happens to be – Google. (On my site, Google search regularly refers over 90% of the hits; as of this writing, nearly 97% of page referrals.)
Their latest algorithm – also referred to as semantic search and on other platforms as intelligent and/or predictive search – has, as this Mashable piece outlining how your requests are returned demonstrates, "…just gotten 1,000 times smarter." And that's great news, as long as you're current and up to date with Google's preferred type of content.
If Google intends to reward rich creative content with positive page rank, then the fate of businesses that don't maintain and upgrade that content will be loss of rank and banishment to those Search Engine Result Pages (SERP) no one ever reads.
For Small Business this is game changing, not least of all for the implied response to Facebook that shouldn't be taken lightly. The time and talent needed to maintain multiple online activities – social channels, web sites, blogs – now shifts into overdrive.
75% Never Get Past Page One Search Results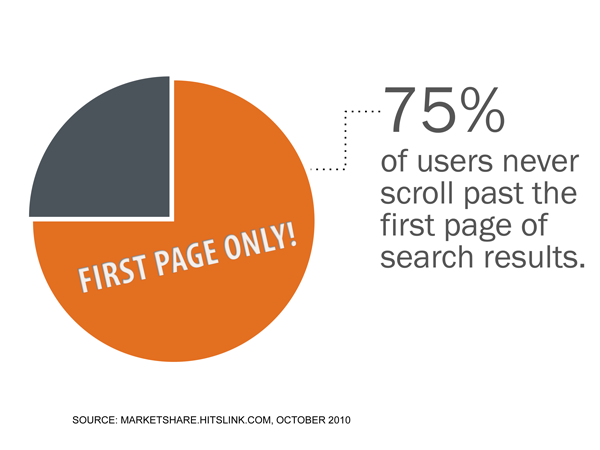 Search Engine Land's Chris Sherman says content isn't just king anymore. It's become a dictator, responsible for how search queries will find your brand. Why? Because 70% of clicked links are found organically, derived from user entered terms as opposed to paid (PPC) results. Of those, 60% go to the top three returns (SERP) on the page. In short, without solid, descriptive, content to guide search there are no returns. And without ranked returns, your business is invisible.
Google's newest filters are thought to place the quality of content above quantity while putting a premium on what they can identify as original material. What, exactly, is Google looking for? No one knows precisely, but Google stresses in their own tutorials the importance given well written entries built on localized construction, unique links, and a respect for integrity. In other words, solid storytelling about why your brand is best.
What Could You Be Doing To Help Google Find Your Brand?
There are probably as many opinions on what works best as there are web sites. But there are some techniques that are obiously more effective than others. A number of metrics are measured by Google directly, while others might help indirectly through increased page views, for instance.
Digital talent provider Aquent published this five-step list of ways to help improve your Google rank. There are many other approaches that, taken cumulatively, will also help produce positive results.
Respect change. To make it to the top of Google's search results index, your SEO campaign must constantly adapt to their ever-changing algorithms.
Have a quality website – in the long run, offering quantifiable information in an easy-to-navigate site increases your chances of securing – and maintaining – a high search ranking.
Be specific. Search engine algorithms are designed to understand specific phrasing. The more specific your targeted top-ranking search phrase, the better results you can expect for your website.
Use Social Media. Integrating Facebook "Like" and Google "+1" buttons into your website's user experience is essential. The more people you have clicking those buttons, the more impact on your paid and organic rankings – not to mention your conversion rate.
Finally, use Google+. Very few companies have taken advantage of Google+ yet. The more active you are on Google+, the more likely you are to dominate the search results of your followers and connections.
These are all good tips, and should be part of your internet marketing report card. Other factors that have a big influence are number of pages, relevancy, structure, and all around maintenance and housekeeping.
A Three-Part Approach: Basic Steps For Search Success
Success depends on awareness, engagement, and finally conversion. The complexity of internet marketing's intense focus on content makes prioritization a necessity and organization essential.
First, define your market. Are you after every internet user on the planet, or only those who are most likely to become a customer? This is more than a subtle distinction, so unless your brand is a multi-national Fortune 500, stick to your own turf and concentrate on what you do best.
Only 10% of marketers clients favor the outdated and inaccurate belief that social and digital marketing doesn't require an investment. That is an excuse to fail.
Second, define the content. What kind? It looks like relevant copy remains the best way to Google's heart. If it can be enhanced with video, stills, and other rich media so much the better, and there are other effective ways to help feed the beast. Rohit Bhargava, SVP of global strategy and marketing at Ogilvy, says content curation is the hottest trend in social media, and HiveFire reports that 69% of US marketers say it's more important than in 2011.
Will the content stuffing strategies of previous years still work? No, they won't, and worse yet they'll probably work against you, as Google continues to refine their approach to finding what users are actually looking for when they enter search. By the way, it's easy to overlook legacy metadata – title, description, and alt tags – that could also contain what Google tends to see as manipulative.
Third, define the strategy. Post on social? Blog? Create new html? Not every media channel works in every market. Facebook is fine – if you remember not everyone uses or likes the channel. If that's where some of your market is but where you spend all your effort, then it won't work.
For others, a blog, email, twitter, or new web page are best choices. The method will depend on the message. Quick observations can go straight to social, while an inbound strategy might begin with a distributed web page or blog post link.
What About Social Media
Social is very much a part of a successful search strategy, especially as more and more channels add a social component to the mix. Most Small Business social content does little to engage consumers, and that definitely has an effect on your brand's online performance.
63% of companies using social media say it has increased marketing effectiveness. (McKinsey Global Institute, 2010)
Social media helps B2B marketers improve search results (BtoB Magazine, 2010)
LinkedIn generates most B2B conversions.
Facebook generates most B2C conversions.
Nearly 40% of US companies use blogs to market goods and services. (eMarketer, 2010)
Blog articles can influence purchases.
Finally, only 10% of marketers clients favor the outdated and inaccurate belief that social and digital marketing doesn't require an investment. That is simply an excuse to fail.