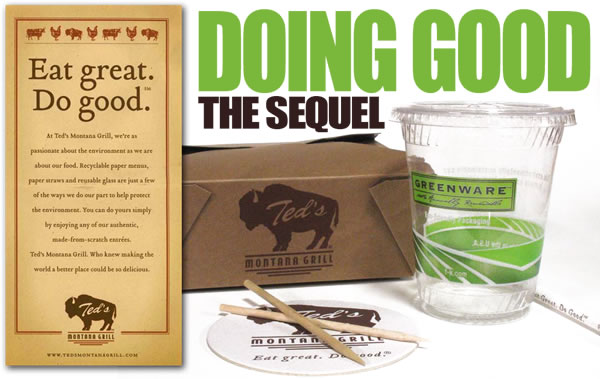 Ted Turner's Montana Grill Takes Big Chances
April, 2010 | by John Siebenthaler: photos©john siebenthaler

taking business to market
November, 2015 update | Food's still great. Service still shines. If you want your coffee to go, bring your own mug – not a problem.
(TALLAHASSEE) Food's great. Yes, really. Drinks a little pricey, considering. But wait, there's more. In a college town state capital which had just seen its most famous independent eatery close, another victim of difficult times and changing tastes, the promise of a bison strip steak seemed just outrageous enough to pull me in for a test eat.
So here's the story. Whether you're opening a hardware store or a health spa, there are basic rules of the road that while they don't necessarily guarantee success, they won't doom you to failure either.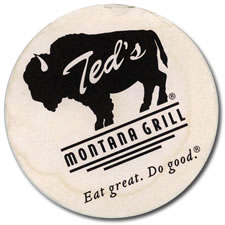 From the tactile feel of the bar coasters to the comfortable appearance of the meat loaf and mashed on the heavy china plate, Ted's Montana Grill achieves a difficult marketing goal: delivering perceived value that clearly signals respect for the consumer's intelligence.
It's interesting how many fledgling marketing attempts fall flat for the simplest of reasons: lack of imagination, failure to execute, making assumptions that don't follow. TMG, by focusing on known factors like food value and unique ambience, also succeeds by being able to convey a sermon free message of environmental responsibility.
By making their restaurant experience about more than just eating, the subtle education that takes place with every straw that's unwrapped contributes to a positive WOM that's then redistributed with authority – the ultimate goal of any retailer.
the gimmick It's always a tough market for themed restaurants. Just ask Outback, owners of Destination Didgeridoo. One way to break out is to create a new food category in an accented, quasi-exotic atmosphere. That's what Outback did with their Bloomin' Onion appecalorizer served in a down under theme, and that's what Ted's Montana Grills have done now, continuing to roll out in a well received chain of arts and crafts revival restaurants.
In 2002, Ted Turner looked at his 50,000 pet buffalo, thought we all should do more to cut down on landfill waste, and just like that, a fresh concept selling bison burgers and dual-flush toilets was born.
Founder of CNN, owner of more private acreage (two million) than any other American, philanthropist, long time evangelist for the healthful benefits of bison consumption and now restaurateur, Turner was able to combine his appreciation for great food with his passion for protecting the environment by partnering with retail dining veteran George McKerrow.
branding The star attraction - bison - call Big Sky Country home, guests on Turner's vast ranching operation there, so it's probably inevitable that focus testing was, ummm, somewhat limited. Turns out, Ted's Montana Grill feels natural, has a built-in meme by virtue of product and philosophy, and is graphically versatile. The fact that it works for Turner – uncomplicated, direct, unambiguous – is a reflection of his well documented personality. The fact that it plays well in Ohio as well as New York is a demonstration of his inate sense of everyman cultural behavior.
positioning Red meat that's good for you, in a setting that aims for ecological break even or better? What a concept. The hook to the latter may well be the comfort food angle featuring burgers and meat loaf, mashed potatoes and creamed spinach. All you have to do is get them to try it once and they'll be back as willing acolytes in the experiment.
marketing TMG takes deliberate aim at global warming, renewable resource, natural fiber enthusiasts, without seeming to offend the sensibilities of the bourbon and red meat patrons seated in the booth right behind. It's a tough balancing act that in the wrong hands would go off the cliff in a heartbeat.
packaging Collateral efforts complete the theme of an eco-friendly 99% plastic free enterprise zone, from the bio-degradable, cornstarch based go-cups to the old school paper and wax straws – before the fast food industry switch to plastic, these were the standard. Carry out containers are efficient and practical microwavable cardboard featuring the unmistakeable quasi-retro logo on the side.
digital The web site's a pleasure to explore. Comfortable graphics actually communicate the physical feel you can expect in person, navigation is instinctive and fast, while the content rich online newsroom provides plenty of background. A little background noise – clanking glasses, nondescript buzz, order up bells – would complete the imagery. Smart promotion includes this wiki definition and a link to a frank and candid 2007 Time magazine piece on bison sustainability. Who knew?
The resulting concept is somewhat ironic in that American bison are true natives, unlike their totally unrelated Asian buffalo namesakes, and were at one time a main source of protein for Plains Indians. Ted's Montana Grill bison eateries, which premiered in Columbus, Ohio, have become an important cog in perpetuating a majestic species that was very nearly extinct a century ago.
Today, they've grown to a chain of 54 restaurants in 19 states operating under the twin flags of healthy red meat that's good for you and laid back environmental activism you won't find outside of an Earth First bbq throwdown. Try one on for size. You really will be helping the planet. And it won't get in the way of a great meal.