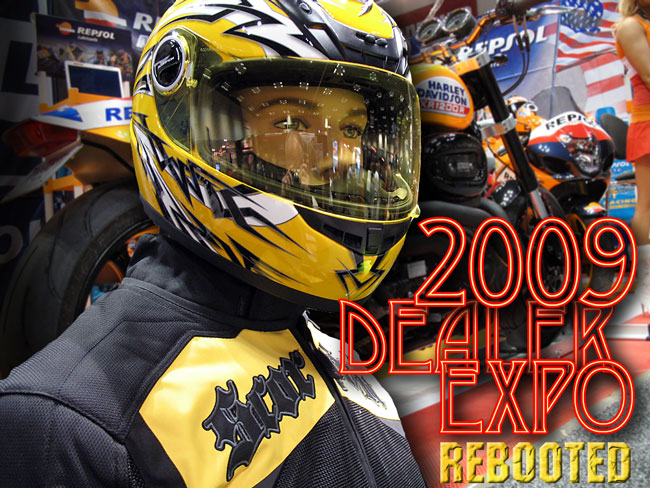 Sour Economy Solution: Smaller, More Efficient Venue
February, 2009 | by John Siebenthaler: photos©john siebenthaler

taking business to market
(INDIANAPOLIS)
The lack of snow on the ground didn't mean temps weren't vicious enough to make a pit bull howl like a baby. Exploring the pedestrian options between the Convention Center and the disconnected new stadium meant braving the wind tunnel beneath the railroad overpass, after which a dip in the old frigidarium would be a great way to warm up frostbitten digits.
summary Indy's twelfth Dealer Expo came with an air of uncertainty, a little apprehension, a new, streamlined exhibit map and brave expectations. Gone was the clipped on inflatable dome and with it the labyrinth of tucked away booths and cul-de-sac displays.
new Lucas Stadium, a couple of blocks away, matched the much needed shiny new airport terminal just outside of town and delivered a surprisingly rich stand-in exhibit space during the construction of the convention center expansion.
hop on the bus Show shuttles ran continuously between the stadium and convention center. Hotel hookups, though, were unpredictable. With single digit wind chill temps and a pretty good sprint from the stadium lobby to the front of the line when your stop did roll around, waiting curbside for the right bus was a manly test of endurance.
see ya' Show organizers — Advanstar — claimed a minimal who you trying to kid 10-percent drop in exhibitors. Would that that were the case. All bad? Not at all. Missing were the confusing and cramped hotel venues along with the entire top floor of the convention center, the hallway space, meeting rooms and food court that went with. The result? A much more comfortable show, easier to maneuver — wider? — aisles, and a pace that was less frantic and easier on the mainframe.
Count among the missing the dozens of junk vendors that in recent years have crept in in the dead of night. Crap bootleg "manufacturers" with names like Yamasuki that no one had heard of before or since, pushing marginal products — radio controlled model boats, anyone? — that bore little relationship to the powersports arena. Good riddance to time wasters selling to the flea market and meet me around back for a great deal crowd.
This doesn't mean the down economy wasn't noticed. Conspicuously absent: Troy Lee Designs high profile, high content booth. Lid manufacturer Scorpion downsized their setup while Tucker Rocky's mammoth footprint gobbled up the otherwise naked space of no-shows from years past.
MotoNation, surprisingly, gave up their familiar landmark entrance location for a smaller profile that ended up serendipitously next to the hot dog counter — still easy to locate and great for taking a break.
stadium upgrade Progress was easy to spot this year. For the first time since the American Big Twin crowd jumped ship and rowed back to Cincy, the stadium exhibit layout actually made sense, even if the hall schedule's staggered hours didn't. At the same time, it was tough to ignore the implications of very much downsized v-twin oriented marketers like Sampson pipes and Big Dog bikes.
Even S&S, struggling to survive in a perfect storm of market collapse, dealer retreat and expansion woes, was back in town to woo interest in their engine programs.
nothing new here As in years past, fresh consumer messaging and dealer targeted marketing was sparse to non-existent. With ad campaigns lying dormant, it may be vendors are depending on prayer-fueled social messaging to salvage sagging sales. That, and a sporadic uptick in UGC or just plain wrong in-house mid-wifed YouTube plants.
Whether due to the economy or just a simple lack of inspiration, booths were more bland than bling; definitely not the way to build sales or brands. Newcomer Ed Hardy created a little sizzle and Genuine pitched the hip humor that's worked well for them, but way too many seemed content to stage new parts on a counter top, no explanation necessary. There were no eye-popping, jaw-dropping, round the corner and stop dead in your tracks moments in the innovative style of this SEMA booth. And that's a shame, given the audience that faithfully attends expecting to be wowed, and a made for exploitation product.
If there was a marketing trend, it might be decor built around adapted machinery to showcase this or that maker's cross channel accessorizing. Does it work? Maybe, given the larger canvas one out of work H3 Hummer offered. Also seen often enough — i.e., more than once — to notice were bikes. Not those, these: bicycles, as props to showcase accessories for the most part.
less is more — scooters keep improving Scooters continue to dominate the ready to roll sector of the trade in terms of display floor space. In one of those bet you didn't see this coming moment, a Harley dealer was seen immersed in flooring details for the Genuine distributed brands Stella and Buddy. Likewise, TGB, CFMoto and others were clearly having none of the down market blues fest some expected as this year's theme.
And the Taiwan trade group TAITRA marshaled a solid effort to publicize the island's growing scooter and atv footprint while at the same time taking baby steps towards brand management — a daunting task given the challenge of differentiating wheat from chaff in a cultural channel known for confusingly similar corporate ids.
Flyscooters was a fashion and function standout in a field that's seen dramatic improvement in both content and variety. They rode in with a larger profile and an expanded model line to underscore their continuing commitment to style and impressive content. Leon Li heads up North American marketing ops for the CPI built, Oakland, CA based brand. Grounded in the fertile collegiate atmosphere that's a proven test bed for the genre, they offer dealers a robust line of bikes and scoots in the mandatory 49-249cc range.
Vectrix, the lone entry in the 100-percent Green scooter sweepstakes, pitched their tent very close to where polar opposite OCC made their first and only Expo appearance several lifetimes ago. Irony? The Rhode Island based manufacturer of battery powered scooters is positioned as an urban only, inner city preferably option that, while pricey, delivers comfort, style and dependability to a public that can vote ideology, range notwithstanding.
They've got a ton more style than your average retirement community golf cart, but are totally dependent on a gas price that unfortunately has retreated from it's record $4 high last fall. At an eye-popping $10 grand, scooter shoppers could buy two Vespas and still have nearly enough left over for dinner at St. Elmo. The jury's out on whether or not they'll be around for the day when electric really takes off, having just pink slipped a big chunk of their workforce.
Vectrix aside, there was a near total lack of any core eco-themed marketing effort, a strategic shortcoming even more surprising in light of the MIC's report pinpointing the huge boost scooters got when free gas for a day was a sought after payoff at the Vegas slots last year. In fact, there was little to be seen in environmental marketing strategies at all — an angle even the pure adrenalin junkies at Performance Racing understand as integral to any successful pitch in today's energy-centric atmosphere.
where were you when I needed you? While scooters and helmets dominated the entry list, new sightings included the UK based KNOX cold killer line of inspired tech environmental and armored clothing. This is smart stuff — lightweight, compact, comfortable and amazingly efficient. Having been caught out enough times to have memorized the mantra, "…you can't wear it if you don't have it," the introduction of a wind chill specific shell that's easily packed is welcome news.
OGIO gets the nod for niftiest new product at the show. Their lo-tech ride-on bike stand is just the kind of device that inspires a "Why didn't I think of that?" head-slap. Simple, efficient and apparently durable enough to take the kind of beating they're sure to get, this gadget has smart written all over it. Not to mention a late night Billy Mays infomercial.
what's next The mood overall was surprisingly upbeat given the total downhill slide of the economy. Saturday night's Cycle World industry dinner keynote put the slump in context; dealers across the country are still selling a lot of bikes, just not as many as recent years. But there's a nagging undercurrent of doubt about the overall health of the industry, dollars and cents aside. HD's well known problem with their demos is obviously the elephant in the room, but you didn't need a weatherman's storm goggles to see the obvious shift in show content and, presumably, market interest that's taken place from the same show of years past. More than a few (manufacturers) are openly questioning any show's marketing value.
There's much more stuff not related to motorcycles. And less stuff that is. Changing demographics, cultural shifts, a seismic economic reordering — one might think of the external forces working on the powersports channel as plate tectonics moving the ground we're standing on. Where not that long ago venture capitalists were handing out blank checks to anyone who could spell chain, nowadays that free money well's all dried up. Powersports will always be a factor. Just maybe not in the way it's been in the past.