John Deere Tractor Franchise Navigates Tough Times by Focusing on Customer Service
February, 2009 | by John Siebenthaler: photos©john siebenthaler

connecting business to market
update January, 2016: GreenSouth Equipment is now part of Ag-Pro Companies.
John Deere is one of only three full-line ag equipment manufacturers headquartered in America. Their Thomasville, Georgia store is located on a 12-acre site just south of town.
(THOMASVILLE, GA)
The slash, longleaf and loblolly piney woods stretching out from Florida's Big Bend up through Georgia's Thomas County and beyond are responsible for a big chunk of the nation's wood pulp, and what isn't turned into plywood, paper towels and decking has been turned over to watermelon, corn, peanut, and cotton farming.
Cross the Florida-Georgia border heading north out of Tallahassee and you'll also find plenty of traditional quail and deer sporting tours offered by straight from Hollywood antebellum plantations that dot the region.
The area isn't flashy. Sweet tea and bisquits, grits and gravy. Saturdays in the fall mean football, and pickups are the transport of choice, whether hauling hay or heading to church or both.
What this means is that most folks in the region are involved in, are related to, or know someone, who farms. Farming requires a serious investment in the durable goods — sales of which as of this writing are down for the fifth month in a row — ag equipment sector, when it comes to the machinery necessary to plant, harvest, cut, haul, sow, spray, disc, mow and otherwise coax a living from a not always willing nature.
Competition for Dollars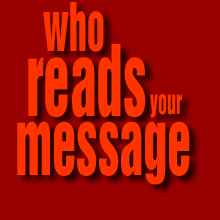 Discretionary spending is a new sport bike and a $500 helmet with Bold New Graphics, available at a shop just up the road. Non-discretionary spending is a down payment on a new combine, and the triple GPS onboard guidance system needed to run it efficiently. How important is marketing when the product you're selling is a necessity, not a luxury?
Returning from a trip to our Louisiana woods, I spent the night in Thomasville, Georgia. Tallahassee was closer, but because of a sold out Florida State home game there weren't any rooms available.
Driving south on U.S. 19 towards St. Petersburg and home the next morning, the Stihl banner hanging on the side of a tractor dealership caught my eye. After a week spent felling invasive Chinese parasols, I wondered if my well worn Sears Craftsman (Poulon)16-inch chain saw was even worth repairing, and impulse took over.
Impulse. It's what drives a significant amount of purchasing, and so it would again on this fresh fall 2005 football Saturday. I made a U-turn and pulled into the parking lot just as they were opening for business.
Jones Tractor Company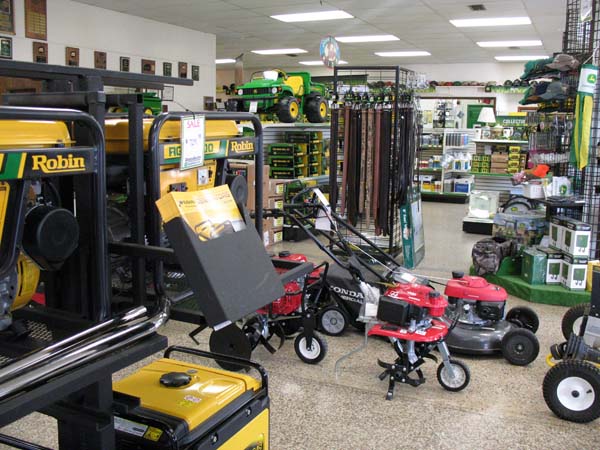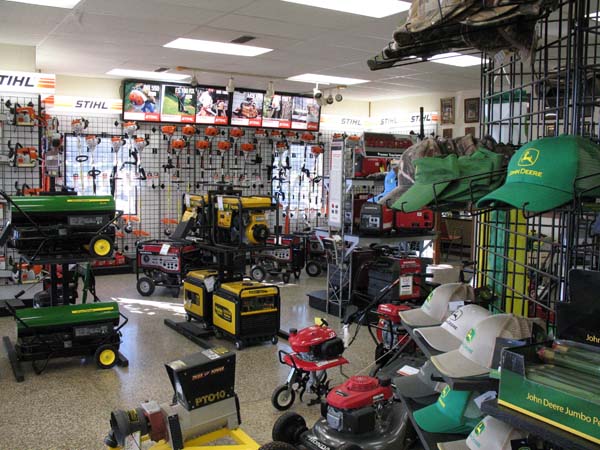 though accounting for less than 10% of total sales, GreenSouth's 1,800 square foot showroom delivers 100% of a positive impression.
details include clear sight lines, well stocked literature racks, clutter-free aisles and an emphasis on quality tools and accessories.
with branded items that range from $100,000 tractors to barbeque grills and chain saws to push mowers, maintaining category separation without affecting impact is a challenge.
restrained use of graphics — headers, banners and promotional materials — rachets up the selling environment while avoiding confusion and customer alienation.
Then still known as Jones Tractor Company, a three-store local chain selling and servicing John Deere farm machinery that was in the midst of transitioning to a spot in GreenSouth Equipment's three-state lineup, I wasn't sure what I'd find in the way of selection but I was pretty sure I only wanted information for now. None of those fancy, high-pressure sales tactics for me — no sirree bob!
GreenSouth's showroom and parts department is about the size of a stand-alone independent powersports dealer — in other words, not overly spacious. The service department out back, on the other hand, is part of a 12-acre site built to accomodate massive, multi-wheeled tractors, so the overall impression is a little misleading.
Used to shopping in an impersonal and irritatingly ignorant big box environment or, more recently, online, guided only by a stranger's reviews, I was determined to avoid having the "sucker" label slapped on my back while I investigated the well known saw brand.
Make the Customer Comfortable
I was met — not assaulted — just inside the door and then handed off to Jim Stalvey, who let me babble on about how, where, when and why I used a chain saw.
I explained my casual interest in Stihl, adding that I was just looking. Maybe 15 minutes later I was the proud owner of a new premium brand tool that wouldn't see service until my next trip west in six months.
Jim read my requirements perfectly. He knew that while a larger model wouldn't hurt, the MS210, just a rung or two up from basic, would be more than adequate for my amateur, bi-annual Louisiana tree felling needs.
And that's how it was that I replaced my tired and leaky Craftsman in a tractor store 250 miles from home. Upsold me, Jim did. Spent twice what I thought I needed to and glad to do so. Marketing driven impulse. Need, meet opportunity. Brand allegiance — switched. And without a pang of remorse.
Personal Service And Then Some
A few days later I received a personal followup congratulating me on my purchase and welcoming me as a customer. Hand-signed Christmas cards were sent regularly, even though it was pretty obvious my needs would never include a 530-hp tracked scraper like the 9630T with AirCushion suspension and GreenStar AutoTrac. But would I drive 250 miles for a spark plug and a filter element? No, but…
Last October I stopped in again, for a spare chain and curious about GreenSouth's approach to marketing. Jim now heads the store marketing, responsible in part for an annual volume of $15-20M in sales, and they'd just beat out the parent's 13 other locations for the best promotions award.
We got reacquainted and discussed John Deere's newly announced partnering with Stihl and its potential impact on store revenue. JD would discontinue their branded hand held power tool program — Portable Power Equipment (PPE) — and their dealers would now feature the OE premium Stihl line throughout the network.
Customer Service Helps Offset Big Box Stores Pricing
He emphasized that the goal has to be service, convenience, and quality, and that the ability to offer several national manufacturers of complimentary product line was expected to translate into increased customer loyalty and retention. So far it's paid off, as the store's been able to maintain share in tough times while others are losing ground even as fixed costs remain constant or increase.
"We're holding our head above water," when asked how they're surviving the recession. "Our competition, in many cases, isn't so fortunate, for a variety of reasons — overstocked, too much inventory are the main factors."
Also confirmed — they're not afraid to go head to head with the big box stores on a variety of items, like garden and lawn tractors, mowers and power hand tools. And they cross into the powersports channels by virtue of the JD Gator XUV, the utility side of the SXS equation that's increasingly popular with baby boomers as well as farm hands.
Price Versus Content
Jim's main concern is that customers are increasingly sensitive to price versus content. If you're discussing chain saws, that means a minimum two or two and a half to one price differential of branded disposables versus top brands like Stihl. It's his job to sell the investment in quality.
GreenSouth's dedicated customer service specialist takes the market pulse by continually shopping other stores for a baseline comparison. When asked how he rated his store against the competition, Jim thinks they rank a 4 or 4.5 out of 5.
Now, tractors being what they are, you'll never mistake GreenSouth Equipment in Thomasville for a Tommy Bahama shopping spree at the Venetian in Vegas. Instead, they're illustrative of what can be done when local effort and imagination embrace manufacturers' marketing programs to develop a sense of individuality that says we're commited to the consumer. Take that, Home Depot.