Training Wheels Off — Riding Cycle World Trek
October, 2008 | by John Siebenthaler: photos©john siebenthaler

connecting business to market
(SIERRA NEVADAS CA) I was on the last lap of my annual trip from Tampa to Fresno, for the 34th Annual Cycle World Trek industry invitational dual sport ride. The one o'clock hop took off west out of Vegas, passing over the eastern flank of the Sierra Nevada, just south of Mammoth Lake and across Kings Canyon National Park, before dropping back down into California's Central Valley an hour and a half later.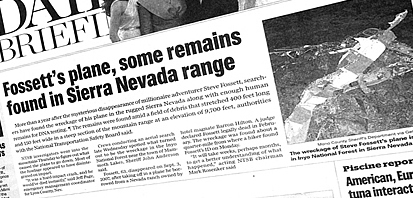 riding in this part of the country is not without its uniquely localized considerations.
The twin turbo-prop commuter willed itself high enough to clear — barely — the weathered granite peaks that looked close enough to pitch a tent on just by reaching down. My feet lift ever so slightly from the fuselage floor as I wonder if they'll ever find world famous global explorer, aviator, and balloonist Steve Fossett, who vanished in this general area code while flying his own plane on a routine flight a year earlier.
The next day they did. Bones and belt buckle and credit cards, not too far, really, from where an Army aviator who disappeared during WW II was discovered just before Trek '05. Frozen solid he was, since 1942, entombed in a slowly melting glacier until hikers tripped over him. Oh, and nearly four years to the day since a duo of Japanese climbers froze to death on one of Yosemite's rock faces. Being from Florida, I consider the potential for irony.
Being from Florida, I consider the potential for irony.
These were the pesky thoughts nagging me when, nearly 48-hours later on a late Friday afternoon, I found myself just about out of road, just about out of map and, according to the GPS trying to direct me off a cliff, just about out of gas thanks to the software driven virtual gauge. I could now look down at the high-tension power lines that I'd had to tilt my head back to see a few minutes earlier, while considering the eventual destination of a lone, black-bodied tarantula palpating the air as he/she/it crossed carefully in front of me.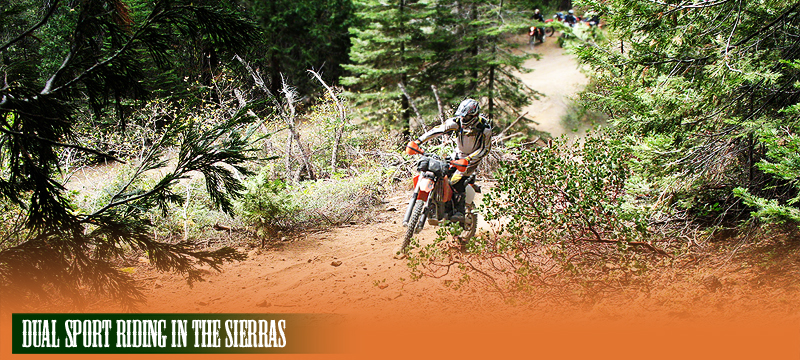 quick links
Piccadilly Airport Inn Fresno


more event coverage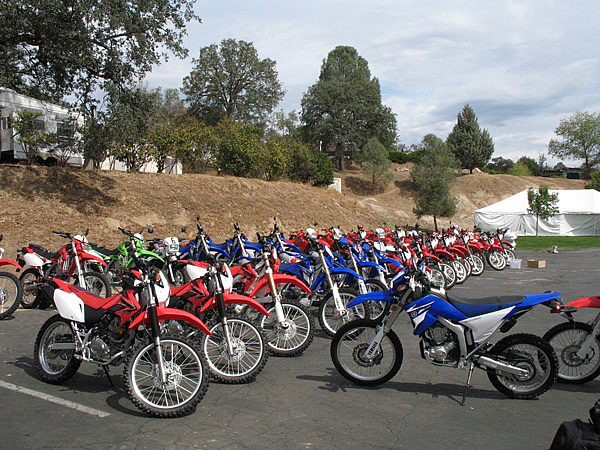 the fleet of mostly Big Red rides is lined up to tackle the Sierras come daybreak.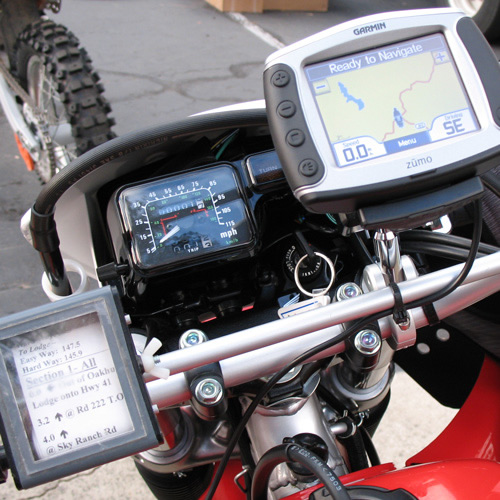 there's no such thing as too much information. Well, maybe. I ride with one eye on the roll chart, one eye on the odometer, and one eye on the gps I'm still learning how to use.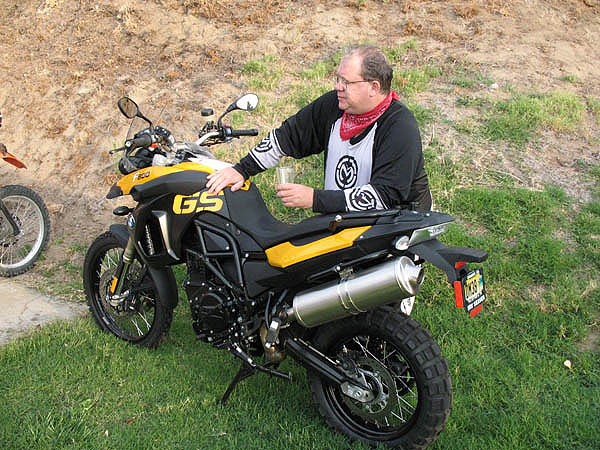 nonchalant fashion stylista Dave Edwards blends mercilessly with his scary new Killer B GS-800. Note the nubbies on the new knobbies.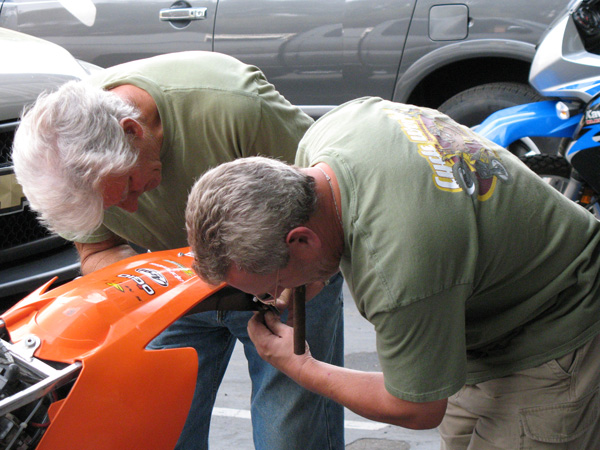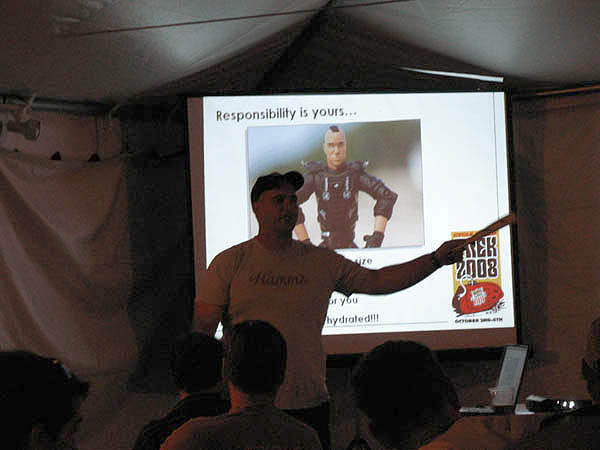 top - Staff performs a license plate install. Certified Tech "Larry," right, uses his forehead to "sense" the LEDs as they acquire power: apprentice "Russ" mimics the technique.
bottom - Trekmaster "Town Without Pity" Eastman addresses his adoring audience. Crackerjack "visual aids" enhance the presentation.
I'd flown in Wednesday, a day early, to speed my recovery from the hours of pure bliss spent in steerage while traveling from point "A" to point "B". Pickup's at 11 Thursday morning for the short 45-minute ride ride up to the CW base camp in Oakhurst.
A steady stream of Trekkers flows in for an event initiated in 1974 by Cycle World founder Joe Parkhurst as an excuse to get out of the office and rediscover our reasons for being in the business through the simple act of riding. With backpacks looped over shoulders, we're easily identified as we drag our gear bags over curbing and across parking lots.
Press loaners and private bikes transported in for the yearly occasion are lined up in the parking lot behind the motel. I sign in and pick up my swag bag, then stow my gear for the first night before hooking up the accessory mount, cradle and wiring for my zumo, still loaded with last year's route. I check the gas and tires, feed in a little choke and the brand new Honda XR650L fires right up before settling into a familiar loping idle. The GPS tunes in a sat signal, confirms I'm where l am, and it looks like I'm ready for a ride in the woods come morning.
Small groups huddle in the waning afternoon light to plot strategy for tomorrow's ride to Sierra Summit ski lodge, 140 miles plus via the off road route. My goal this year was to capture POV scenes that tend to get skipped riding in a group. That, and take my time.
Friday and Sunday consist of first getting up to and then getting back down from the lodge that's just up the hill from Huntington Lake. Saturday's open to whatever mischief is available — a tour of the giant McKinley Grove sequoias east of Shaver Lake, maybe a lap around Lake Edison a few miles past Mono Hot Springs or, as usually occurs in alternate years, someone taking a stab at riding the celebrated Dusy Trail for bragging rights on surviving.
Local amusement while we waited for dinner meant watching slack jawed as CW off-road editor and riding ace Ryan Dudek lightened his dad's wallet on a dare by scaling what for practical purposes was a 15-foot vertical dirt embankment behind the motel. In flip-flops. Cha-ching, twenty bucks. Lesson? Never bet against the house. This was the exact moment when I realized with perfect clarity that Ryan and I shared nearly identical riding DNA except for age, talent, ability and experience.
Before long the sun was setting — drinks first then dinner under the tent, followed by Cory Eastman's "Welcome To Trek" follies and a final round at the bar before hitting the rack.
The alarm went off Friday at 6:30 a.m. It takes a couple of minutes to shake the rust loose before suiting up for breakfast. A lot of guys prefer motocross gear. Me, I'm more comfortable with over-the-boot ride pants, vented ride jacket, under the jacket "soft" chest protector and, depending on the weather, various combinations of Under Armour tech clothing, especially their cold wear thermal apparel.
With previous years' weather headlines in the back of my mind, I pack a 102-ounce Camelbak that also carries a half-pound or so of trail mix, assorted energy gels, space blanket, lighter, aspirin, compass; the CW-modified National Forest Service map, 10 feet of nylon rope, an all-purpose folding tool, heat-pak and a cell phone that's usually useless on the trail but you never know. Bandanas are standard as are several pairs of gloves that promise varying degrees of hand protection.
I dress. I stand. I swivel 90 degrees before lumbering forth into the pre-dawn chill searching for coffee first, then breakfast.
A carb-heavy buffet precedes the riders' meeting. Instructions vary according to the route — street, trail or hard trail. Street riders are the last to leave, this year again led by Cycle World Editor Dave Edwards. Hard trail riders break for the advanced sections first. In between is where you'll find most of the rest.
Before the street option was added there tended to be a lot more bunching up throughout the ride. Now, in twos, threes and fours, groups drift through the woods, crisscrossing the fire and logging roads but rarely crossing paths at the same time. For the 50-mile run up to Jones Store and lunch a few hours away I hooked up with the Garmin Guys, Chuck and Mike.
We swung north out of the parking lot, 30 minutes behind the "A" route riders. Traffic was moderate on CA 41 as we headed towards the entrance to Miami Motorcycle Trails and the first reset, just outside Yosemite, where we split up.
Garmin opted for the hard loop branching off to the left. I kept to the right, following the easier "B" route. Mike fried his clutch a few minutes later and the rest of the morning consisted of Chuck scrounging enough logging rope to tow the stricken machine to the lunch break for pickup by the sweep crew.
The morning passed quickly, racking up miles of sometime pavement, mostly logging roads, once in a while single track, past Fresno Dome and a half dozen scenic meadows. I pulled into Jones Store a couple hours later, on schedule and ready for lunch.
Sitting at the three-stool counter I eat my protein/carbs/sugar combo made up of a hot-off-the-grill tri-tip sandwich, chips and soda, sharing conversation with former CW publisher and OG Jim Hansen. I think now would be a good time for a nap. Instead, a few minutes later I gassed up from the quaint hand operated pump in the parking lot, curiously located about fifty feet from the operational outhouse, for the second, final leg to the lodge. Talk was that the Italian Bar bridge was closed, but "closed" can have different meanings.
By the time I got there around 2 p.m., Daily agency ad guy Mark Lindemann had just cleared the other end of the bridge. He watched as I made several tentative attempts at squeezing between the barrier and the hillside before backtracking to offer some welcome help.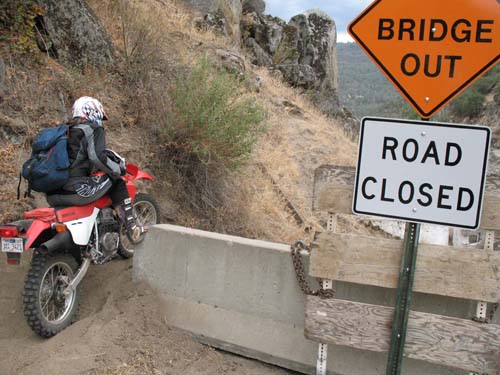 lacking a half-inch of peg clearance, Mark Lindemann's offer to navigate my bike over the concrete suggestion was welcome. No laws were broken — this was clearly off-road.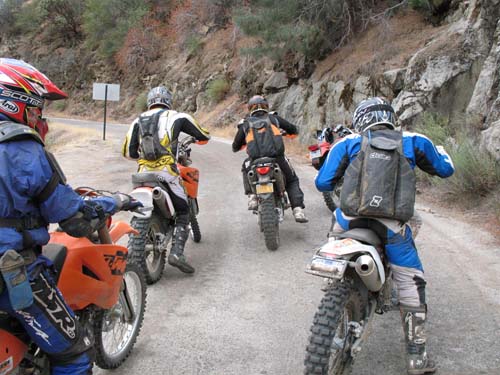 pack leader Eric Anderson puts Scot Harden's former "barely used" KTM through the curves and cutbacks.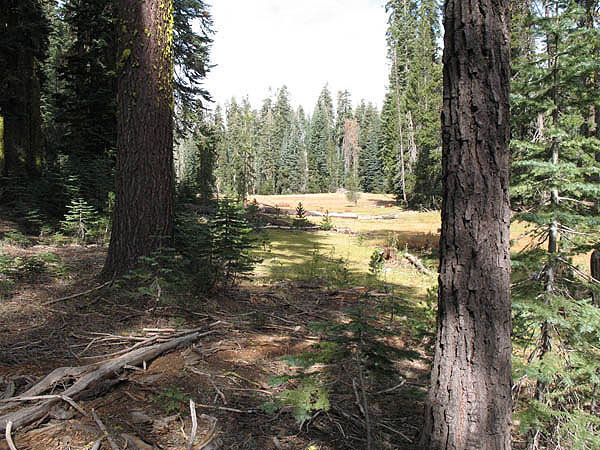 the spectacular beauty of the Sierras is easy to miss when your focus is on reading the roll chart. Making time to put the kickstand down and listen to the woods makes every Trek memorable.
A few minutes later we were both on the same side of the river where we talked a bit before Mark soloed on. I hung around long enough to study Scorpion's Eric Anderson and his posse navigate the same stretch. High fives all around before they also disappeared in a dust cloud, leaving me to pursue a more sedate pace up the broken back switchbacks that define Italian Bar.
I planned on sticking to pavement for the final lap through Shaver Lake, over Tamarac Ridge and down to Sierra Summit. I knew there was a cutoff near the top of Italian Bar and counted on memory for direction. Bad decision.
After 30 minutes, the path I was following showed no sign of turning into pavement. That was when that bulbous spider and the glowing "low fuel" warning competed for my attention. I take nature's signs seriously. A tarantula waving you off is one of the more obvious ones, so I turned around before running out of room to maneuver and gas to do it with, backtracking to the last reset and then following Musick Farm Road to 168 and into Shaver Lake.
Just after hitting pavement I stopped for a lone rider parked at the side of the road. The first-timer'd gotten separated from his group with no roll chart, map or GPS and only an MX jersey plastic chest protector to ward off the October mountain cold that was quickly filling the shadows.
There was still a half-hour plus ride through higher elevation before a hot shower and drinks so we gassed it into town for a quick fill up and then the dash over the peak. The 140-plus all terrain miles had taken a little under eight hours. Time to clean up and relax.
On Saturday the rain began falling in the early morning darkness; steady, wet and cold, turning delay into rainout for most and shelving any plans for off road exploring. The challenge isn't so much getting damp, it's getting dry — a real dilemma when the heat's turned off for the most part and an open window at 7,000 feet doesn't really solve the problem unless you like wearing frozen wool socks. So a long siesta helped restore Friday's energy drain and before long it was again time for eating before the fabled, "...tell us who you are and where you're from" entertainment.
New this year, FNGs were awarded celebratory First Time Status Banners in a ceremony presided over by the unofficial Dancing Queens of Trek. (Sorry ABBA, you had to be there.) Not like the old days, when they nailed your gear to the top of a 60-foot greased Douglas fir before burning your underwear on the bonfire, no, but plenty amusing nonetheless. A final round of drinks by the fire capped off my last night on the mountain.
Sunday's ride back down to Oakhurst left at a quarter to nine, preceded by breakfast, a short riders meeting and group photo. Fulmer Helmet's Scott Holbrooks and I opted for pavement. Skipping the off road route added some miles but for me the view coming down out of Shaver Lake of the valley's golden hills catching the early morning sun is just as spectacular as the towering fir, pines and redwoods of the trails.
We left Sierra Summit under a cloudless sky, wary about black ice that might have formed on the highway after yesterday's rain and the seepage still running onto the road. In a few more weeks the snow would start to fall in ernest and two-wheelers would pack it away until the spring. I savored the ride down, concentrating on the crisp, Christmas tree essence and the high Sierras panorama stretching out in front of me as far as the eye could see.