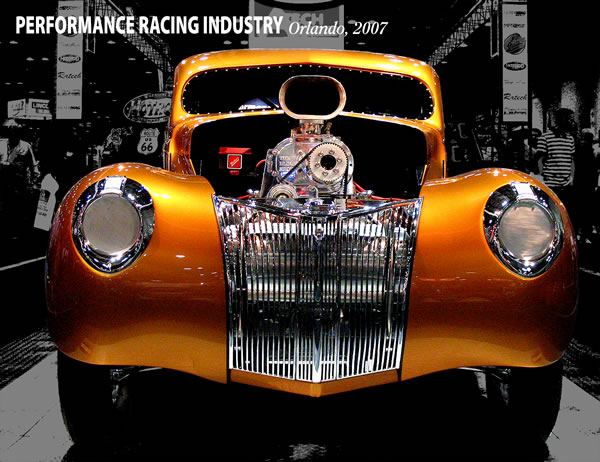 No Bling Zone Draws Big Crowds To Even Bigger Venue
December, 2007 | by John Siebenthaler: photos©john siebenthaler

connecting business to market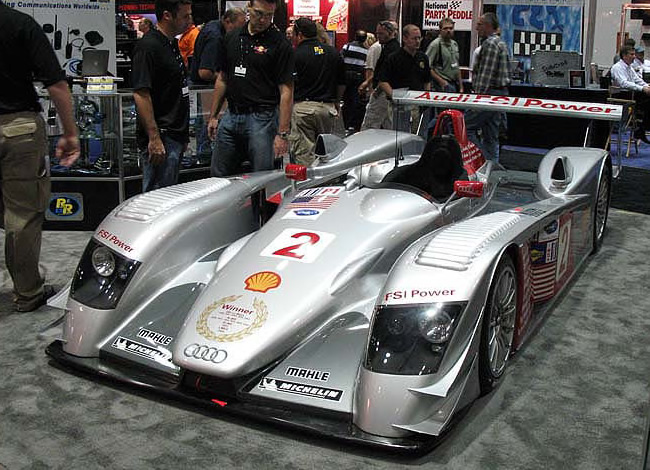 quik links & essentials

MW Racing titanium valves
Midwest Specialties tapping, assembly arms

more event coverage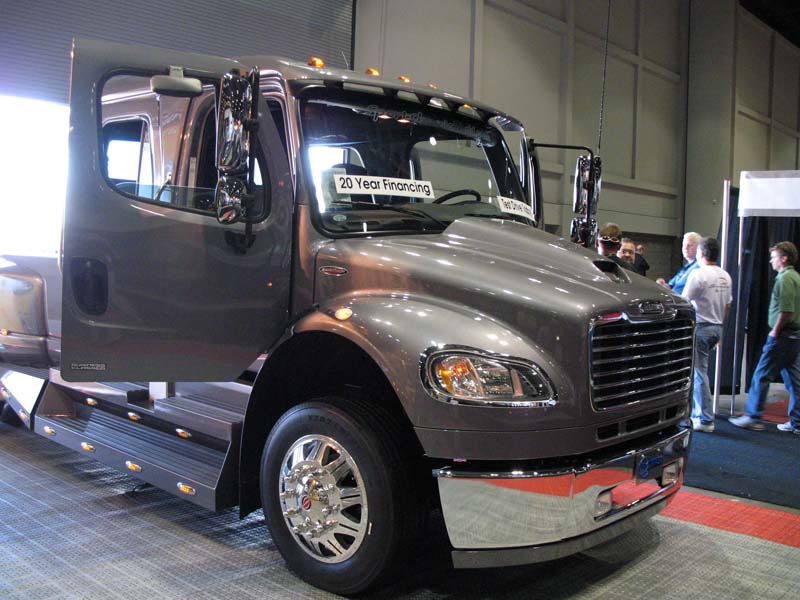 Understated, Yet Practical
Freightliner's SportChassis again proved simply irresistible. About 50,000 amps of digital satellite were pounding out of the surround speakers of this MB diesel powered must-have - windshield sticker offers 20-year financing.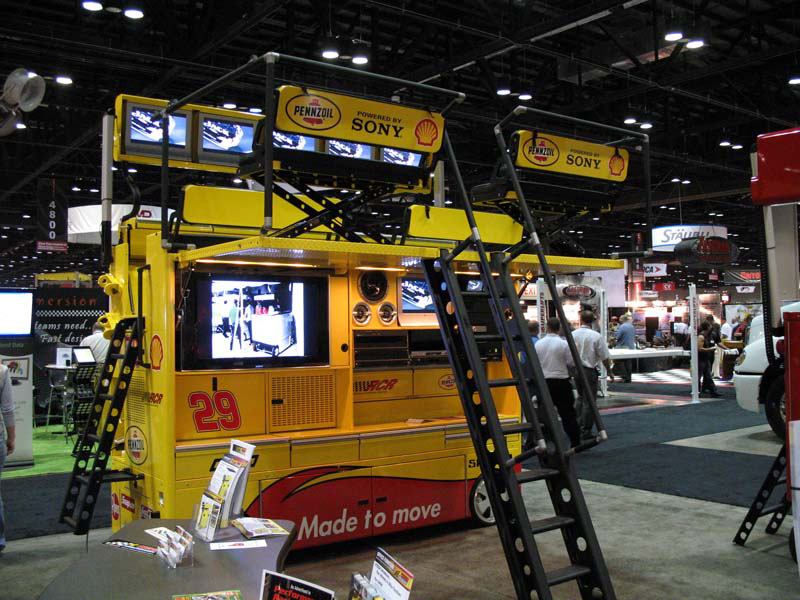 You'll be the envy of the 'hood with this glammed pit wagon parked in the driveway.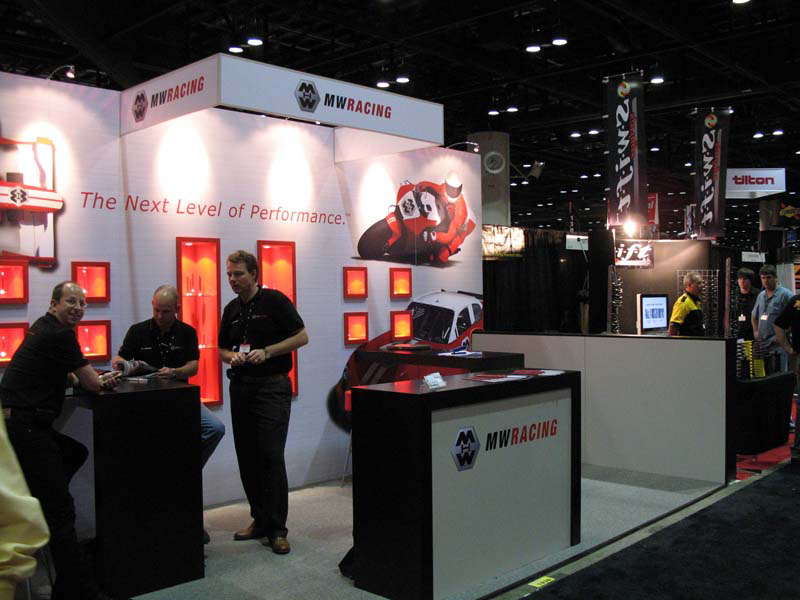 MW Racing's got my vote for best use of a small space. These high-tech wizards craft ultra high-speed components from extruded titanium alloys for F1, and now two-wheel, applications.
(ORLANDO) From high-banked ovals to twisting road courses, quarter-mile dirt to quarter-mile drags, gearheads whose tastes range from diesel to nitro converge annually on the Performance Racing Industry's (PRI) gargantuan Orlando road show for three days of speed, speed and more speed. Or more specifically, all the bits and pieces that lead to speed. Even allowing for some overlap, SEMA's Vegas strip show is about all things transportation. PRI is strictly business, baby, of the competition kind.
With every automotive pursuit from karts to dragboats to tractor pulling on display, it's a nuts and bolts triple-cheeseburger of cutting edge technology, hip-hop plug and play and old fashioned shadetree, blended together in a surprisingly well organized linear layout within the Orange County Convention Center.
It's back and forth and up and down along the five miles or so of aisles. In the beginning the finish line looks like a mirage. Many hours later, it still looks like a mirage. We'll begin with the (to your right and down, just off the one-way in one-way out escalator) tools section for a look at grinders, polishers, welders, machine tools, bending brakes, setup jigs, cleaners and…lets just say that you could camp out for a week and not finish wanting one of each.
While in that general zip code and as you work your way through the equipment, you'll want to duck outside for a side trip to the parking lot venues where any number of dyno sessions are conducted side by side in a shootout or set up for individual pulls. This is also where the karters duel it out in an all-star challenge after hours on day one.
The weather couldn't have been better. The blue skies, warm sunshine and perfect atmospherics made for an ideal live demo situation.
I'll Have One of Those — Oh And Those, Too Back inside the hall and dead ahead looms the trailer and transporter corral. These rolling condos come in all sizes and shapes, configurations and utilizations. Whether for living, working or just plain hauling, the spaces enclosed by acres of aluminum paneling represent a racer's dream and a sponsor's necessity for maximum brand expression and value.
Not surprisingly, PRI doesn't get nearly as dolled up as it's SEMA cousin a few time zones to the west. There aren't a lot of giveaways and the booth girl concession apparently missed most everyone's list of how to snag attendees. But with nearly 45,000 dealers showing up for the three-day affair, added inducement just isn't necessary.
There's an international marketing flavor as well as an educational component. From the marketing perspective, it's surprising to note not one but several regional coalitions joined together in offering a variety of manufacturing, research and testing facilities in the Motorsport Valley subset grouping.
And what once was pretty much limited to high school shop is now a degree component marketed to the industry and available from an increasing number of colleges and universities, primarily in the Southeast, in any of several race car design, engineering and managerial fields.
While it's understood that CNC Row will get the lion's share of attention, you never know what you'll come across if you stray from the popular path. One such jewel I discovered this year was the clever US-made articulated assembly arm from Midwest Specialties.
Midwest Specialties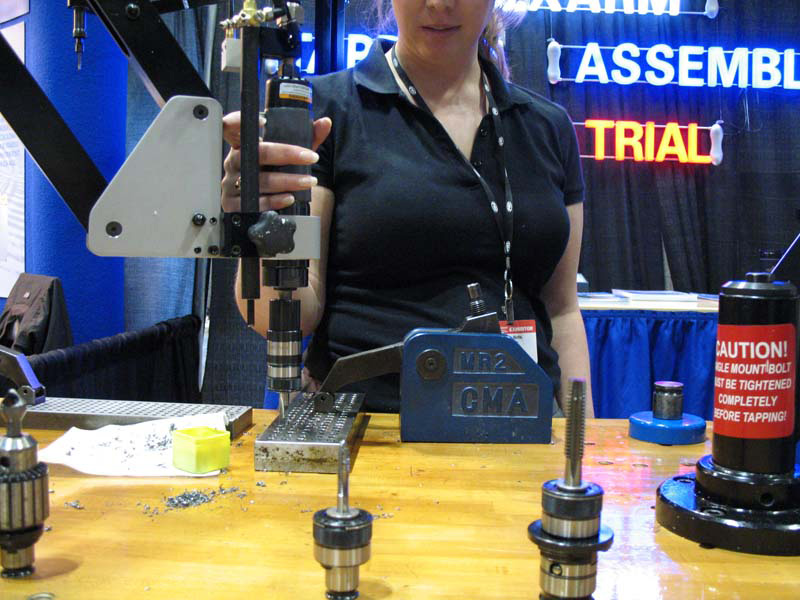 The air, electric or hydraulically powered articulated arm is secured to the work surface. Interchangeable chucks are perfect for drilling, tapping, chamfering quickly and accurately. Helicoil, anyone? Absolutely immaculately.
Amazing Articulated Arms
Though targeted at the automotive crowd, this particular tool would be right at home in every bike shop and many garages. If your business involves repeatedly tapping new or repairing old stripped threads of any type, this is a very handy high quality innovation. Accurate, durable and fast, it's halfway between a drill press and a milling machine.
The primary feature that sets it apart is that the drill or tap is moved to the part, as opposed to the part being set up for the drill. Working height, swing and reach are very generous, and add to the overall utility and versatility of the tool.
There were plenty of other gadgets and gizmos on display, any one of which could have provided plenty of entertainment value for a few minutes or a few hours. But this show's not about hanging out, it's about moving out. Delay at any booth, and you'll likely as not miss the finish line. On the other hand, there's no shortage of what folks showed up to see and, in some cases, hear: that would be rolling stock as well as the occasional drag boat.
This event pounds competition into your head, so much so that by the time you can enjoy a complimentary Bud on the shuttle back to the hotel room at the end of the day, you're in full tear-down mode.
Not new but much more plentiful this year were the multiple experiential video driving games and trainers. They've been around for a while, but with advanced graphics and plenty of stations, there was a steady line of participants on que waiting for their chance to play, uh, drive, either as a diversion or occupational training. If you want/need to make your own video, Motocam 360 was on hand with some very interesting taping technology involving 1, 2 and 4-camera setups utilizing flash drive and variable POVs, all at affordable pricing.
My Name's Not Robby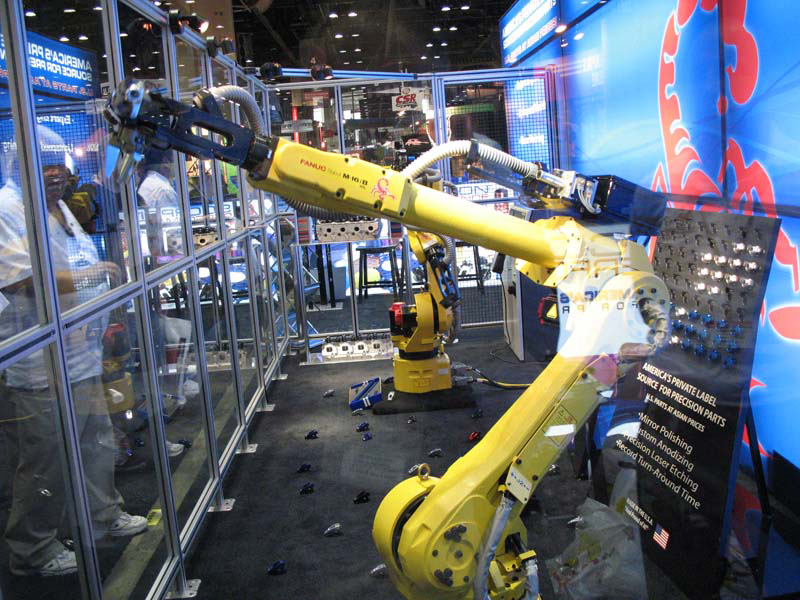 Scorpion's robotic arms were a crowd stopper as they interrupted work to offer refreshment.
Cutting Edge Valve Train Technology
PRI's not anything if it's not high tech. Case in point: MW Racing (GmbH) whose parent, a German heavy industrial manufacturer best known for their precision marine cylinder head assemblies, also designs and manufactures in the rare air of extreme high performance components. Beautifully forged titanium piston pins, turbo impellers, retainers, lifters and their unique line of extruded titanium valves, originally for F1 competition, are now available to the two-wheel world.
Robotics were on display as well, not as a vendor item but as a critical component of Scorpion Performance's rocker arm and private parts labeling business. The Ft. Lauderdale company came away with the Best of Show award for the working demo they provided utilizing two of their robots.
When teased by a viewer with a business card inserted into a card reader, the arm would interrupt its parts picking routine to drop a cold bottle of water down a chute and into your hand. But first it had to interrupt the cycle, open the cooler, find the bottle, pick up the bottle, close the cooler, deliver the bottle, and finally resume the parts pick. Whew! About five minutes of watching and you — almost — might think about having a beer with your new best friend, Robby the Arm.
The De-Funkifier Drys And Deodorizes

Shock Doctor's on to something with their innovative gear dryer, air freshener and sports gear luggage systems.
PRI — Where Pinks Rule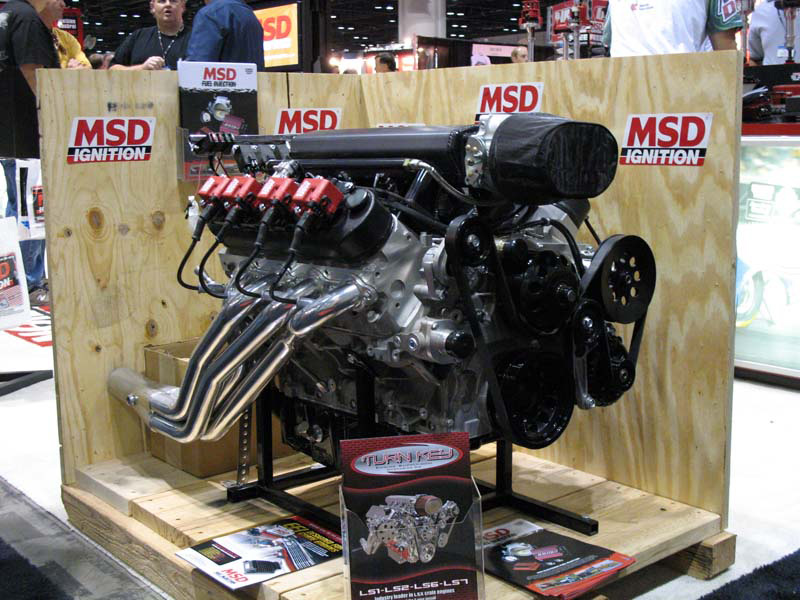 Dr. Shock Gear
Past pit wagons and driving suits, ten for $10 tees and titanium fasteners, the variety and sheer volume of vendors begins to run together after awhile. And then I came across a very well done 20x30 booth that first caught my eye for solid design and then triggered the product curiosity alarm.
After I got past the "what's that thing and what's it do?" reaction, the Shock Doctor's value really sank in. Though originally known for their line of athletic protective gear, the Minnesota firm's expanded their product line to include the powersports channel by way of an ingenious portable gear dryer system that can be mated to some seriously impressive luggage.
I could've seriously used one myself to dry out a swamped helmet, gloves and other gear after last month's Cycle World Trek in the snow covered Sierra Nevada. Capable of stand alone use or in conjunction with the really clever in-house designed gear bags, the portable dryer not only safely air dries garments and gear in a matter of hours but defunkifies it at the same time with a unique ozone generator. The result is like a trip to the corner cleaners without leaving camp — assuming a power source for the dc transformer. Quite an instrument — you can check them out at Dealer Expo 2008.
PRI — Comfortable, Convenient, Comprehensive
PRI's everything an exhibitor trade show's about — perfect venue, ideal weather, easy to reach destination, sensible floor layout, quality exhibitors and surprisingly not bad food that for the most part was fairly easy to purchase. It's a straight-forward show that's short on frills and long on performance, including the comfortable and convenient shuttle buses that provide timely service throughout the day to an extensive list of host hotels, something that even SEMA can't deliver. Here's a big plus — refreshment for the end-of-the-day ride home, courtesy of sponsor Anheuser-Busch. Even the extra-curricular activities, including the now traditional Mo-Par Classic Friday night sprints at nearby Orlando Speedworld. (Tix are sensibly priced, and the extensive shuttle network means most won't have to drive and instead can enjoy the trip to and from while relaxing with the ever present Bud beverage of choice.)