Trek At 33 — New Route, New Faces
october 5-7, 2007 | by John Siebenthaler: photos©john siebenthaler

connecting business to market


quik links & essentials
Trial Rider magazine
Cycle World magazine
GPS Babel data conversion
Under Armour environment
bandana(s)

more event coverage
(LAKESHORE, CA) David Byrne's "Dancing On Vaseline" described my precarious situation perfectly as I skittered in slooow motiooon towards the indifferent fir tree that would abruptly interrupt my forward momentum. I'll get back to my clobberin' time encounter later, but first lets set the table.
Fall weather in the Sierras is anything but predictable — and that's one of the reasons it's called Trek, not Recess. The prelude to 2007's 33rd Annual Cycle World Trek was a dream forecast that promised sunny, crisp weather during our 3-day stay at Sierra Summit. It was on the internet, so it must be true. Lets say the prediction was 90-percent beautifully accurate. The other 10-percent was spectacularly wrong in ways that challenged the senses.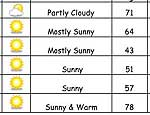 Science? Or Sick Voodoo? Predicted highs to the right, super happy face sun icons left.
The difference between paying attention to details when you're packing for Trek in air conditioned comfort as opposed to listening for the gentle tinkle of the little bell announcing the arrival of the ice cream truck on an otherwise drowsy summer afternoon is what afterwards makes for legendary tales around the campfire for years to come. In other words, if it wasn't for us dolts who are used to a Starbucks on every corner, Trek could be just another weekend putt around the block.
But that's not the case. Nosiree. When this year's riders began staggering awake before dawn, the temp was in the 30s and the skies were a little overcast but clearing. Ahhh, there it is. The Sun we'd been promised. The Sun we'd believed in as we left perfectly good thermal and rain gear packed neatly in drawers back home. The Sun, because it was humid and already in the mid-80s when I boarded a plane in Tampa the day before. The Sun that, apparently, someone had really pissed off during cocktails the night before.
Despite a couple of design oversights the Zumo cradle is well thought out and efficient. A quick tap of the harness into the battery and the fusible link protected power lead communicated to the unit that we were ready to roll. The flash drive memory and clean LCD display are low draws that won't drain the battery.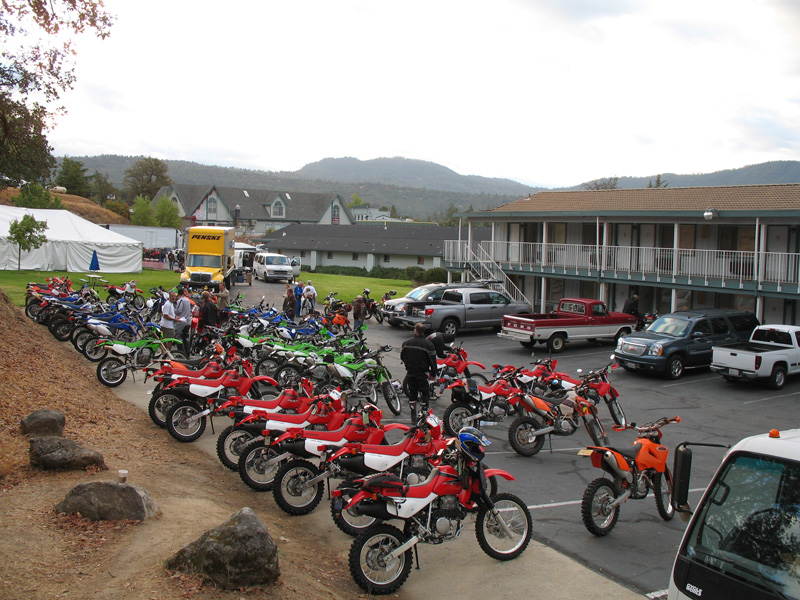 Passengers Prepare for Departure Early a.m. temps in the 30s — perfect riding weather for 150-plus mile putt.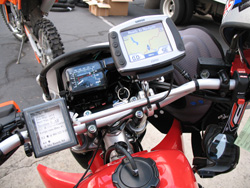 Two systems, one destination. Traditional roll chart, left and Zumo GPS, right. Even if I got lost I'd know where I was lost at. Big Red XR650L really took a lickin' and kept on tickin' this time out.
GPS On Board — No More Excuses
This year's route was the first to include GPS data and thanks to Garmin's intrepid engineering staff performing some whack last minute long distance interpolation I was able to successfully import (Mac) the Day One tracks using GPSBabel to swap the GDB format to a Zumo recognizable GPX/XML file.
As a companion to my roll chart — I'm actually more familiar with Buddhist prayer flags than trail blazes — the GPS is now a must have for every occasion. As it may become for the Trek trio that managed to emerge in the middle of the Yosemite Lodge golf course and which despite their costumes didn't fool any of the golfers.
The Zumo is one smart gadget.When it's on a bike the touch pad sensor switches to glove mode for text input, allowing pretty good accuracy even when your hands are shaking uncontrollably from the cold.
Just Another Ride In The Park
Some ride. Some park. At the start about 60 riders from around the country pour out of your average in-town motel onto unfamiliar public highways just as the Friday morning metro ride to work commute is settling in and the school buses are picking up their cargo along the route. Need more imagery? Find an undisturbed anthill and poke a stick in it.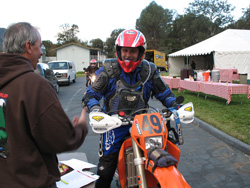 Checked Out And Ready To Ride The racer in Global Motorsport's affable Frank Esposito won't slow down.
This year we were promised a new route with a lunch break at Jones Store, smack in the middle of apparently nowhere. At just about a third of the way into the ride, we'd eat earlier before riding a longer afternoon stretch to our Sierra Summit outpost.
This Is Why It's Called Dual Sport
The street ride ends at a turnoff seven miles north on CA 41. We enter the magnificent Sierra National Forest on 6S41, one of dozens of Forest Service roads and trails that criss cross the wilderness and logging areas running between Yosemite and the John Muir Wilderness Area like trend lines on a day trader's computer screen.
Eric, Scott and I were ready to ride. We'd packed away all the sausage, eggs and coffee we thought we could safely handle. Cory Eastman's summary riders meeting disabused all but the best qualified in the group from tackling the hard ride. The first technical section would be monitored and if you wrecked there you were sent back, leaving the traditional off-road and recently added pavement ride as alternative routes up the mountain.
Scot Harden Stops To Sign Autographs Our first water crossing and my ride's still shiny — woo hoo!
We picked up the Garmin guys, headed for the exit and turned left onto northbound 41 for Jones Store and our lunch stop 50 miles away. It didn't take long for the pre-dawn chill to subside once we got rolling.
With GPS coordinates comes confidence, and our group of five — Kymco's Eric Bondy, Chuck Morse and Mike Sheehan from Garmin, and Scott Holbrooks from Fulmer — was underway.
The first few minutes on the road were spent adjusting straps and clothing and for those of us on loaners, getting familiar with the equipment — in my case that's an '08 Honda XR650L which does a great job of hauling my oversized parts up and down the hillside — and seating the brake pads..