Fourteen Below. FOURTEEN BELOW WHAT!?!
February, 2004 | by John Siebenthaler: photos©john siebenthaler

taking business to market

more event coverage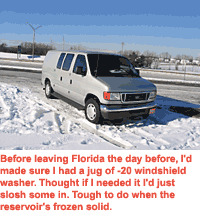 (CINCINNATI)
For the first time since the Dealer Powersports Expo moved their gargantuan road show to Indianapolis in 1997, I returned to Cincinnati for Easyriders' V-Twin only sold out extravaganza.
If the show was red hot, the weather was anything but. Saturday night set a record with a low of fourteen below: I think there are still some dealers who are waiting for that frozen beer bottle between their hands to thaw out.
Not surprisingly, the very dealers who have a tough time selling bikes in winter tend to concentrate in the Midwest. But if frozen sidewalks were such a draw, the Super Bowl would be a Green Bay no brainer.
Which begs the question: why? The reason offered by Dealer Expo for booking their show in the Midwest, in Winter, is so dealers who carry multiple lines have a chance to see all kinds of stuff under one roof when they weren't likely to be doing much of anything else other than ice fishing.
The reason for V-Twin is to focus on the HD market only while putting out the No Vacancy to ATVs, personal watercraft, scooters, fertilizer spreaders, chain saw sharpeners, etc.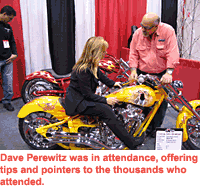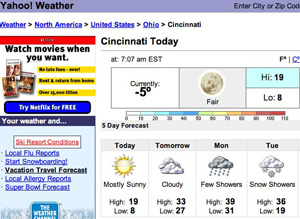 For the powersports crowd, it could be that a site somewhat more forgiving would be just as appealing. I've always thought Orlando just before Bike Week (or in the Fall, before the catalog season) would be a natural draw. But be that as it may, the show's in Cincy, and in Cincy is apparently where it'll stay.
Once inside, the V-Twin segment showed they could fill space with the latest and greatest in frames, wheels, and innovations of every stripe, like a radical ignition from Spyke that could light up a Times Square New Year's.
So while there didn't seem to be a proliferation of turn keys, there was everything needed to build a one-off, including expert advice from some of the top names in the industry like Dave Perewitz.
Dave's one of those (at the risk of sounding like just another cliche) "old school" sorts who remains approachable, in spite, or perhaps because of, his celebrity as one of the best design/build talents there is on the landscape today. We talked briefly about his cable channel build contribution, a very helpful overview of what it takes to lay down paint using today's equipment and products. Dave's laid back approach is a definite relief from the screaming banging slamming that's so in style today.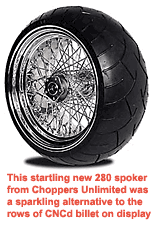 The main impression I left with was the proliferation of metal shaping and bending techniques being brought to bear in the fabrication of both frames and panels. Not a lot of exotics, but a great deal of variety in concept and execution.
Wheels, wheels, wheels, the vast majority billet or forged. Some buzz about the next big footed (300) tire intro but also heard were more than a few critical comments about the real world problems of rideability and the costs of keeping up with the neighbor, not to mention the huge cost of fitting swingarm to frame to drivetrain.
Expected these problems will sort themselves out, although it's pretty tough for the average person to spot the difference between a 250 and a 280 as is, other than the incremental price tag attached. Along with the fad/trend of wider is the parallel development of right side drive, which renders the problem of accommodating these uber tires much easier while at the same time minimizing the sometimes nasty side effects that go with moving the drivetrain off the center of gravity.
Talk is next year Expo's signup sheet will overflow upstairs, which if true will bring us back nearly full circle to why the Dealer show had to find new digs. And if true, it surely will be a signal that the marketplace for V-Twin only is continuing to grow.
©john siebenthaler 2004