Chopped, Sliced, Diced and Stirred
August, 2003 | by John Siebenthaler

connecting business to market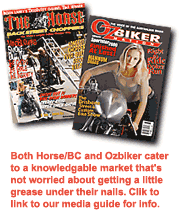 In the competition for ad dollars among the V–twin lifestyle publications, two of the lesser known yet most colorful are The Horse/Backstreet Chopper, and Ozbiker Nation. Formerly Ozbike, the Australian book's a little hard to find stateside but shouldn't be. Together, these iconoclastic tributes to the if you ride it, you're gonna' fix it school are a refreshing addition to any shop's reading material.
Respective editors Ralph Janus and Kelly Ashton consistently offer up a surprisingly relevant menu of how-to and retro, lifestyle and hardware, with Oz including contemporary rides while Horse hews strictly to old school fare. The monthly Coontail LOSER Award, under the heading of, "What were they thinking," is by itself worth the newstand price of the magazine.
Both include metric when it suits. Oz also features what all men who brake for red meat and loud bikes can't get enough of — great looking women from the land down under, usually undressed and perfectly fresh. Horse, after spending a former life (Iron Horse) with a different publishing house and barely surviving a long run of bad taste and poor pr choices in the '90's, now presents a more balanced (no uninformed name calling or mindless rants, for instance) editorial perspective with a more restrained approach towards centerfold material.
Both also deliver consistently well written editorial comment that goes way beyond the all too common and transparently stale deadline-induced throw something against the wall and if it sticks we'll run with it. Slant in The Horse/BC shown above includes references to Nile monitors, used as metaphors in Janus' rant on playin' it safe in the game of life, as introspective a piece as you'll find anywhere this side of CBS' Sunday Morning.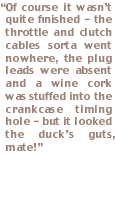 Oz scribe Ashton's multi-year Ironhead Sportster odyssey rebuild — no, rebirth — will, no doubt, become the stuff of XL publishing legend at some point. Originally launched in December, of the year 1999, under the now wildly optimistic project title of Sportster 2000 (because the project was to have coincided with the millennium rotation), the 'mid '03 completion saw the fruition of a really whacky XL that's doing more than turning heads. Ever wonder how, let's say, you could make use of that old radial engine airplane prop nosecone taking up space in the rec room? Wonder no more. The answer to that, and many other of life's pressing quesitons, are found between the covers.
Ozbiker Nation covers Australia's club scene, an editorial pursuit you won't find followed to any great extent among our domestic pubs, while Horse has built on their true to the roots tribal Smoke Out rally as the book of record for Discovery Channel's newfound obsession with all things v-twin.
We enthusiastically endorse both for their consistently fresh approach to an at times overplayed transportation genre. The writing's as good as you'll find in any main stream pub of any flavor, and the bikes almost always leave you smiling.
Assuming there's a connection, or even if there's not, both offer excellent niche penetration for delivering advertising value, and when you factor in the positive AU-US exchange rate, the entire Oz continent becomes an absolute bargain.
Linked on our media guide web page, if you're wondering where to put your extra — or only — ad dollars, these two standouts might provide an answer.
©john siebenthaler 2003