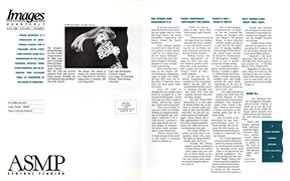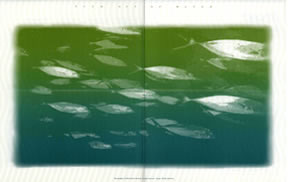 ASMP Images — 1989: Vol 2, Issue 3
September, 2011 | by John Siebenthaler

content creation and management
I launched
ASMP Images
as a marketing and PR effort for the
American Society of Magazine (now Media) Photographers Central Florida chapter.
(See the first digital image viewed on Compuserve here.)
inspiration Based on Sacramento's Art Directors and Artists Club (ADAC) 11x17 format, ASMP members contributed photography, I wrote copy, and local art directors were invited to make sense of it all.
purpose Bridge building between ASMP and members of the professional creative community. AIGA and AAF art and creative directors, graphic designers and account execs were targeted to communicate the value of professional photographic content, using a medium (direct mail) they were familiar with.
content chapter news and events, plus editorial, images and designer profile
design spec 11x17 trim, quarter fold, 2/2
credit This premier issue featured the exceptional design talents of Wendy Sherman, who used a Mac II, Adobe Photoshop, Macromedia Freehand and a Linotronic 300 scanner to create the first all digital document I'd ever worked with.
liner notes An unusual and beautifully effective 2/C metallic ink split fountain plus varnish run produced an unusual 3/C effect. That, her flowing column layout and carryover graphic remains fresh today.
Exxon then, British Petroleum now
In the early days of the internet and long before the web arrived onscene, causes, corporations and clubs printed newsletters to formally communicate with members, employees, and their designated publics.
Using a managed list of recipients to control distribution (and print run), newsletters were normally mailed and usually enjoyed a high pass along readership.
The 2010 BP disaster in the Gulf of Mexico was reminiscent of an editorial comment I'd written over 20 years earlier. In 1989 the Exxon Valdez dumped its toxic cargo of poisonous crude oil into Prince William Sound, Alaska. This is what I wrote about that catastrophe for my ASMP chapter's Images newsletter. Only the names have changed.
sea otters and corporate p.r.
As anyone who hasn't spent the last five years checking out singles bars in Tierra del Fuego knows, the Exxon Interstellar Corporation last March slimed the Pacific Northwest.

Most prudent people wouldn't try to ship 10 million gallons of aptly named crude oil via a party boat, the S.S. Exxon "Minnow". Nor would they put Gilligan in charge of steering, regardless of who wanted to go water-skiing.

Since parking their boat on the nearest reef and dumping a disgusting cargo of glop, not unlike the goo that oozes out of the sides of Polaroids, these have not been good times for Exxon.

Since the "spill"… as though this were a paper cup of Kool-Aid dropped by a rambunctious third-grader… Exxon has come out with a couple of whiny, self-serving apologies to the American people.

Their use of visuals, in one case a kind of Grandpa Walton sort happily pumping $1.25/gallon gas into what is believed to be a "full-service" customer's tank, pales beside the forlorn images of oil-besotted otters vainly attempting to clean themselves.

There's a lesson here. A timely picture of the result is still worth a thousand words of rebuttal.